​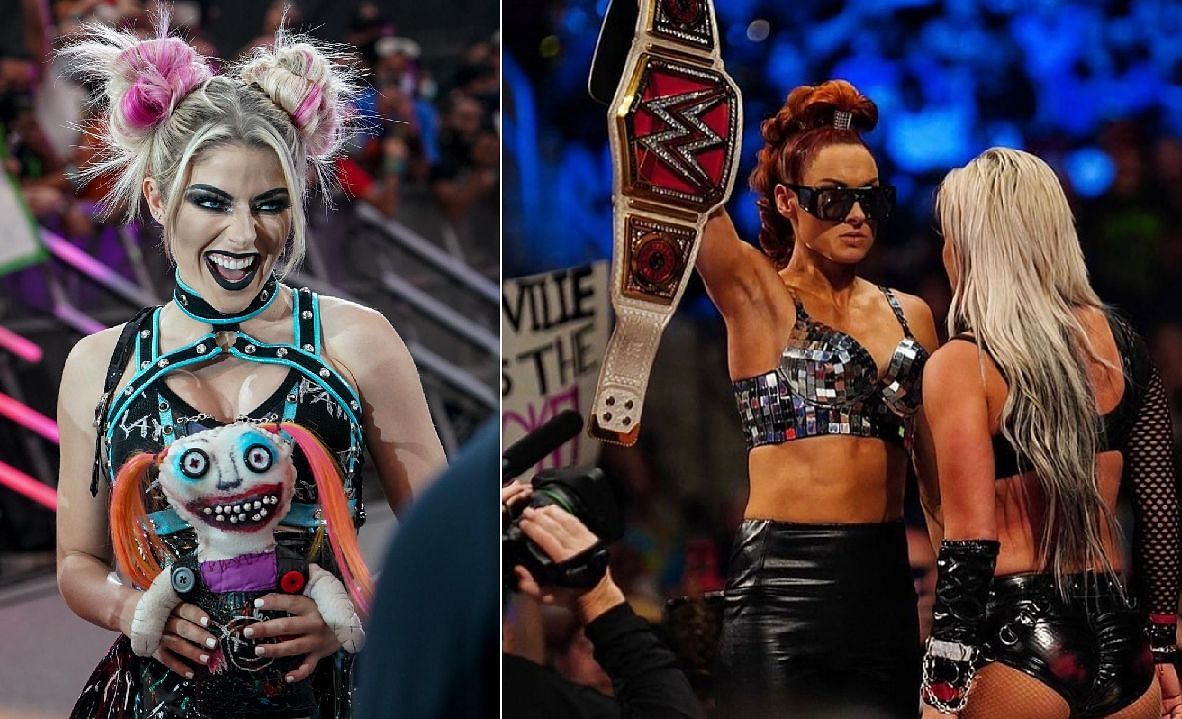 Becky Lynch defends her RAW Women's Championship against Liv Morgan tomorrow night at RAW, after weeks the two women being at odds.
Morgan has been pushed as a legitimate contender for Lynch's Championship since her move over to the red brand, but recent WWE show plans seem to hint that The Man is set to retain.
As with any Championship match in WWE, the finish is far from predictable and several combustible elements could come into play. The match also takes place on the anniversary of Lita and Trish's first-ever women's main event match on RAW, which makes December 6th quite an iconic date.
The following list looks at just five potential finishes for tomorrow night's RAW Women's Championship match.
---
#5. Becky Lynch retains her RAW Women's Championship
Becky Lynch has been Champion since making her return to WWE at SummerSlam back in August. The Man has also recently been able to overcome the threat of Charlotte Flair at Survivor Series in what was a personal encounter.
Flair is the most decorated female wrestler in WWE history and was still defeated by Lynch, who has been on something of a streak recently.
It's hard to imagine Liv would be the one to end Lynch's Championship reign. The champion also has the advantage in the match since she could easily walk away and be counted out, retaining her title and allowing the two women to clash again in the future.
Lynch also has a lot more experience in championship matches and could prove it tomorrow night if she is able to successfully retain her championship. Liv was recently part of her first-ever singles match on pay-per-view, showing just how little she has competed as a solo star in WWE.
The Madison Square Garden event has Lynch listed as the Champion for the show on December 26th, so this could either be a spoiler for this week's RAW or could be seen as a card that is subject to change.
​
#4. Liv Morgan wins the RAW Women's Championship
Liv Morgan has the chance to become RAW Women's Champion tomorrow night, which could cap off a tough few years for the star.
Morgan has been overlooked for most of her main roster career and has watched her two best friends leave the company in recent years. Sarah Logan was released in April 2020 before Ruby Riott followed her out of the door earlier this year.
Morgan is currently part of the biggest push of her career and has been sold as a legitimate candidate to dethrone Becky Lynch.
Lynch has been away from the company for more than a year and has only been back for four months. Morgan has worked hard in her absence and deserves the chance to be rewarded.
Whilst Morgan will still be seen as The Underdog in the match, WWE has seen several miracles in the past and this week on RAW could finally be the beginning era of Liv Morgan.
​
​
#3. Dana Brooke invades the RAW Women's Championship match
It has been seen many times on recent episodes of RAW where the 24/7 Champion invades the match and causes a distraction. Dana Brooke holds the 24/7 Championship at present so it makes more sense for her to invade a women's match and have several wrestlers chasing her in the hopes that they could take the title.
Brooke could head to the ring and cause a distraction that would then allow Becky Lynch to roll Liv Morgan up and retain her Championship.
If the finish is just a rollup, then Liv would be able to recover quite quickly and then pin Brooke in order to win the 24/7 Championship. Morgan is yet to lift a championship in her WWE career despite being on the main roster for more than four years.
If Morgan isn't able to win the RAW Women's Championship from Becky Lynch tomorrow night on RAW, then there's nothing stopping her from taking her frustration out on Dana Brooke and taking her title instead.
​
#2. Asuka/Alexa Bliss make their return to interfere in the RAW Women's Championship match
It is quite rare for Championships to change hands on RAW since WWE often prefers to wait until pay-per-views for title changes.
If Morgan isn't going to win the Championship, then the company needs to have an intriguing story that will allow them to push this feud forward into Day One.
Interference is usually a good way to do this and since there are two women who are currently free agents, WWE has several options.
Asuka and Becky Lynch last crossed paths when The Man handed over the Championship to The Empress back in May 2020 so she could decide to make her return tomorrow night.
Alexa Bliss also hasn't been seen since SummerSlam but the star was drafted over to Monday Night RAW, which means she could be part of tomorrow's show as well.
Alexa Bliss' return would make more sense, especially if she went after Morgan rather than Lynch, but it's still unclear what direction WWE wants to take this match at present.
​
#1. Seth Rollins helps his wife to retain her RAW Women's Championship
Seth Rollins and Becky Lynch are both working as heels on Monday Night RAW, but the two stars haven't crossed paths since becoming parents.
Both Lynch and Rollins have been outspoken about the fact that they didn't enjoy working together on WWE TV, but nothing is stopping them from being associated with each other.
Rollins is in a feud of his own with Kevin Owens and Big E, but he could help his wife ensure that she retains her title if it comes down to it.
The WWE Universe is aware that the two stars are in a relationship outside of the company, so his interference wouldn't have to be explained. It would also give WWE an extra couple to call upon in the future since it appears that The Miz and Maryse could be set to face off against Beth Phoenix and Edge.
If Miz and Maryse need future competition on RAW, then Lynch and Rollins could be that couple.
​