​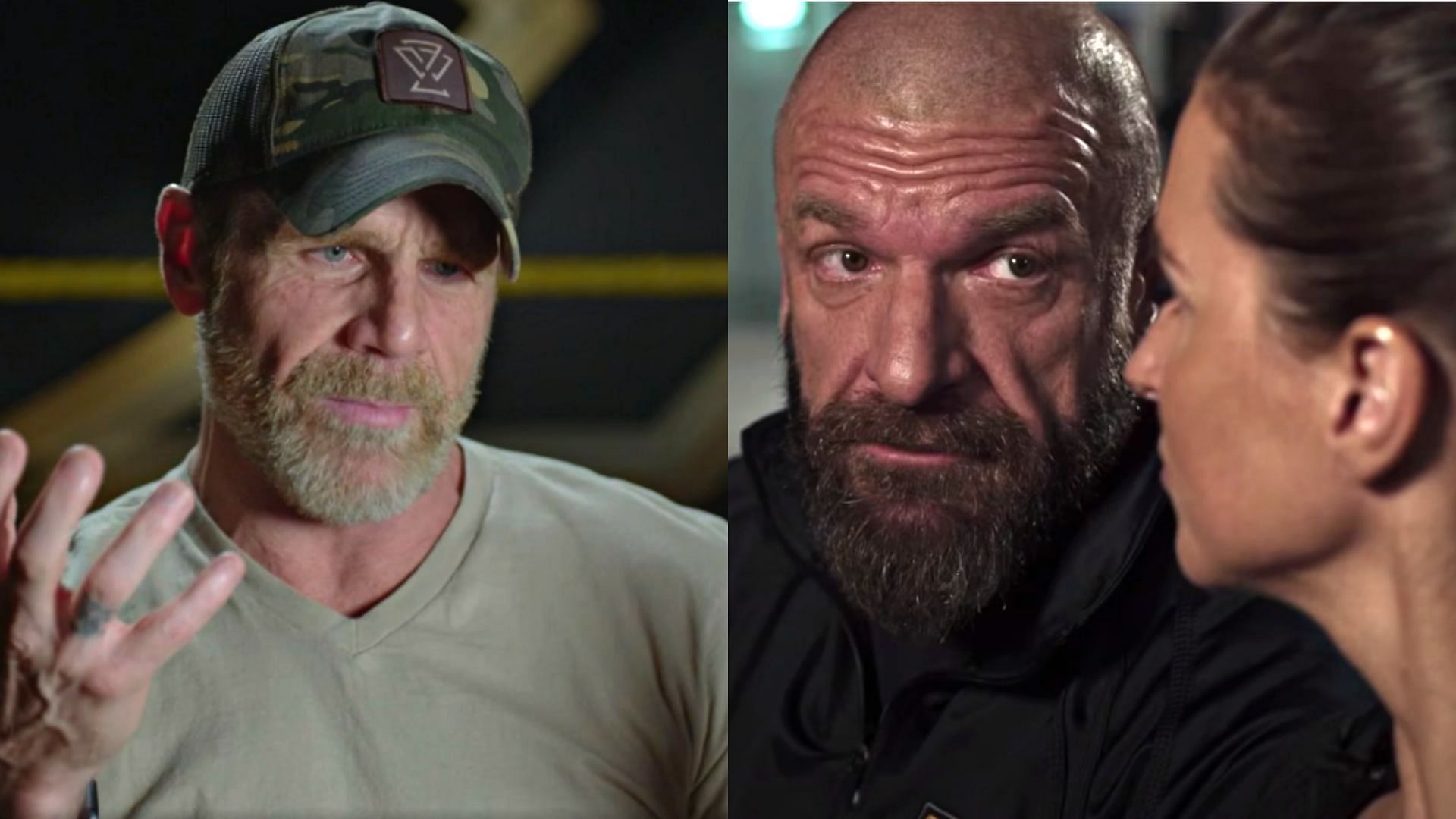 Welcome back to another edition of our daily WWE News & Rumor Roundup. It's been another lively day in and around WWE, and we begin today's lineup with a veteran confirming his departure from the company.
A top WWE star, one of Shawn Michaels' favorites, could also be on his way out of the promotion as his contract expires next month.
The roundup won't be complete without the latest details regarding the recent fan attack on Seth Rollins. The RAW superstar broke his silence on the incident as more information about the attacker has also come to light.
We also have an update on Triple H's health and recovery following his recent hospitalization due to a heart-related issue. A respected legend revealed that he would never return to the WWE and also didn't have pleasant things to say about Nick Khan while talking about his backstage issues.
As you might have noticed, the latest WWE News & Rumor Roundup is absolutely stacked with some big stories, so let's not waste any more time and get down to the details:
---
#5. WWE Veteran Scotty 2 Hotty reveals he requested for his release
Scotty 2 Hotty, real name Scott Garland, disclosed in a social media post that he had asked WWE for his release. The former WWE Tag Team Champion had been working as a producer for NXT, where he oversaw the rise of several promising talents.
Scotty 2 Hotty joined WWE in 1997 and went on to have a reasonably successful spell in the company's mid-card. Scotty continued wrestling for WWE until his exit in 2007, and he went on to sporadically compete on the independent circuit for the next nine years.
The former Light Heavyweight champion found his way back to WWE as a Performance Center coach in 2016 and has since been an essential contributor towards NXT's success.
Here's what Scotty 2 Hotty posted:
"Today, I have asked for my release from World Wrestling Entertainment. 30 years ago, I stepped into a WWE ring for the very first time. I have lived my dream 100 times over. Some of my most special memories will always be from the last five years working with NXT. The black and gold brand was something special, and I am proud to have been a small part of that," wrote Scotty 2 Hotty.
Scotty 2 Hotty had promised himself that he would quit if he were in the company just for the money, and the 48-ear-old legend felt it was time to move on to the next chapter of his career.
"I always promised myself that I would never be part of something solely for the paycheck, and that was where I was at," Scotty continued. "I told myself that I would walk away if I ever got to that point, so that is what I have chosen to do. Coaching and producing the stars of NXT will always be a highlight of my life. I love you all more than you will ever know."
Several well-known wrestling personalities, including Sasha Banks and Adam Pearce, reacted to Scotty 2 Hotty's statement, and you can check them out here.
​
#4. Backstage news on Johnny Gargano's WWE contract and the possibility of leaving
There have been multiple reports regarding Johnny Gargano's WWE status over the past few days. Fightful Select's latest update states that the former NXT Champion has signed a one-week extension that would enable him to wrestle at WarGames.
Gargano's WWE contract was previously slated to expire on December 3rd, but he will now be eligible to work until December 10th following the updated terms.
While WWE is trying to get Gargano to sign a new long-term deal, there have been no indications from the superstar's end regarding extending his stay within the company. WrestlingNews.co noted that Johnny Gargano has an excellent reputation backstage and is reportedly a favorite of Shawn Michaels.
Dave Meltzer recently also revealed that WWE made a 'very strong offer' to Gargano as the company wants him to be on its payroll for a long time. However, Gargano has not signed a new lengthy deal as of this writing, and he would undoubtedly attract a lot of interest once he potentially becomes a free agent soon.
Fightful added that people within WWE spoke highly of Gargano's willingness to sign a temporary deal at a time when he could have several suitors "angling for his services."
Gargano has been with the WWE since 2015, and if he does decide to leave, then AEW seems like the perfect destination for the 34-year-old.
---
#3. Ric Flair claims he will never go back to WWE
Ric Flair has been all over the news ever since he kicked off his Wooooo Nation Uncensored podcast. The Hall of Famer has now revealed why he would never work for the WWE on the latest episode.
The Nature Boy blamed Nick Khan for his removal from WWE TV and said he would not return to WWE until the current president remained with the company.
While Flair has no issues with Vince McMahon, he couldn't see himself doing business with WWE again due to multiple problems cropping up during his last run:
"You're not going to bring me back, not that they want me by any means, but I couldn't ever work for Nick Khan in my entire life. Vince McMahon, I can work for, but Nick Khan, who [was the] guy who orchestrated taking me off the show. I've got my facts together. He orchestrated taking my 'Wooo' off. Never in a million years. The big difference is Tony Khan respects me. He has, as did Vince. Nick Khan has not. I talk to Vince now. I have no problem with Vince. He just knows I won't come back," revealed Ric Flair.
Ric Flair also denied having any talks with Tony Khan regarding an AEW signing but admitted that he would be open to working for WWE's rivals.
Flair had once promised Vince McMahon that he would not work for a competitor unless WWE did something 'stupid' to him. The 16-time world champion has kept track of All Elite Wrestling's progress and wouldn't mind gracing its ring with his iconic presence.
"No," Flair said. "There were no discussions at all. I told Vince McMahon that my word is pretty much my bond [and] unless they did something really stupid to me, I would never go to work for the competition. Now they've done some really stupid stuff, so that door is open, but I have not talked to Tony [Khan]. I have not heard a word from him. I watch all the shows. I appreciate the athletes and the people that are involved in it, but I'm not actively in discussion with anybody. Yes, I would go to work for Tony Khan. I will never go back to WWE." H/t WrestlingNews.co
Ric Flair is clearly unhappy about his most recent WWE stint, but will he stay true to his word about never returning? Only time will tell.
​
#2. Seth Rollins comments on fan attack following RAW, more details on the incident
Seth Rollins broke his silence regarding the shocking fan attack from WWE RAW during an interview with TMZ.
The former Universal Champion admitted that he was terrified when the incident happened and hoped that the security team would stop the culprit before any significant damage was done:
"It's terrifying, brother. It happened very quickly. I was mostly just reacting and hoping that our security would come and do their job, which they did very quickly. And then was just trying to detach and move on. Hope that everybody is okay," said Seth Rollins.
The Monday Night Messiah stated that he escaped without any injuries and added that the accused should be rightfully banned from attending future WWE events:
"Once the tackle happened I knew what was going on. The guy was barreling around the corner. No serious injuries, nothing like that. I was safe; we were safe. Everything was okay," Seth Rollins added. "I think as a precedence, he probably should not be allowed at the events."
The attacker was later identified as Elisah Spencer, a 24-year-old from Red Hook, New York. Police quickly arrested Spencer and charged him with attempted assault and disrupting a live sporting event.
It looks like the accused planned the attack in retaliation for being catfished by a fake Seth Rollins account on social media. You can read more about the shocking reason here.
---
#1. Stephanie McMahon provides an update on Triple H's health and WWE status
Alex McCarthy of TalkSPORT recently had a chance to speak with Stephanie McMahon and asked her about Triple H's ongoing recovery.
Triple H underwent emergency surgery in September following a cardiac event, and the NXT boss has since been on a break from WWE. Stephanie McMahon provided a positive update by revealing that her husband is doing great:
"I had the chance to quickly speak to Stephanie McMahon yesterday, and she says that Triple H, Paul Leveque, is 'doing great' following his cardiac event. Good news," wrote McCarthy.
Triple H was recently spotted for the first time since his surgery in a clip that also featured Vince McMahon. The WWE Executives were seen at the construction site of the company's new headquarters, and fans were quick to speculate about Triple H's return to work.
However, while Stephanie McMahon was present backstage at Survivor Series, PWInsider reported that Triple H was not at the WWE pay-per-view.
The good news is that Triple H's recovery is going along just fine, and it's just a matter of time before he comes back to look after his backstage responsibilities in WWE.
​