​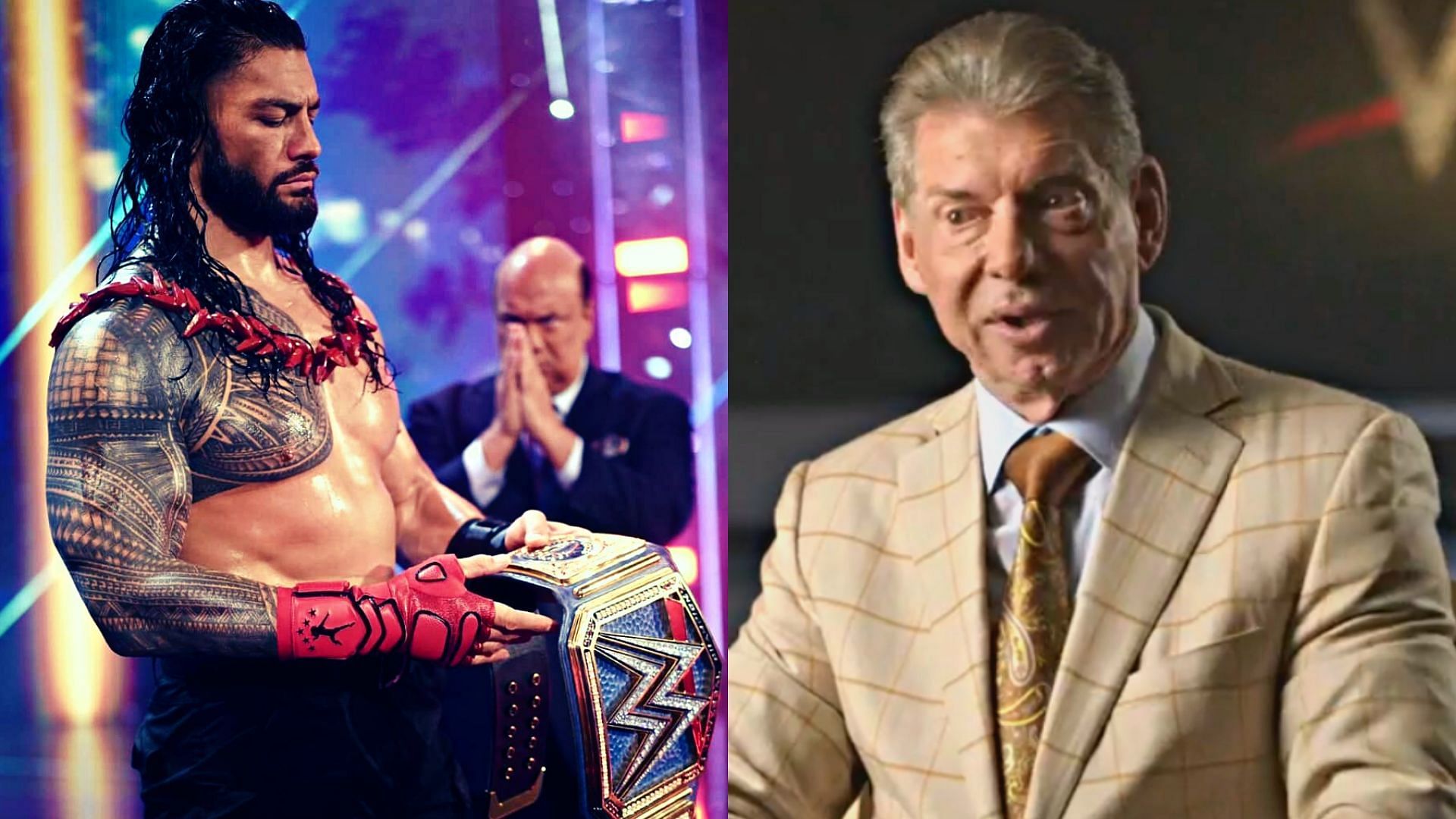 We're back with yet another stacked edition of the daily WWE News and Rumor Roundup. As you might have picked up from the headline already, Roman Reigns has teased the possibility of leaving the company, and his comments have naturally left the fanbase stunned.
A respected former world champion also revealed his true feelings while competing at WrestleMania 37. A veteran personality also disclosed how a top AEW star was not well-liked in WWE.
We also have an important update regarding Hulk Hogan's physical condition amidst reports of his ill health.
A significant name could also be on her way back to WWE as per the recent comments of a well-known superstar.
On that note, here's the latest news and rumor roundup:
---
#5. Is Roman Reigns going to leave WWE?
Roman Reigns is inarguably WWE's biggest superstar at the moment as there seems to be no end in sight to his legendary Universal title reign.
The Tribal Chief, however, is already planning for a career outside WWE as he recently teased the possibility of leaving the company.
The reigning Universal Champion dropped the first hint during his promo on SmackDown when he said the following:
"Head of the table — I'm your Tribal Chief, and I'm the greatest of all-time," Reigns said. "And when my days are done around here, which could be sooner than later. The whole world will acknowledge me."
Reigns was also recently on The Michael Kay Show, where he opened up about his Hollywood aspirations. The SmackDown Superstar confirmed his interest in transitioning to an acting career after professional wrestling.
He explained that he's picked up several important traits as a wrestler in Vince McMahon's promotion, which he intends to utilize to the fullest in Hollywood.
"We'll have to see. I think there's going to be some moves made here pretty soon. There's always these speculations, these contract talks. All that pushing, that's my business. People who can dive deep enough, I'm sure they can uncover enough stones to figure out the timeframe, but that's something I definitely want to dabble in, I want to gain more experience, and I want to use these tools that I've learned. WWE has done so right by me," explained Reigns.
Roman Reigns admitted that he would love the opportunity to create unique content for his fanbase in Hollywood and confirmed that he would surely be up for the challenge.
"I have a pretty good track record with being thrown in the deep end, and if that's what happens in Hollywood, I'm looking to swim," revealed Roman.
Regarding Reigns' contract status, the Samoan star signed an extension in 2019, and there are no updates on when his current deal might expire or if he plans on re-signing.
WWE reportedly wants him to be the longest reigning Universal Champion of all time and the company seemingly still has some massive plans left for the unstoppable superstar.
However, the 36-year-old star could eventually follow in his cousin Dwayne 'The Rock' Johnson's footsteps.
​
#4. Bryan Danielson admits he felt like he was going to die at WWE WrestleMania 37
Bryan Danielson, fka Daniel Bryan, has been on a tear ever since he left WWE to join AEW. Danielson experienced a great run in Vince McMahon's company, and one of his last big matches happened at WrestleMania 37.
He faced Roman Reigns and Edge in a triple threat match, and the veteran revealed he felt like dying during the intense contest. The AEW star appeared on the Casual Conversations podcast and spoke about his most recent WrestleMania experience.
Danielson had already decided about his WWE contract before walking into The Show of Shows, where he felt he was not needed in Edge and Reigns' battle.
He stated that Jey Uso would have been a viable opponent for him to put over at WrestleMania. Bryan Danielson continued by revealing that he felt empty while wrestling at the event and had a bizarre "premonition" that he would die.
Here's what he said about WrestleMania 37:
"The Wrestlemania moment was just weird; I really honestly didn't feel like I belonged in that triple threat match with Roman and Edge. I thought the story was strong enough on its own for it to be just them. I knew for sure what I was going to do contract-wise, but I knew I was going to be taking some time off. When my contract expired, it was the last day of April. I was like, okay, even If I come back, I should do something where I wrestle somebody else and kind of put them over at Wrestlemania."
"I thought Jey Uso would've been a great choice for that, but you know somebody else in that vein. So that was my thinking going out. When I walked out for the match at Wrestlemania, it felt so empty. Fans were cheering and all that kind of stuff. When I wrestle, I feel everything. What I remember most about that match is just feeling empty and thinking, oh man, I legitimately felt like am I gonna die… Is this a premonition that I'm gonna die, and I wasn't even freaked out," revealed Bryan. H/t Inside The Ropes
Danielson has gone back to being a heel in AEW, and he has been absolutely phenomenal ever since the character change.
---
#3. WWE old-timers didn't like CM Punk
During the latest episode of his podcast, Bruce Prichard spoke about CM Punk and how the superstar was perceived backstage during his early days in WWE.
Punk came over to the company following a hugely successful spell in the indies, and he wasn't a favorite behind the scenes initially. Prichard stated that CM Punk had many doubters since the day he signed his contract.
Veteran WWE officials and talents didn't understand Punk as he was a modern-day wrestler who brought something unique to the business.
"I think from the day that Punk stepped into the WWE locker room, that there was that perception from a lot of people, until, you know, Punk actually did it. And then, even then, there were still the doubters in that regard. But at this time, I don't think it was just Triple H; it was a lot of the old-timers that viewed him, 'What the hell is this guy?' Punk was brand new here," Prichard revealed.
Bruce Prichard added that even CM Punk needed some time to adapt to the large WWE platform, and he eventually managed to get over with the fans. By doing so, he also proved his detractors wrong.
"Umm, they hadn't seen it. They hadn't experienced it, and frankly, I don't know that Punk got it yet. It took a little while for him too. The connection with the audience. It's a different animal (doing it in WWE)," added Prichard. H/t Sportskeeda Wrestling
Despite having immense talent, Punk had to work extremely hard to prove that he belonged in WWE's main event scene. The rest, as they say, is history.
​
#2. Shayna Baszler feels Ronda Rousey will return to WWE
Ronda Rousey has not appeared in WWE since WrestleMania 35, but one of her closest friends, Shayna Baszler, believes that the former RAW Women's Champion will eventually be back.
The Queen of Spades sat down for an interview with Ariel Helwani, where she was asked about Rousey's status with Vince McMahon's promotion. She is still in regular touch with Ronda Rousey and revealed that she recently hung out with the former MMA star while the WWE roster was in LA.
"Yeah, we had some shows out in LA and I spent a day hanging out with her. Holding the baby and all that stuff, yeah. I think she'll come back. If I know Ronda, she's coming back," said Baszler.
Rousey welcomed a baby girl in September earlier this year, and many fans believed she could be ready to return to the ring similar to Becky Lynch. The Rowdy One isn't even sure if she is still under a WWE contract, as revealed by herself during one of her recent live streams:
"[Person in chatroom] is asking if I'm still under contract with WWE. I technically — I don't think I am. But who knows? That's a question for the lawyers," revealed Rousey.
The company has been open about its desire to get Ronda Rousey back, and she will show up on TV when the time is right.
---
#1. Hulk Hogan has lost a lot of weight amidst reported health concerns
Hulk Hogan showed off his weight loss in a new photo posted on his Facebook handle.
The Hulkster noted that he was back under 275 pounds in a brief caption, which you can view below:
Ric Flair revealed a couple of weeks back that Hogan was suffering from serious health issues. The Nature Boy's comments raised concerns in the wrestling community as Hulk Hogan is an insanely popular figure.
However, contrary to the updates going around, he has looked in great shape at recent autograph signings. Here's what a fan posted on Twitter, which pretty much cleared all doubts regarding Hogan's health:
Hulk Hogan has had countless surgeries, but it's fantastic news that the Hall of Famer is currently in good shape and continuing to work on his body.
​