​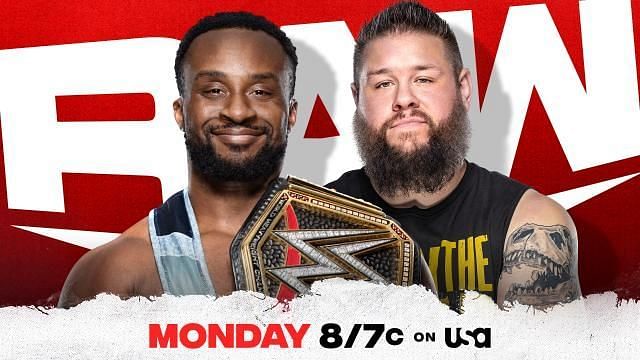 Welcome to this week's edition of Monday Night RAW preview. With two big matches and the return of Edge, there's a lot to look forward to this week.
Last week on the RAW after Survivor Series, there was a title change, Austin Theory being revealed as the egg thief, Vince McMahon granting him a WWE title shot, and all-round chaos on the red brand.
The build-up to Day 1 is unlikely to start early, which is why we might see programs and feuds fully happening on RAW rather than a direction towards the pay-per-view. Here's what you need to look forward to this week:
---
#5. Edge seeks out new challengers on RAW
It's an exciting episode of the Monday night show because we will finally see the return of The Rated-R Superstar. The 11-time world champion switched to RAW in the WWE Draft last month, and he hasn't appeared on the red brand since.
Edge had a feud of the year candidate with Seth Rollins this past summer, resulting in three epic matches and culminating inside Hell in a Cell at Crown Jewel 2021.
The Hall of Famer walked out the victor of that incredible series with Rollins. The latter, meanwhile, hasn't taken any breaks. Instead, his move to RAW was followed by an immediate ascent to No.1 contendership for the WWE title.
While he has been feuding with Big E, the latter has also been involved with Kevin Owens. For Edge, it's going to be interesting to see what lies ahead for him on the red brand. He revealed on Twitter that he is looking to publicly seek a new challenger this week:
There is a lot of speculation as to who it could be. Some fans were disappointed when Edge returned and feuded with Randy Orton, although their Backlash 2020 main event was an instant classic and made the rivalry worth it.
With that said, fans are more interested in seeing him face the top superstars of the current generation, and that's exactly what we might be getting. At this point, his next opponent is up in the air. But we may see Edge vs. AJ Styles as the next feud going forward.
Styles and Omos seem to be looming around the RAW Tag Team title contendership, but their spot isn't fixed. WWE could easily change direction and take them out of it while giving The Street Profits or The Dirty Dawgs the next shot at RK-Bro.
It will be interesting to see who answers Edge's challenge on RAW this week.
​
#4. Seth Rollins faces Finn Balor on RAW in a SummerSlam rematch
For Seth Rollins, it's about continuing his momentum on RAW. For Finn Balor, it's about revenge. The two men have faced off numerous times before, and they were supposed to have their first singles match in three years last week.
However, Rollins attacked Balor before the bell could even ring before getting attacked by a fan who jumped the barricade. It seems a bit ironic in hindsight, but it's also a harsh reality of the importance of superstars' safety.
With that said, we expect the actual match to take place this week. The Prince has had a mixed November, picking up a string of wins and losses. At Survivor Series, it was his rival Seth Rollins who was the sole survivor for the red brand's team.
The Architect is likely to walk out the victor in this match on RAW. While Finn Balor winning could turn the WWE title feud into a potential fatal-four-way match, that may not be the direction that we see on the Monday night show.
​
#3. We have new Women's Tag Team Champions on RAW
Last week on RAW, Queen Zelina and Carmella won the Women's Tag Team Championships. For Zelina, it was her first taste of championship success in WWE, while for Carmella, it was her first major title win in over four years.
It's hard to believe that her SmackDown Women's title reign was so long ago, but time flies, and she's now on top of the relatively shallow women's tag team division.
Queen Zelina and Carmella already picked up a non-title win on RAW over then-champions Nikki A.S.H. and Rhea Ripley. After bullying Nikki and suggesting that she was the weak link of the team, they proved them right and pinned her to win the tag team titles.
The Nightmare and Nikki A.S.H. were both coming off relatively recent losses of the RAW Women's title before they won the tag team championships. It's another uphill climb for them, and we imagine that the lack of teams in the women's division will result in this rivalry continuing in some form.
​
#2. Becky Lynch and Liv Morgan's RAW Women's title feud set to intensify
The next RAW Women's title bout will be between Becky Lynch and Liv Morgan. Whether it happens on Day 1 or the red brand is yet to be seen, but there's a long gap to not have a match.
WWE would have had the option of having Morgan pin Lynch in a non-title clash, but it doesn't make much sense as the former became the No.1 contender even before Survivor Series.
The feud has been highlighted by the fact that the difference in levels between the two women appears to be a bit too much. The Man has been humiliating Liv Morgan on the mic, with the latter not having much to show for it.
Last week, the RAW Women's Champion almost made Morgan cry backstage before she was attacked. This seemed to please Becky Lynch, as she tweeted that it was good to see her showing a little fire:
Liv Morgan has gotten the better of Big Time Becks in terms of attacks, but the latter has demolished her whenever she's had the microphone. Ultimately, it's a swim or sink situation for Morgan, and hopefully, we'll see more of that fire on RAW this week.
​
#1. Big E to face Kevin Owens again on RAW
Big E certainly has his hands full on RAW. While Seth Rollins is the official number one contender, to the WWE title, Kevin Owens has been his main focus. Last week, Austin Theory was revealed by SmackDown's Sami Zayn as the culprit who stole Vince McMahon's $100 million egg.
Instead of punishing Theory and rewarding Zayn with the promised WWE title shot, McMahon awarded it to Austin Theory and told Sami Zayn to shut up because "nobody likes a snitch".
Zayn managed to secure Universal title contention a few days later, but that's for the SmackDown preview. Over on RAW, Big E will have to face Kevin Owens again.
It's been a whirlwind of a past month between the two superstars. While the WWE Champion already has a victory over Owens, the recent heel turn intensified their rivalry.
Last week, Big E defeated Austin Theory to retain the title in the main event, all while Kevin Owens and Seth Rollins were brawling at ringside. The New Day member interjected, and Owens got away, only to watch the WWE Champion hit the Big Ending on Rollins.
It's going to be another incredible main event for the red brand, and it could serve as KO's last chance to secure WWE title contention. As you may know, his contract expires in late January 2022, and there's no news about an extension or even an offer.
However, a win over Big E would guarantee the fact that he is entering WWE title contention again – potentially for the last time in his career.
​