​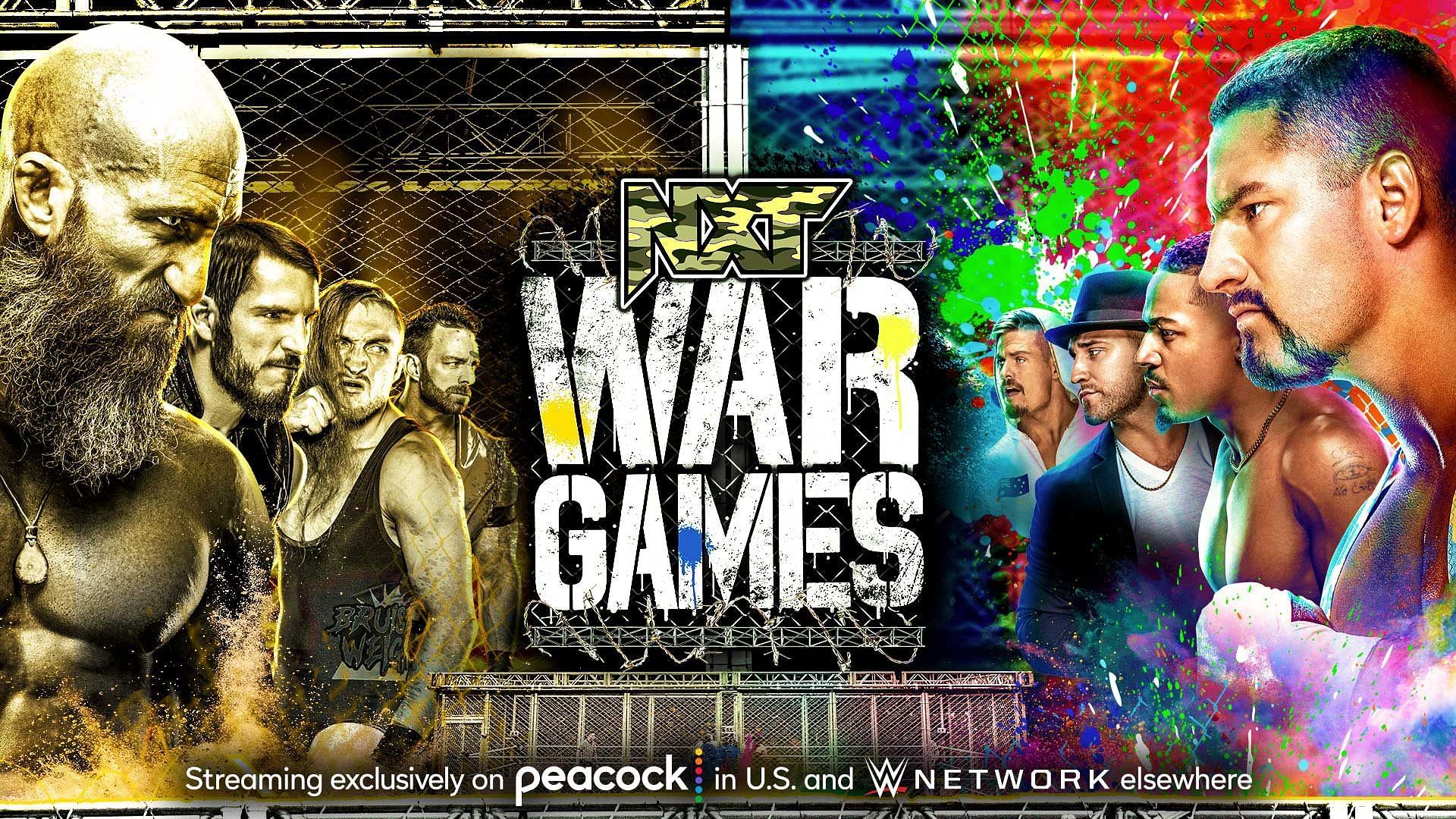 WarGames will be the first standalone TakeOver-type event for NXT 2.0. Halloween Havoc took place in October, but it was a themed episode of NXT with title matches. WarGames will take place on a Sunday instead of a Tuesday.
This year's show is even more important due to the reboot of NXT in September. The brand is extremely different from what has defined it over the last five years. TakeOvers traditionally had better action than even a main-roster WWE PPV.
With the shift of focus to characters and athletes rather than performers with vast wrestling experience, the match quality has decreased. A lot of the performers in NXT 2.0 are new to the brand and have been protected a bit.
At a show like WarGames, however, fans will get every chance to see if these new stars can make it. While new stars will be featured, there are solid veterans like Io Shirai, Tommaso Ciampa, Johnny Gargano, and Roderick Strong on the card.
While they don't have matches, expect MSK to commune with the Shaman. There could also be drama from Indi Hartwell. Here are some last-minute predictions for this year's WarGames event.
---
#5. The Cruiserweight title is the only singles title on the line at NXT WarGames.
With many roster cuts this year, much of the Cruiserweight division has been lost. NXT still carries the Cruiserweight Championship, but it could be in for a change in the future. A recent rumor from the Wrestling Observer suggested that it could be done away with altogether.
Since many of the featured stars of NXT 2.0 are bigger, the need for the Cruiserweight title has decreased. It's a shame due to the talent of the current and former competitors.
Joe Gacy's new gimmick is one of inclusion. Due to the weight restrictions of the title, that potential change could either be as a new belt or the belt might even be retired.
The challenger got the last laugh on the go-home episode as their discussion broke down once Strong entered the ring with Malcolm Bivens.
The woke gimmick of Gacy is certainly polarizing. He does a good job of getting it over, but fans either love it or hate it. It would make sense for him to win.
Having the title in Gacy's hands would also add another facet to his character. It would, however, also make it less of a title like the FTW Championship in AEW. It's rarely defended.
Strong just won the title in September though, so losing it in his second defense would not be the right move. He's the centerpiece of the Diamond Mine, and they need that title to at least seem legitimate.
Prediction: Roderick Strong retains the NXT Cruiserweight title at WarGames.
​
#4. Will Cameron Grimes win the war of hair at WarGames?
While he isn't in a title match at WarGames, Cameron Grimes is still a huge fan favorite in NXT 2.0. He has been in an ongoing feud with Duke Hudson and his poker playing. The two had a "poker showdown" a few weeks ago that was won by Grimes.
Since Hudson's whole gimmick is that he plays cards, it was odd that he lost. He received a modicum of revenge, however, as he cut off some of Grimes' hair following the encounter.
That back-and-forth led to this Hair vs. Hair match. Grimes obviously has more flowing locks than Hudson. He would stand to lose more physically if he lost to Hudson at WarGames. We've already seen what a potentially bald Grimes will look like.
Grimes has shown that he excels in getting run down before picking up the definitive win. It happened during the Million Dollar title feud with LA Knight. Knight won the title initially but the feud ended after Grimes won the title.
This storyline has played out in almost the same way. Knight and Hudson have both underestimated Grimes. Since Hudson has tormented the scrappy millionaire, it makes sense that Hudson loses his hair. He is more of a vain person and has shown that he can't handle losing to someone like Grimes.
Outside of his matches in the Breakout Tournament, this will be Hudson's biggest test to date. He has the size that the WWE Chairman covets and is also a good promo. Despite those factors, Hudson will end up bald after his WarGames match.
Prediction: Cameron Grimes wins and takes the razor to Duke Hudson's head.
​
#3. Can a makeshift team win the NXT Tag Team titles at WarGames?
An NXT event usually has a title change or two. WarGames has two WarGames matches, so those alone make up for the need for title swaps this year.
Imperium won the NXT Tag Team titles from MSK at Halloween Havoc, by capturing the titles, they could be setting the stage for WALTER to join NXT 2.0. If he doesn't, he should join the main roster.
The challengers are a makeshift team. Kyle O'Reilly represents the old guard of NXT while Von Wagner represents the new guard. WWE officials see a bright future for Wagner due to his size and athleticism.
Wagner needs help with the promo department. That could be why he was paired with O'Reilly. What muddled things up was when Wagner showed up at Adam Pearce's side on an episode of SmackDown before Survivor Series. It could have been as protection from Brock Lesnar.
If the big man is already earmarked for the main roster as part of a stable for Pearce, then the partnership with O'Reilly could be short-lived. The duo won an opportunity to win the belts at WarGames by defeating Legado Del Fantasma. If O'Reilly and Wagner are successful, then Kyle will have won the NXT Tag Team titles four times.
Wagner might turn heel after WarGames or he could move on to SmackDown. We haven't seen much emotion from the big man in NXT 2.0 and he would be better suited as a silent heel.
O'Reilly is still one of the top faces of the brand, but his future is uncertain. For those reasons and the fact that Imperium is an actual team, the challengers will walk out of WarGames with empty hands.
Prediction: Imperium retains their titles over O'Reilly and Wagner.
​
#2 The Women's WarGames Match has three women with experience in the cage.
The WarGames match for the women of NXT 2.0 was easy to project once Toxic Attraction captured all of the ladies' gold. They simply needed a fourth woman for their team to battle four faces at WarGames.
Since Toxic Attraction won titles from Io Shirai, Zoey Stark, Raquel Gonzalez, those were obviously three names that made sense. But with Stark injured, it necessitated the need for two different women for their team.
One turned out to be Cora Jade, who has been presented as a scrappy underdog, who scored an upset win over Mandy Rose a few weeks ago. Toxic Attraction attacked Jade shortly after the match. Gonzalez and Shirai were also still looking for revenge after losing their titles and came to Jade's aid.
In the weeks leading up to WarGames, both Dakota Kai and Kay Lee Ray were added to the teams. Ray is a face after working as a heel in NXT UK. Kai returned to NXT by costing Gonzalez the NXT Women's Championship at Halloween Havoc.
Kay Lee Ray won the advantage for her team on the WarGames go-home show. It usually works better if the heel team has the advantage, but it's a different wrinkle for the match.
Gonzalez, Kai, and Shirai have experience with the WarGames match. Gonzalez pinned Shirai to win one for her team. They'll be on the same side this time. Shirai pulls off crazy jumps from atop the cages, for example she jumped off the top of the cage while wearing a garbage can over her head in once.
Since the faces do not have the gold, it makes sense that they win. Toxic Attraction will blame Dakota Kai if they lose, but they'll still be Champions. They can afford to lose at WarGames.
Prediction: Raquel Gonzalez and Io Shirai's team defeats Toxic Attraction and Kai.
​
#1. The Men's WarGames Match pits the Black-and-Gold Team against Team NXT 2.0.
WarGames will showcase the biggest representation of old NXT vs. new NXT. The two teams literally represent the prior concept of the third brand and the new vision. Since NXT 2.0 has had more attention from Vince McMahon, it makes sense that his team (NXT 2.0) would win at WarGames.
Bron Breakker has barked loudly at every turn since bursting on the scene. He is clearly a star for the future and one that will be pushed hard. Carmelo Hayes and Grayson Waller have also acted arrogantly in the reboot.
Tony D'Angelo is a more subtle with his approach, but that is his gimmick. It would be easy to have the new blood beat the old guard. To put things into perspective, however, LA Knight summed up the showdown with a great promo below.
Knight may be a heel but he has experienced a similar journey to that of Tommaso Ciampa, Johnny Gargano, and Pete Dunne. They all worked in the independent scene for years before making it big.
Waller came across as a heel during his feud with Knight. He defaced Knight's car so that he could host Halloween Havoc. Waller understands that things have changed, but chastising the earlier generation for their hard work was not the way to go.
The cocky NXT 2.0 team continued their run of confidence after Bron Breakker hauled down the WarGames advantage briefcase. Will their confidence grow even more so after WarGames?
Ciampa retained his title at Halloween Havoc, putting a slight halt to the coronation of Breakker. It would have been way too soon to crown someone from NXT 2.0 as NXT Champion. Most of the other Championships, however, have changed hands since the reboot.
The old guard should win and teach some respect to NXT 2.0. Since Breakker has already lost to Ciampa, however, this is the perfect set-up for another title shot. If the older stars lose, it will be Knight who is pinned. If Mr. McMahon really wants to push Breakker, he'll pin Ciampa.
Prediction: Team 2.0 defeats the Old Guard of NXT.
​