​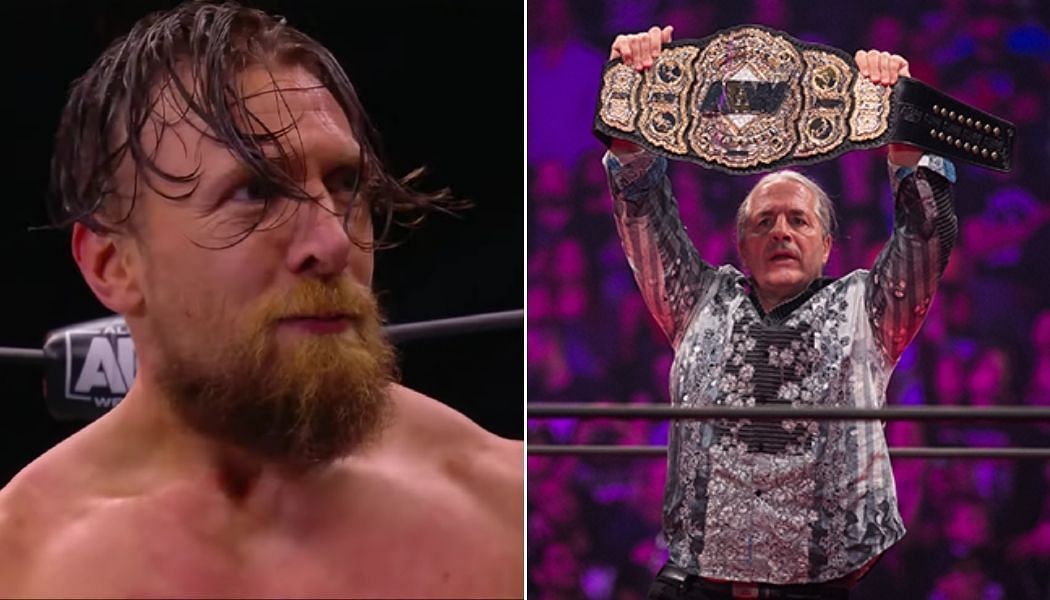 On this edition of the AEW news roundup, we take a look at a number of stories from last week, including Bryan Danielson's comments on being in a "rough spot" financially following his first WWE release.
Former World Champion Bret Hart was spotted with a couple of top AEW stars this week. We also take a look at Ric Flair's comments on a dream match between his daughter Charlotte Flair and a top AEW star, as well as a whole lot more.
---
#5 AEW's Bryan Danielson was in a "rough spot" financially after his WWE release
Since 2020, we have seen WWE release a massive number of Superstars from their roster to the point where another wave of releases is more expected than a surprise.
One person who has faced being cut by WWE is current AEW star Bryan Danielson, who was released by WWE twice, early on in his career. Speaking on Busted Open Radio, The American Dragon opened up about being let go by WWE and revealed that his first release in 2001 had been him in a "rough spot" financially:
​
"I was fired twice by WWE. It's funny because both times I was fired shortly after I had bought a new car. None of these are nice cars, and they're used cars or whatever it is, you know what I mean? But like, in both of them, I wasn't able to pay it off in full, but, but like, the first time in 2001, when I got fired, I had a $350 a month car payment. All of a sudden that car payment really I was having to work two jobs between that and insurance and all that kind of stuff. So, then all of a sudden, you don't have that guaranteed money coming in, and you're trying to find stuff and you don't have a college education, and you're making $50-$75 per indie show, and whatever it is, you know what I mean? Like, it can put you in a rough spot," said Bryan Danielson (H/T – Fightful)
Danielson is currently the number one contender for Hangman Page's AEW World Championship.
​
#4 Bret Hart spotted with Kenny Omega and Dr. Britt Baker
AEW star Dr. Britt Baker recently posted a backstage photo of herself with Kenny Omega and wrestling legend Bret Hart. Baker posted the photo on her Instagram.
Bret Hart already has a history with AEW. He appeared on the first AEW pay-per-view, Double or Nothing 2019, presenting the AEW World Championship belt.
---
#3 WWE reached out to New Japan Pro Wrestling before AEW agreement
Rocky Romero was recently a guest on the Battleground podcast and revealed that WWE had approached New Japan Pro Wrestling before the working agreement between NJPW and AEW. Romero added that he felt AEW understood New Japan's legacy and history a lot better:
"You know, I mean I don't know how much I can actually say but could say that definitely they reached out. You know, WWE definitely reached out as they do every X amount of years I feel like they reach out. I mean obviously [Bryan] Danielson being in the middle of that was no secret and it was no secret to Tony [Khan] either or AEW so, obviously Tony was a part of that too once Bryan was completely free and clear to make those talks with him so, so yeah. There was — a lot of people talk, you know what I'm saying? There's talking. I wouldn't go so far to say that there was ever gonna be a deal made or anything like that."
"It's just like, you know, WWE comes knocking on the door and they wanna talk, people are gonna listen to what they have to say but I mean obviously working with AEW versus working with WWE is two completely different things, you know? Where AEW, they have a true understanding of New Japan and what the product is and have a complete respect for the history of the product, for what the product is, for the wrestlers and how they do," said Rocky Romero. H/T: POSTWrestling
Since 'The Forbidden Door' opened we have seen a number of top New Japan talent compete in AEW already, including Romero himself, as well as the likes of Minoru Suzuki and Tomohiro Ishii. New Japan's biggest star, Kazuchika Okada, could also be appearing in AEW in the future.
​
#2 Ric Flair wants to see Charlotte Flair face Dr. Britt Baker
On the latest edition of his podcast, WOOOOO Nation Uncensored, 16-time world champion Ric Flair was asked whether he would want to see a potential dream match between AEW Women's Champion Dr. Britt Baker and his daughter Charlotte Flair.
The Nature Boy said that this was definitely a match he would be interested in but added that whether we would ever get to see it would be in the hands of Vince McMahon and Tony Khan:
"She's [Britt Baker] once again a very nice person but, you know, I wish her nothing but the best. But I would love to see all that happen, you know what I mean? Everything, you know, it's in the politics of the business. It's in the hands of the two great owners, Tony and Vince."
---
#1 Cody Rhodes taken out after AEW Dynamite went of the air
AEW's YouTube channel posted a video of what went down after this week's Dynamite with off the air. Andrade El Idolo hit Cody Rhodes with a hammerlock DDT out at ringside after the match as fans chanted "you deserve it" at Cody.
​