​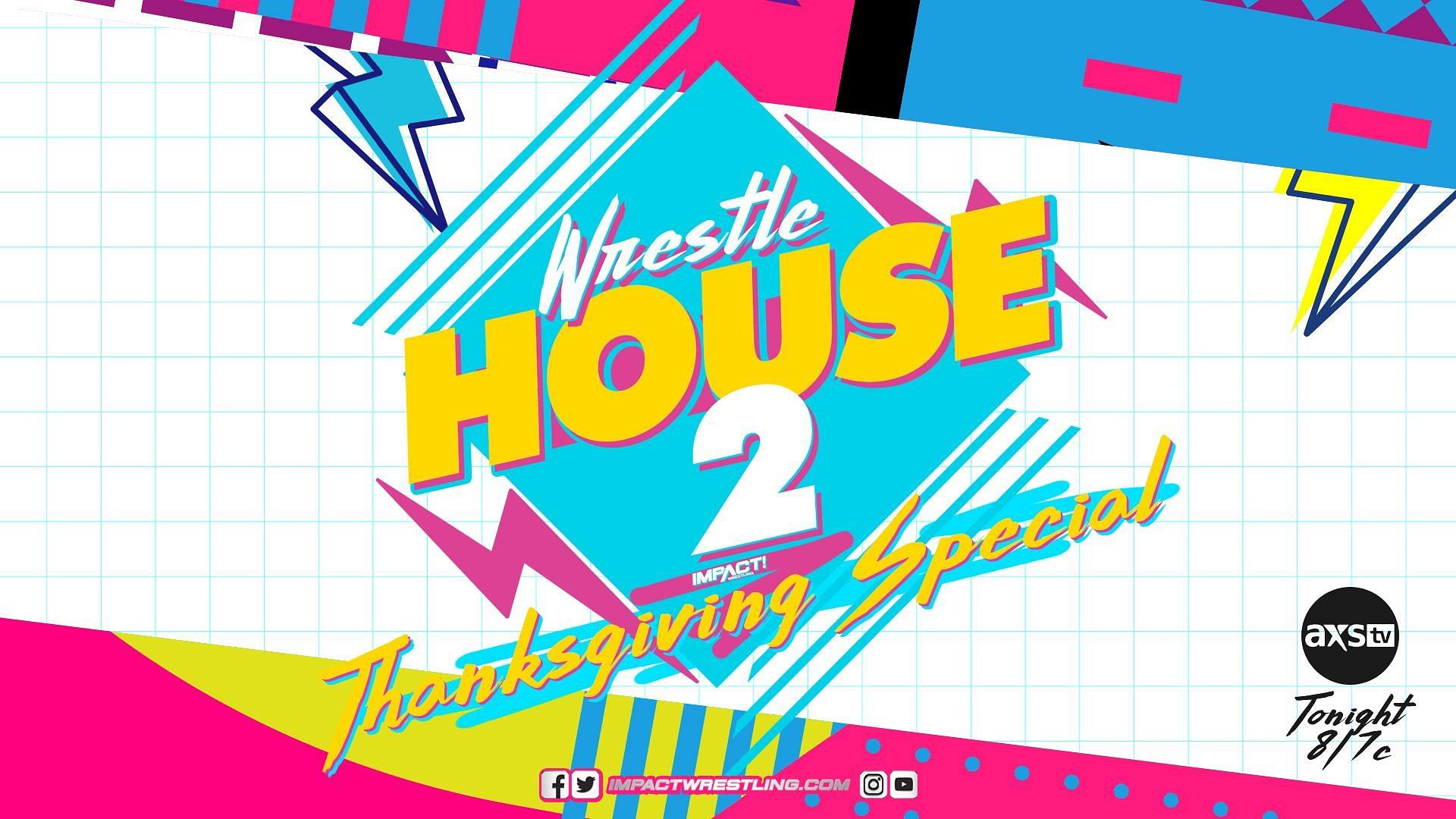 This week's edition of IMPACT Wrestling was a special edition on the occasion of Thanksgiving, where the unique concept of Wrestle House made its return. The show started with a recap of events from last year.
The timeline starts the week before Thanksgiving when stars are teleported to Wrestle House by Rosemary at the request of John E. Bravo. The latter requested it to make his boss, Johnny Swinger, happy. The Demon Assassin accepted the request in exchange for Bravo's soul.
Swinger, however, wasn't thrilled at the idea and tried to escape after which Rosemary reminded everyone that whoever tried to leave the Wrestle House would encounter their worst fear. Later, all the stars learn that they can't leave until Swinger is happy and thankful again.
​
Kaleb With a K talked to Swingerella #2 Riley when he was interrupted by Chris Sabin. Kaleb accused Sabin of trolling and embarrassing him by moving around the house shirtless in slow motion.
Sabin said he was teleported to the house shirtless and was looking around for one but had no problem embarrassing him. They were then teleported into an arena for the first match of the night.
---
Chris Sabin vs Kaleb With a K on IMPACT Wrestling
Sabin gained the upper hand early in the match with a series of arm drags. Kaleb poked Chris' eyes to make a comeback into the match.
He followed up with a submission maneuver which the former IMPACT Wrestling World Champion reversed. Sabin landed a dropkick followed by Cradle Shock for the win.
Result: Chris Sabin defeated Kaleb With a K via pinfall on IMPACT Wrestling
Grade: C
---
Following the match, everyone was teleported back to the house. Madison Rayne and Alisha Edwards tried to come up with a plan to cheer Swinger up while Decay and Chris Sabin temporarily left the house for their matches at Turning Point.
Alisha and Rayne planned to reunite Swinger with Downtown Daddy Brown from the IWPF, but it backfired as the latter was furious with the former leading into the second match of the night.
​
Johnny Swinger vs Downtown Daddy Brown on IMPACT Wrestling
IMPACT Wrestling's Wrestle House continued with the second match of the night. Brown rocked Swinger with a plethora of punches to kick off the bout but the latter turned the tables with an eye poke after distracting the referee.
Brown blocked an aerial attack from Swinger and locked him in the Sleeper Hold. The former was pushed into the referee. Swinger then used a cane to keep Brown down but the latter managed to fight him off and delivered an elbow drop for the pinfall win.
Result: Downtown Daddy Brown defeated Johnny Swinger via pinfall on IMPACT Wrestling
Grade: B
---
Everyone was then teleported back to the house where Alisha accidentally revealed the reason to Swinger why they were all there. The latter stormed off and stated that he would never be happy and thankful.
Following some back and forth arguments, the house was divided into two halves between people who wanted to stay and those who wanted to leave. Alisha, Rayne, Kaleb, and Hernandez wanted to leave while Sabin, Rosemary, and others decided to stay.
It was then decided to have a 10-person tag match to decide the fate. Alisha forced Rosemary to teleport Eddie Edwards to the house to join her team.
---
Rosemary, Havok, Crazzy Steve, Black Taurus & Chris Sabin vs Madison Rayne, Kaleb With a K, Hernandez, Alisha & Eddie Edwards on IMPACT Wrestling
Rosemary and Havok took turns attacking Alisha. Rayne tagged herself in and was punished by Havok following which Edwards was tagged in, who had a back and forth with Steve and Sabin.
Taurus picked up the pace with his agility which led to a tussle between all the competitors in the match. This ended with Rosemary delivering a Spear to Alisha to pick up the win for her side.
Result: Rosemary, Havok, Crazzy Steve, Black Taurus & Chris Sabin defeated Alisha, Madison Rayne, Kaleb With a K, Hernandez & Eddie Edwards via pinfall on IMPACT Wrestling
Grade: B+
---
Back in Wrestle House, Rosemary figured out that by making Swinger fall in love with Swingerella #1, they could make him happy. With three days to go until Thanksgiving, they tried to make Swinger jealous by introducing Lawrence D as a fake boyfriend of Swingerella but it didn't work.
Madison Rayne hosted a special episode of IMPACT Wrestling's Locker Room talk alongside Swinger, with The Demon impersonating Gene Simmons as the guest. He advised Swinger to pursue the woman he loved to achieve happiness.
​
As the special edition of IMPACT Wrestling continued, Swinger confessed his love to Swingerella #1. However, Lawrence also developed feelings for her after pretending to be her boyfriend earlier, leading to a match between the two.
---
Johnny Swinger vs Lawrence D on IMPACT Wrestling
Both stars landed a kick to start the match after which they traded multiple jabs. Lawrence slammed Swinger into the mat and went for an attack from the top rope which the latter blocked. However, D quickly regained control of the match and was about to finish him off but the referee Bravo caught him using rust cologne on his opponent.
With the referee distracted, Swinger threw powder on Lawrence's face and hit a swinging neck breaker for the win.
Result: Johnny Swinger defeated Lawrence D via pinfall on IMPACT Wrestling
Grade: B
After the match, Swinger proposed to Swingerella #1 which she accepted, and the wedding was planned. One day away from Thanksgiving, Hernandez learned about Decay's plan to steal Bravo's soul and confronted them leading to a match between him and Black Taurus.
---
Hernandez vs Black Taurus on IMPACT Wrestling
Before Hernandez could get rid of his suit, Taurus launched a vicious attack on him. Hernandez made a brief comeback with multiple clotheslines but a distraction from Decay enabled Taurus to pick up a roll-up victory.
Result: Black Taurus defeated Hernandez via pinfall on IMPACT Wrestling
Grade: C
---
On Thanksgiving Day, the wedding between Johnny Swinger and Swingerella #1 was about to take place when Eddie Edwards heard the deal between Decay and Bravo. Rosemary cast a spell over him and sent him into a drunken state.
As everything was about to go down as per the plan, a drunk Edwards spilled the beans following which The Demon Assassin revealed the truth to everyone stating that Bravo agreed to the deal to make Swinger happy.
Bravo then revealed that he outsmarted Decay as he no longer had virgin blood. Swingerella #1 revealed that it was because they slept together. Swinger seemed relieved and left the altar, following which Bravo proposed to Swingerella #1 and they got married.
During Thanksgiving dinner, Swinger revealed that he was thankful and happy that Bravo saved him from getting married, after which they all enjoyed their meal as the Thanksgiving special of IMPACT Wrestling went off the air.
​