​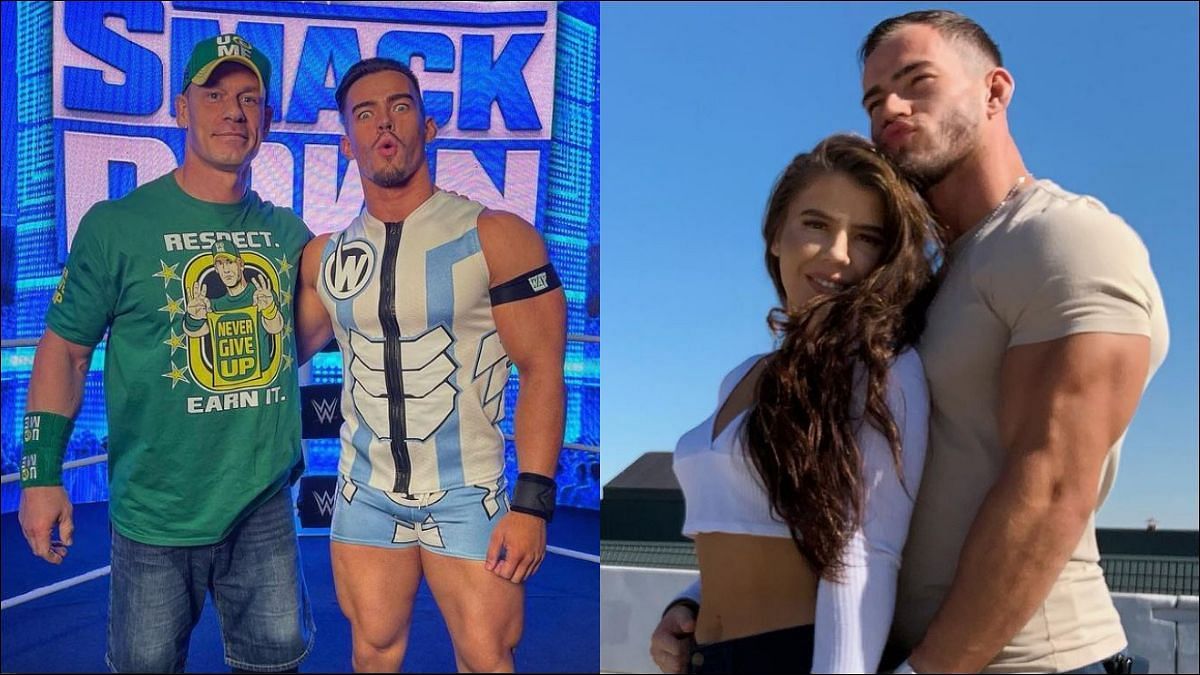 WWE Superstar Austin Theory joined the company with a bang in late 2019. His first match on NXT saw him challenge North American Champion Roderick Strong right away.
Theory continued to prove himself to the WWE Universe ever since, quickly moving to the main roster. There he was briefly managed by Zelina Vega.
After moving back to NXT, Theory was paired with the power couple: Candice LeRae and Johnny Gargano. He recently found his way back to the main roster, quickly becoming popular.
He has already defeated top WWE Superstars such as Jeff Hardy and Rey Mysterio. On the November 22, 2021, episode of RAW, he had a major segment with Vince McMahon that gave him a WWE Championship match against Big E.
There is little doubt that Theory is the future of WWE and could get a massive push in the months to come.
With that being said, take a look at the seven things you probably didn't know about WWE's fastest-rising Superstar, Austin Theory.
---
#7. Paul Heyman made the call in WWE to push Austin Theory early on
​
Austin Theory started creating waves right after making his way to WWE. The young superstar got some big matches on NXT, and the higher-ups began to take an interest.
Soon after, he was called up to the main roster rather quickly. The man behind the decision was none other than Paul Heyman. Roman Reigns' special counsel is known to have a keen eye for exceptional talent.
Paul Heyman picked Austin Theory as Andrade's replacement at WrestleMania 36. Knowing the star power of Andrade, it was a big opportunity for the newcomer.
Wrestling Observer's Dave Meltzer reported that Heyman made the call to continue pushing Theory on RAW, even though it initially appeared that Theory was just a short-term replacement for the then-injured Andrade:
​
"This isn't Vince [McMahon], this is definitely Heyman, and he was brought up because they needed somebody for WrestleMania and they were impressed enough…They liked the idea of the three-person stable with Zelina Vega with Andrade, Garza and Austin Theory," Meltzer reported.
​
It's already a significant achievement to get called up to the main roster so soon after debuting on NXT. However, it's another thing to get recognized by Heyman and get handpicked by him in WWE.
​
#6. Austin Theory has two younger brothers
​
Austin Theory is one of the youngest superstars on WWE's main roster. However, he is not the youngest man in his house. Looking at Theory's social media, it seems like the superstar has two younger brothers.
He hasn't discussed his family during interviews, but it's clear that he is very close to his two siblings. His brothers must look up to him and would probably love to be as successful as him.
Looking at how quickly Theory is rising in WWE, it won't be surprising if his siblings also decide to join him in the business someday.
---
#5. WWE Superstar Austin Theory won a bodybuilding competition at age 17
​
It's not uncommon for WWE Superstars to enter bodybuilding competitions. Alexa Bliss and Dana Brooke had successful bodybuilding careers before they joined the promotion.
Austin Theory started weight training at the tender age of 12, and by 17, he won a big competition. He was placed first in the 2015 NPC Georgia Bodybuilding Championship, Teen Men category. The young man said that he wanted to be different than the rest.
"It's something out of the ordinary but we've always been the kind of people that want to do different things. What's the point of being on this Earth if all you want to do is be like everybody else? We don't want to be average." Austin Theory said.
His incredible physique has gotten better with time as he has put in the hard work.
​
#4. Austin Theory called out John Cena early in his career
​
Austin Theory has aimed high since the beginning of his WWE career. He got a championship match right away after appearing on NXT. But even before that, the superstar has been aiming high.
Austin Theory was the EVOLVE Champion for 329 days between 2018 and 2019. During that time, he called out WWE legend John Cena. He asked Cena to pass the torch in his direction. The promotion published a video on their YouTube channel where Theory said:
"John Cena, I heard you're trying to pass the torch. Well, you know how to get in contact with me."
Cena was quick to respond by posting Theory's photo without any caption. The young superstar has said that Cena was his biggest inspiration in wrestling as he tried to model his career following the WWE icon.
---
#3. Austin Theory won a major title in his second match before joining WWE
​
Before coming into WWE, Austin Theory wrestled on many different promotions. According to Cagematch.net, Theory competed in his first professional wrestling match for Glory Pro Foxfire against Mike Cobb and Poncho Arp in April 2016.
He competed in his second professional match against AR Fox for the WWA4 Heavyweight Championship a week later. He defeated his opponent to become the new WWA4 Heavyweight Champion.
Interestingly, AR Fox is also the man who trained Austin Theory to become a professional wrestler. The RAW Superstar's achievements show that he is used to success early in his career.
​
#2. Austin Theory defeated Darby Allin in a match before joining WWE
​
Austin Theory came into WWE after a successful run in EVOLVE Wrestling. He debuted in the latter during February 2017. His first match in the promotion came against Darby Allin.
Many fans know that Allin is one of the top wrestlers on AEW. Austin Theory went on to defeat Allin in his first match for EVOLVE. That's not all, as Theory has also defeated Joey Janela for the FIP World Heavyweight Title.
Theory has won big matches and titles on nearly every promotion he's worked on. He could become a big star for WWE sooner rather than later.
---
#1. Austin Theory's girlfriend is also a bodybuilder
​
Many WWE fans will be wondering about Austin Theory's relationship status. The superstar used to post about his personal life on social media but has pulled back recently.
From Theory's early posts on Instagram, one can confirm that he's in a relationship with Jordyn Leonard, a bodybuilder with almost 10,000 followers on Instagram.
She regularly posts photos with Austin Theory, and the two seem to work out together in the gym.
​