​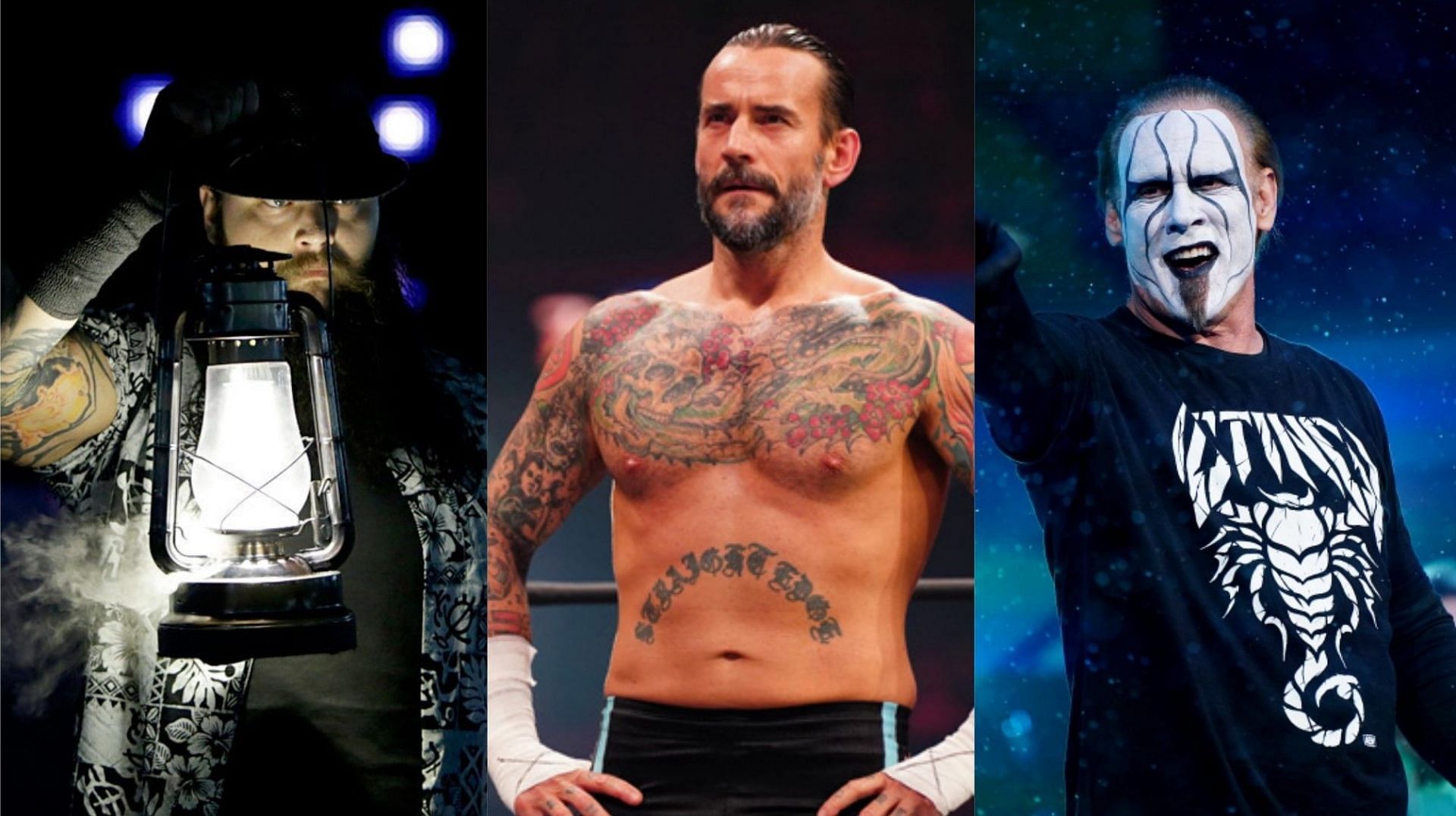 Welcome back to another must-see edition of AEW News and Rumor Roundup, where we compile all the biggest news stories coming from the world of All Elite Wrestling.
We'll begin today's roundup with a WWE legend who recently slammed CM Punk for not putting over a rising star. Meanwhile, a 72-year old wrestling veteran expressed his desire to see Bray Wyatt in AEW.
In a noteworthy development, we came across a report revealing the brainchild behind Cody Rhodes taking a flaming table spot last week. In a heartfelt post, a top heel has heaped praise on Sting.
And last but not least, Jim Cornette believes a WWE Hall of Famer could come out of retirement on one condition. With exciting stories lined up, let's quickly get down in details.
---
#5. WWE Hall of Famer Booker T savagely criticizes AEW's CM Punk for defeating Darby Allin
Booker T was not a fan of CM Punk's win over Darby Allin in his debut match at AEW All Out 2021.
While speaking on his Hall of Fame podcast, the veteran couldn't figure out the motive behind The Straight Edge Superstar defeating one of the company's four pillars:
​
"The first person he [CM Punk] called out was Darby Allin, and [he] beat him. Why? Tell me why did you beat Darby Allin. When Darby Allin is considered, you know, one of those guys, pillars of their company. Why beat him? I'm just trying to figure it out. And if that same thing would have happened, vice versa, it will be talked about from a negative perspective."
Booker T further called the AEW fanbase 'hypocritical' for accepting Allin's loss. He also stated that CM Punk didn't gain much from the victory, considering his current position. Meanwhile, Booker T wondered what the 28-year old star has done since losing that high-profile feud:
​
"So I'm, just, you know, don't be so hypocritical when you see stuff like that happen. Because me, personally, I do not think Darby Allin should have gotten beat because it was no reason for Darby to get beat. He [Punk] could have beat all of these guys that he's beaten after Darby Allin, and we would have still have the same thing that we have right now. What has Darby Allin done since CM Punk?"
Though Booker T's statement makes sense, AEW fans would have raged over witnessing CM Punk lose his first match back, especially in his hometown of Chicago.
​
#4. Ric Flair wants AEW President Tony Khan to sign Bray Wyatt
WWE Hall of Famer Ric Flair recently expressed his desire to see Bray Wyatt in AEW.
While speaking on his Wooooo Nation Unrestricted podcast, Flair lavished praise on Wyatt for being a creative genius in and out of the ring. The Nature Boy believes AEW would benefit from hiring the former Universal Champion, considering the star's ability to come up with 'incredible' ideas:
"I would hire Bray Wyatt. I'm a huge fan of his, the kid can work and talk and he comes up with some incredible ideas. I know you're not crazy about those gimmicks, but when you think that the time and effort he put in and those were a part of his thought process."
In addition to being a fan of Windham Rotunda, Ric Flair also praised his real-life brother, Bo Dallas, who was also released from WWE in April this year:
"Plus, he's legit, he's a tough kid, he is an amateur athlete. I know I'm probably a lot in favor of athletes who have played D1 Sportsnet, but I'm just a big fan of his. I like his brother a lot too. You couldn't find a more handsome and athletic guy. But I think if I'm gonna hire one more guy, I'll hire Bray Wyatt."
Bray Wyatt's next wrestling destination has become one of the hottest topics in wrestling today, especially knowing that he's become a free agent now.
Previous reports suggested plans were in place for the ex-WWE star to show up at AEW at some point, but the said idea fell through for unknown reasons.
---
#3. Backstage update on Cody Rhodes' flaming table spot on AEW Dynamite last week
Several notable question marks were left hanging following Cody Rhodes and Andrade's flaming table spot from their Atlanta Street Fight last week.
Though Brandi Rhodes set the table on fire, Cody was the brainchild behind the high-risk maneuver.
According to Dave Meltzer, The American Nightmare wanted to create a memorable moment in front of his hometown crowd, similar to what he delivered last time when an AEW show emanated from Atlanta. Rhodes executed a 20-feet high moonsault from the top of the cage in his match against Wardlow.
Though the spot grabbed massive eyeballs, it mostly received a negative response from wrestling fans and veterans.
​
#2. Matt Hardy writes a heartfelt message for AEW star Sting
Matt Hardy has high words of praise for Sting as he recently put his thoughts on Twitter regarding the WCW Icon's current pro-wrestling run.
The legendary tag team star explicitly stated that he's grateful to see Sting finally getting the chance to finish his wrestling career on his own terms. Hardy added he has immense respect for the 62-year old star and that Sting deserves the final stint of his wrestling career at AEW:
"No one deserves this current run in pro wrestling more than @Sting. Sting is the best. I have a great respect for him & I am grateful he gets to finish his career properly in @AEW. #AEWDynamite."
Matt Hardy made the statement after witnessing Sting put on another star-making performance when the latter teamed up with Darby Allin to defeat The Gunn Club. The WCW Icon will be completing the first anniversary of his AEW debut at the upcoming Winter is Coming edition of Dynamite. Moving forward, it would be interesting to see what the company has in store for Sting.
---
#1. Jim Cornette reveals one condition that could prompt Kurt Angle to wrestle in AEW
Jim Cornette thinks WWE Hall of Famer Kurt Angle could come out of retirement to wrestle a match for AEW down the road.
While speaking on his Drive-Thru podcast, Cornette believes Angle's explicit comments about having a missed opportunity to wrestle Kenny Omega could prompt Tony Khan to offer a big paycheck to the retired legend.
The wrestling manager further stated that Angle might be fully aware that the AEW boss would be firmly behind booking him against The Best Bout Machine:
"If Kurt got back in the ring for another match, it would be for whoever pays the most money, I would think, so I wouldn't bet against that because I bet Tony Khan would pay him the most money. And I have a feeling that Kurt Angle made that statement fully aware of the fact that if he was to have one more match, the person who would pay the most money for it would probably be Tony Khan. And I would extrapolate further that Kurt is fully aware of the fact that if Khan was going to pay him a large sum of money to have one more match, Tony Khan would probably want to see it against Kenny Omega."
Kurt Angle retired after facing Baron Corbin at WrestleMania 35. He opened up about multiple offers he received from AEW. However, Angle turned it down, knowing that his body was too banged up to perform again.
​