​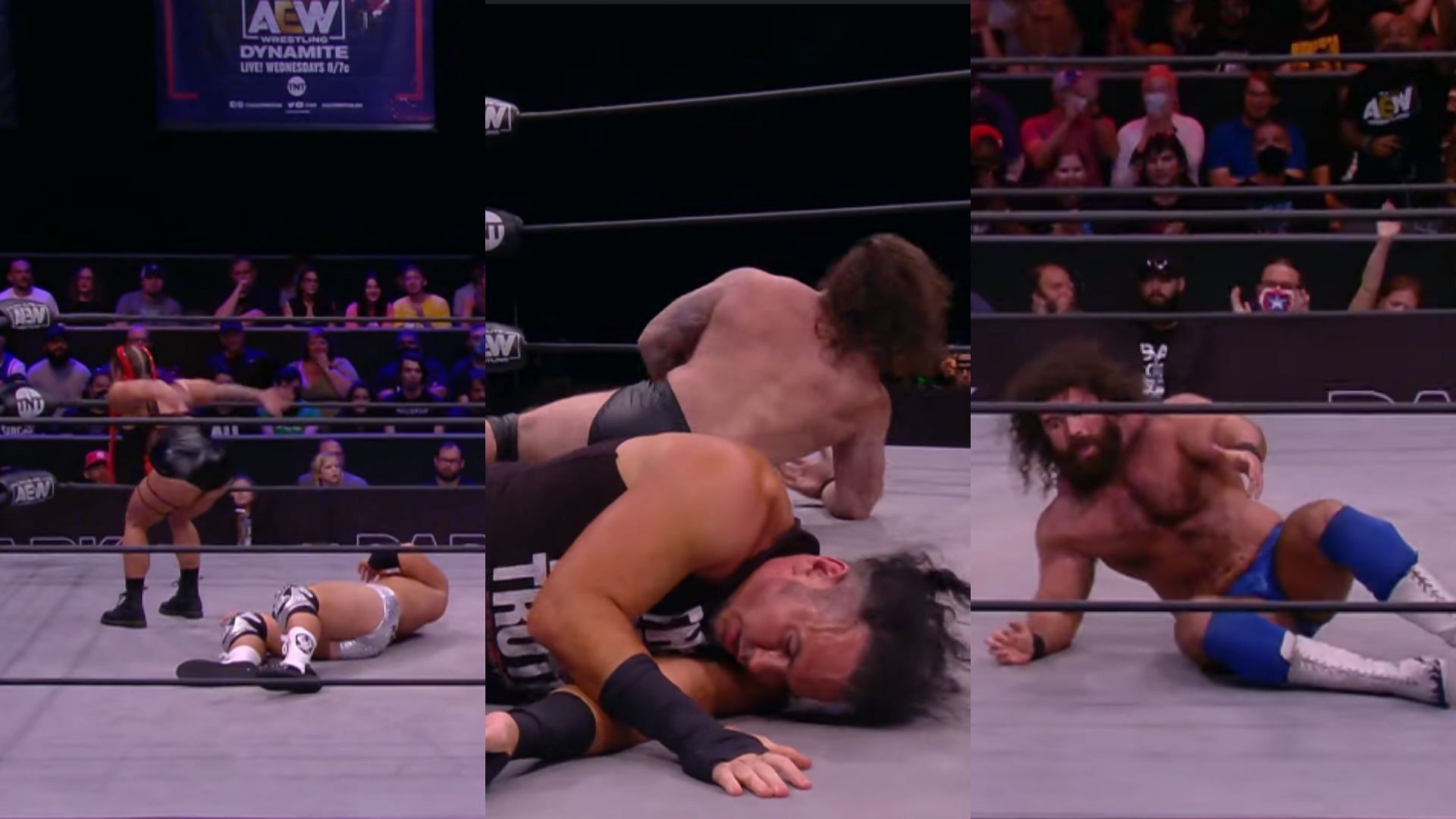 AEW wasted no time going straight into the action as the 12-match card kicked off with a tag team contest.
---
"The Captain" Shawn Dean & Carlie Bravo vs. John Silver & Alex Reynolds (w/ Dark Order & -1)
Taz started by noting that while he hates the Dark Order, he respects the camaraderie between the group's members. The match got underway with a brilliant takedown from John Silver.
Carlie Bravo was outwrestled during the early moments of the match as he tried to get to a vertical base. Bravo hit the ropes but couldn't find Silver, who came back with a big clothesline.
Reynolds got the tag and delivered an excellent combination offense with his partner. Johnny Hungy returned and landed some stiff chest kicks of his own. Bravo, however, intercepted the kick and landed an elbow strike before Silver responded with a great mat return.
Shawn Dean finally got a blind tag and worked with Bravo to pull off a multi-move combo featuring an elbow drop and a back senton for a two-count. Silver blocked a double suplex but couldn't evade the double stomps and thrust kicks. The Dark Order member reached out to the ropes to break the pin. Carlie Bravo's inexperience came to the fore as Shawn Dean got back into the ring.
Silver began his comeback and made the hot tag to Reynolds, who took Dean out with an uppercut and a dropkick. Alex connected with a forearm shimmer followed by the neckbreaker for a two-count.
Dean recuperated and got him with his 'Hit Em' With The Deal' finisher, but Silver rushed in to break the pinfall. Reynolds escaped the fireman's carry and shoved Dean into Bravo.
Reynolds delivered a knee strike to Dean before isolating Bravo. The Dark Order hit a powerful four-move combo that started with a rolling elbow strike, followed by an enziguri. The duo finished the sequence with a Stunner and a German suplex before getting a jackknife pin over Bravo for the win.
Result: John Silver & Alex Reynolds def. Shawn Dean & Carlie Bravo
Grade: B+
---
Riho vs. Karma Dean (AEW debut)
The AEW debutant wasn't a popular figure as fans booed her before the match started. Dean used her size advantage to dominate Riho during the early exchanges.
Karma gouged Riho in the eyes and kept the former AEW Women's champion on the back foot by utilizing a slow but effective in-ring style. Riho avoided contact in the corner by getting her boots up in time.
She then executed a drop toe hold before rocking Karma Dean in the face with the Area Code Shot. Riho got a near fall with a Northern Lights suplex. The star then went up to the top and delivered a diving foot stomp for the win.
Result: Riho def. Karma Dean
Grade: B
---
2point0 & Daniel Garcia vs. Gabrial Hodder, Adrien Soriano & Matthew Omen (AEW Trios Debut)
Daniel Garcia kicked off the AEW Trios match with an aggressive lock-up and a few knee lifts. 2point0 got the tag, and the team executed a dropkick-Russian leg sweep with Garcia's help.
Gabriel Hodder came in and got taken down in an instant. Matt Lee talked trash as he connected with a massive clothesline. Hodder took an elbow drop right across his spine before rolling over to Adrien Soriano, who started off well with some punches.
2point0 hit the 'Two for the Show' on Soriano before tagging in Garcia, who applied the Scorpion Death Lock for the win. Daniel Garcia didn't let go of the hold even after the bell.
Result: 2point0 & Daniel Garcia def. Gabrial Hodder, Adrien Soriano & Matthew Omen
Grade: C
Daniel Garcia and 2point0 stayed back for an interview with Tony Schiavone.
---
Kiera Hogan vs. Notorious Mimi
Kiera Hogan executed a side headlock and maintained control until Mimi got back with a hair pull. Hogan reacted with a perfect dropkick but missed her running strike in the corner.
Mimi hit a high kick across the jaw, followed by a side slam for a two-count. Hogan got back quickly and delivered a leg drop, shotgun dropkick, and a baseball slide kick.
Kiera went on to finish Mimi off with a well-placed roundhouse kick.
Result: Kiera Hogan def. Notorious Mimi
Grade: C
​
​
Bear Country vs. Chad Lennex & Caine Carter (AEW Tag Team Debut)
Chad Lennex made the grave error of taking the fight straight to Bear Boulder in the AEW Dark match as he was swatted down to the mat with a shoulder block.
Boulder delivered a delayed military press slam before tagging Bronson. Lennex kicked Bronson but missed the sunset flip as Caine Carter ran in to save his partner.
Bronson caught Carter and executed a piledriver as he sat on Lennex's chest. Boulder hit a double body slam, tagged Bronson and hit the Elevator Splash finisher for the win.
Result: Bear Country def. Chad Lennex & Caine Carter
Grade: C
---
Anthony Greene vs. Jameson Ryan on AEW Dark
Jameson Ryan flexed his biceps as he prepared to face former WWE NXT star Anthony Greene, who was yet to pick up a win in AEW.
Greene found it challenging to deal with Ryan's power, but he outsmarted his opponent with a running forearm strike. Greene blocked the Oklahoma stampede and dumped Ryan on his head with a side suplex.
He jumped up to the top and delivered a spinning splash. Greene set the stage for his finish and hit the Crucifix Driver for the win.
Result: Anthony Greene def. Jameson Ryan
Grade: C
---
An in-ring interview with Tony Schiavone followed Greene's first AEW win. It was also announced that Greene would take on Adam Cole on next week's episode of Dark.
---
Joey Janela (w/ Kayla Rossi) vs. Zack Clayton
Zack Clayton returned for his third AEW match, and he looked to control Joey Janela's wrists after the opening bell.
Janela used his elbows to create some space before executing a hammerlock slam. Clayton reacted with a good dropkick. Kayla Rossi jumped up on the apron to distract Clayton, and it almost worked as Janela got a near fall from a schoolboy rollup.
Clayton popped the fans with a delayed vertical suplex. He hit the ropes for a big move, but Rossi caught his boots from the outside. Joey used the time to recuperate and went on to take the driver's seat in the match.
The Bad Boy baited fans into thinking he was going for the Coast-to-Coast but jumped down on the apron and received a chorus of boos.
Janela laid out Clayton near the corner with a side suplex before ascending to the top turnbuckle. Zack rolled in and took Janela out with a powerslam. Fans got behind the big man as he hit running back elbows and uppercuts.
Janela countered with a thrust kick, but Zack hung in the match by kicking out at two. Joey rolled out of the ring and drew the referee's attention away. Kayla Rossi entered in the meantime and delivered a standing moonsault press on Clayton behind the ref's back.
Janela landed the elbow drop from the top and added another win to his record thanks to an assist from Kayla Rossi.
Result: Joey Janela def. Zack Clayton
Grade: B
---
Bear Country cut a backstage promo up next, and they sent a daunting message to the entire tag team division.
---
Emi Sakura (w/ Lulu Pencil) vs. Valentina Rossi
A loud 'Valentina' chant started the match as Emi Sakura tried to silence the crowd. Sakura dropped Rossi down with a hair pull before locking her up in the Romero Special.
Rossi blocked the Queen's Gambit, but Sakura improvised and scratched her opponent's back. Valentina tried to string together a few chops and hooks, but Sakura fired back with stiff chops of her own.
Rossi kept up with the back-and-forth sequence by reversing a suplex into a suplex. Valentina almost pulled off a massive upset by getting a near fall with a straight jacket neckbreaker.
Sakura broke out of the standing dragon sleeper by raking Rossi in the eyes. The Japanese wrestler then hit the crossbody in the corner before going up top for the corkscrew splash.
Sakura stopped the pinfall as she wanted the fans to witness the Queen's Gambit. The veteran finally hit her finisher for the win and celebrated with Lulu Pencil after the match.
Result: Emi Sakura def. Valentina Rossi
Grade: B+
​
Matt Hardy (w/ Jora Johl) vs. Brick Aldrige on AEW Dark
Matt Hardy grabbed the microphone and gave Brick Aldrige an earful before the AEW Dark match.
Aldrige pushed Hardy back, but the veteran exploded out of the corner with a forearm shot. Aldrige used his power to execute a big biel throw across the ring. Hardy turned the tables by dumping Aldrige outside the ring. Jora Johl got involved as he sent Brick crashing face-first into the ring post.
Hardy rolled over to the outside and dropped a few elbows on Aldrige over the apron. The former WWE star delivered two neck breakers and ordered the crowd to say his name with reverence. Aldrige didn't go down without a fight, as he tried to punch his way back into the match, only to get caught in a sleeper hold.
Aldrige got back to a vertical position, and he desperately backed Hardy up in the corner. Brick headed up top but ate a right punch from Hardy. Matt followed his opponent but couldn't deliver a top-rope suplex as he was sent crashing back down.
Aldrige was right on the money with a diving headbutt, but he was slow to capitalize as Hardy kicked out of the subsequent pinfall. Aldrige blocked the side effect and delivered a brutal shoulder breaker. Jora Johl leaped on the apron but got knocked off with a big punch.
Aldrige couldn't find Hardy with his springboard moonsault as Matt rolled out of the way. He planted Aldrige into the mat with the side effect before starting a "delete" chant. A Twist of Fate followed, and so did the three-count for Hardy.
Result: Matt Hardy def. Brick Aldrige on AEW Dark
Grade: B+
---
The Acclaimed vs. Lee Johnson & Brock Anderson (w/ Arn Anderson) on AEW Dark
Max Caster's latest diss verse was dedicated to the Nightmare Family, and of course, he did not even spare Arn Anderson.
Brock Anderson did well to catch Max Caster off guard with a few chained sequences of strikes. He fired off some shoulder shots in the corner, followed by the backdrop.
Lee Johnson entered the ring while Bowens received the tag as well. Anthony ripped Johnson in the chest with two chops. Lee responded with a brilliant dropkick, which was called the most underrated in the game by Taz.
Anthony Bowens raked Brock Anderson in the eyes and kicked him outside, where Max Caster was waiting to pile on the pressure. Bowens worked on Anderson's back with a series of forearm shimmers. He dropped Brock down with a modified back suplex. Anderson showed toughness with a spirited kickout, but Bowens got back to business with the chops.
Caster was tagged, and he began with stomps in the corner. Max had Anderson locked in scissor hold as Johnson urged the crowd to get behind his partner.
Brock's selling was on point tonight as he sold his back injury and took a lot of punishment throughout the match. He escaped a big running strike and tried to crawl over to Johnson. Caster smartly distracted the referee just when the tag took place.
Anderson got dragged back to the middle of the ring as Bowens returned to carry on from where he left off. Brock Anderson finally created some space with a snap DDT from him that proved to be the turning point in the match.
When Caster stopped the first attempt at a tag, Anderson pulled off a spinebuster and finally got a fresh and energetic Lee Johnson back into the contest.
Big Shotty took Caster out with a swinging neckbreaker. He gave Bowens a step-up enziguri but couldn't see Caster coming in with a running forearm shot. Caster sprang up to his feet with a kip-up, and so did Lee Johnson.
Johnson executed a rolling senton, followed by a Frog Splash, but Bowens broke the pinfall. Caster continued to take some punishment from Brock Anderson while Bowens reached under the ring for a chain. He slid it over to Caster, who decked Anderson in the face with the weapon behind the referee's back. Max then covered Anderson for the win.
Result: The Acclaimed def. Lee Johnson & Brock Anderson
Grade: B+
---
Wardlow vs. Rolando Perez (AEW Debut)
We mean no disrespect, but Rolando Perez stood no chance against Wardlow. The Pinnacle member no-sold the AEW debutant's punches.
Perez realized that his offense was ineffective, and he quickly dropped to his knees and pleaded for mercy. He kissed Warlow's feet and got a monstrous powerbomb in return. Ouch!
Wardlow delivered three more powerbombs. Mr. Mayhem put his opponent to sleep with a knee strike.
Result: Wardlow def. Rolando Perez (AEW Debut)
Grade: C
Wardlow wasn't done as he executed two F10s on poor Rolando after the match.
---
AEW Dark Main Event: Lee Moriarty vs. Nick Comoroto (w/ Aaron Solo)
Nick Comoroto avoided a takedown attempt and slapped Moriarty in the face to kickstart the AEW Dark main event.
Comoroto executed a giant mat return as Moriarty retreated into the corner. This match was all about technique versus brute force, and Comoroto easily won the early battles.
Moriarty came back with chopping kicks, but he couldn't avoid the shoulder attacks in the corner. Moriarty floated over an incoming strike and went for the Fujiwara armbar. Comoroto used his power to block the submission attempts, and he tremendously transitioned to a backbreaker. Inhumane strength! However, the damage had already been done as Comoroto began selling a storyline injury of his left arm.
The Freak Beast delivered another backbreaker and got a two-count this time for his efforts. Nick sent Moriarty outside, where Solo was waiting to land a few cheap shots on the babyface.
Comoroto mocked Moriarty as he dominated the match with a delayed military press slam. Moriarty kept going back to the armbar, and Comoroto continued to reverse the move with power strikes and scoop slams.
Comoroto showcased some textbook execution in his snap suplex, and he kept pinning his opponent at regular intervals. Moriarty had a lot left in his gas tank, as he fired off a few chops. Lee, unfortunately, got caught in the ropes and ate another cheap shot from Solo.
Moriarty escaped a suplex by kicking Comoroto in the head. He mounted a comeback with two clotheslines.
Lee knocked Comoroto outside with a running uppercut. He sprung out to the apron and delivered a painful shot to Comoroto's left arm.
Moriarty kept working on the left shoulder area as he sent him crashing into the steel post. He wrenched Nick's arm around the post before resuming the match inside the ring.
Lee had Comoroto in a Kimura, but The Factory member somehow fought out of the hold with an incredible powerslam. Comoroto looked stunned as Moriarty kicked out of a close pinfall.
"Let's go, Lee," chants kicked off as we approached the final stages of the match. Comoroto faced a lot of trouble using his left arm, and Moriarty capitalized by kicking it from his back.
Lee Moriarty ate a massive right hand from Comoroto, who proceeded to lift his rival with one arm. However, he couldn't deliver a finishing slam as Moriarty caught Comoroto in a cradle pin for a shocking upset win!
Result: Lee Moriarty def. Nick Comoroto
Grade: A
After his big win, Lee Moriarty cut a promo, spoke about his rise with AEW, and vowed to continue his momentum. Taigastyle is here to stay!
---
Check out the full AEW Dark episode above, and don't forget to leave your reviews and grades in the comments section below.
​