​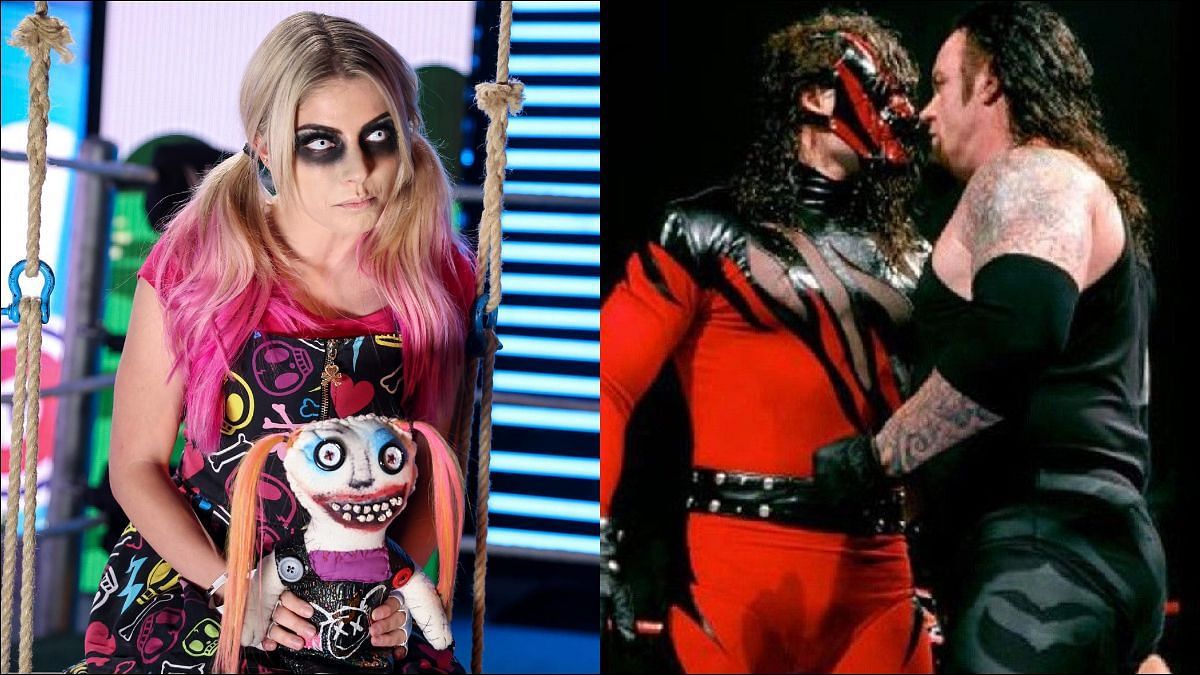 WWE requires its superstars to play some unique characters in the ring to entertain the fans. Over the years, these characters have helped superstars become household names.
Some WWE Superstars such as The Undertaker and Kane have played such iconic characters on screen that many fans expect them to act the same way behind the scenes. Meanwhile, some have taken inspiration from pop culture for the gimmicks.
WWE Superstar Shinsuke Nakamura has shaped his character around Michael Jackson, while John Morrison has picked up aspects of his gimmick from Jim Morrison. Similarly, many current and former WWE Superstars worked hard to mold their gimmicks around famous movie characters.
With that being said, take a look at the six WWE Superstars who were inspired by movie characters.
---
#6. WWE Chairman told Paul Burchill to model his gimmick around Jack Sparrow from Pirates of the Caribbean
​
Former WWE Superstar Paul Burchill came to the US with big dreams before being called up to the main roster. The British superstar debuted as a henchman for William Regal and slowly got over with the crowd.
Soon after, Vince McMahon decided to give Burchill a massive character change in WWE. According to Burchill, the WWE Chairman asked him to dress up as a pirate and embrace his ancestry.
​
"I went to Mr. McMahon and he said, 'You're going to be a pirate, like from 'Pirates of the Caribbean. I said, 'OK, so you want me to be like Keith Richards?' He said, 'Yes, but dressed like a pirate! You couldn't just go to the store and find pirate stuff like now, where it's everywhere. My wife literally spent the whole week on the phone with museums and every kind of store getting all this stuff for me to be a pirate," Burchill recalled.
The Captain Jack Sparrow-inspired look didn't help the WWE Superstar even though he had the perfect entrance to make it work. A botched entrance severely injured his knee, and he had to take a lot of time off from the ring.
Many believe the gimmick killed Paul Burchill's career. However, he decided to walk out of the wrestling industry even though he loved his character.
​
#5. Razor Ramon's WWE gimmick was inspired by Tony Montana and Manny Ribera from Scarface
​
Scott Hall competed in WWE under the ring name Razor Ramon. He is among the few big names in the industry who have never won a world title.
Ramon played a few interesting gimmicks during his time in WWE. According to the legend himself, he offered to play a G.I. Joe character on screen soon after his debut.
​
"When I first had my debut match, my tryout match, Vince liked it and I was summoned to his office there in the arena. He goes 'Well, I understand your father's in the army, he was career operating officer.' I said 'Vince, if you want me to be G.I. Joe, I'll be the best G.I. Joe I can be,'" Ramon said.
However, it was the 1983 film Scarface that helped shape Ramon's character. The superstar modeled his character around Tony Montana and Manny Ribera from Scarface and pitched it to Vince McMahon.
​
"I said 'Did you ever see Scarface?' He said 'No.' I went 'Say hello to the bad guy.' I just started doing that schtick and he loved it and he thought I was a genius. I'm ripping off the movie and he thinks I'm a genius. Of course I never corrected him about the genius part, but that's how it all came about," Ramon added
Ramon's nickname 'The Bad Guy' was also picked up from a catchphrase in the film. His character helped him get over with the WWE Universe, becoming one of the biggest names in the industry.
​
#4. Former WWE Superstar Tyler Breeze picked up inspiration from Derek Zoolander
​
Many would agree that Tyler Breeze was a home-grown talent WWE greatly mishandled. He had a rather interesting gimmick during his time in the company.
Breeze became known as "Prince Pretty" after picking up a gimmick inspired by Derek Zoolander's character from the 2001 comedy Zoolander.
According to the former WWE Superstar himself, the character wasn't inspired by Zoolander at first. However, he remodeled his character after watching the film. He spoke about how things changed in an interview with Afterbuzz TV.
​
"Everyone thinks it must have been inspired by Zoolander, but the funny thing is it really wasn't until later. I kind of based it off the people I had seen come in and try out. I did this face at the end of interviews and then I started watching some Zoolander stuff and switched my voice a little bit. As I started doing more interviews it kind of turned into more of Ben Stiller from Dodgeball than it actually was Zoolander. I was this loose cannon that would get angry at anything and everything you asked me was the stupidest question I've ever heard in my life." said Tyler
His gimmick was essentially Derek Zoolander with a selfie stick. It worked well for him and gave him a chance to do something different than the other superstars.
​
#3. WWE legend Kane's gimmick was inspired by Michael Myers from Halloween
​
WWE Hall of Famer Kane played one of the most iconic gimmicks. The superstar emerged as The Undertaker's brother and the two shared some of the best partnerships and rivalries in wrestling history.
The mastermind behind Kane's character change was none other than Jim Cornette. He got the idea from the character of Michael Myers from the Halloween franchise of films. Cornette appeared for an interview with Inside The Ropes and spoke about the thought behind the iconic WWE character:
"My favourite horror movie was Halloween, Michael Myers and that was my original vision for Kane when I was told that Kane would be the Undertaker's evil brother who's existed all this time… I thought what if he was like Michael Myers, the main character in Halloween, what if he was like the embodiment of evil. That's the flavour that not just wrestling fans but everyone watching the show, they got," said Cornette
The gimmick worked extremely well and made Kane a hit among WWE fans. The company didn't change the overall character for several years with nominal updates here and there.
​
#2. WWE Superstar Alexa Bliss was inspired by DC's Harley Quinn
​
WWE Superstar Alexa Bliss has been one of the most influential female wrestlers of this generation. She has defied all odds to become a top name in the industry.
Over the years, Bliss has played some excellent gimmicks that have impressed her fans. One of her most popular gimmicks was inspired by Harley Quinn of the Suicide Squad.
Bliss has revealed that she is a big comic book fan and loves everything Disney. That is what led her to pick up the character and play a villain on-screen in WWE.
​
​
​
"I'm such a villain fan. I love comics, I love anything Disney – everyone knows that about me, I'm a big Disney fan – anything that's fictional, I'm a huge fan of… I just like portraying characters but making it my own. The Harley Quinn thing I was really excited about. I was so bummed because when I left NXT, I thought I couldn't do the cosplay thing anymore… I kind of ran with the Harley Quinn thing, I said I was going to try it anyway and say sorry after [if it didn't work], but it got a great response and that gave me the freedom to do more." said Alexa Bliss.
The Harley Quinn character helped Alexa Bliss get a major push in her career. She took inspiration from it and added many layers to it as well.
​
#1. Eric Draven from The Crow inspired WWE Hall of Famer Sting
​
Former WWE Superstar Sting suffered a career-ending injury in the company before he returned to AEW. During his time in WCW, Sting had a different character of a 'Surfer.' However, he disappeared for a little while and returned with a brand new character called 'The Crow.'
Sting came out as a silent, almost ghostly being, carrying a baseball bat as a weapon, and began painting his entire face with black and white corpse paint. Scott Hall (Razor Ramon) was the man who pitched the character change to him.
The former WWE Superstar picked up inspiration for the gimmick from The Crow. Speaking as a guest on Eric Bischoff's 83 Weeks podcast, the WWE legend recalled meeting Sting for the first time in several years.
"I said 'Have you ever seen The Crow?' He said no. I said to him 'It's kind of like this cool, dark character with the white face paint and the dark lines. I then said I'm not telling you to rip off Taker but rip off Taker. The kind of rule was if you're in a different territory it's not quite as bad. The way I remember it I think he ran it by E [Eric Biscoff]and they went yeah and we were off to the races," Hall said.
Eric Bischoff added that Hall laid out the idea of the gimmick and the former WWE Superstar picked it up well.
​
​
​
"You didn't just give Sting the idea in a passing conversation. I remember specifically once The Crow thing started to evolve, I remember it was me and Hulk and Sting, Kevin and there was one or 2 other people in there. You laid out not just the idea of the gimmick, but the way to execute it, that was 90% you," Bischoff said.
Sting's The Crow-inspired gimmick is regarded as one of the most iconic in the industry. To this day, he competes as the black-and-white vigilante.
​