​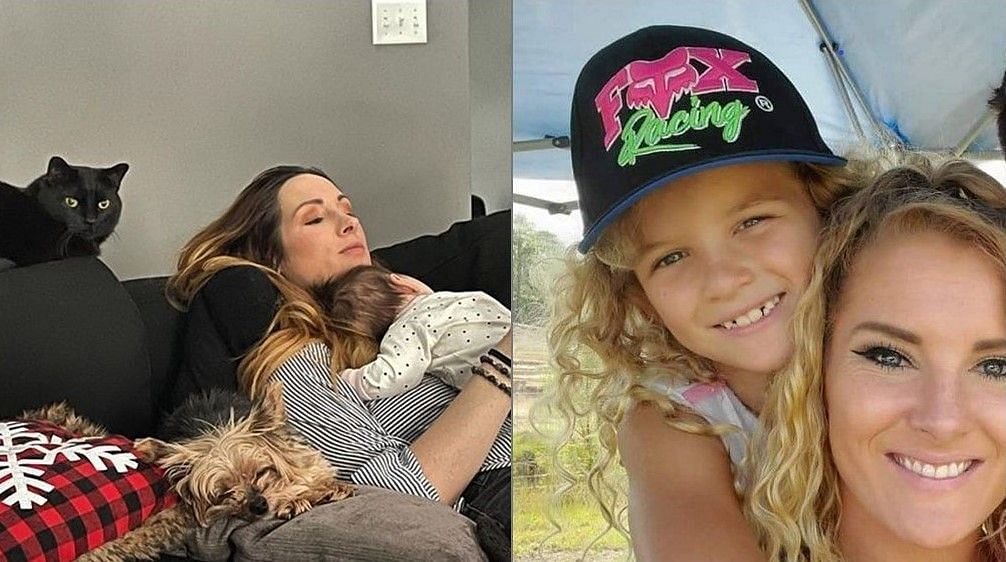 For any woman when she becomes a mother, it is possibly one of the greatest feelings in the world. In a similar vein, motherhood is also a very special emotion for WWE Superstars.
While the most famous name on the current WWE roster who has just become a mother is the reigning RAW Women's Champion, Becky Lynch, there are also a few other superstars who are moms.
In this article, we look at six current WWE Superstars who are mothers:
---
#6 WWE Superstar – Becky Lynch
Becky Lynch is arguably one of the greatest female superstars of all time. Outside the ring, she is married to fellow wrestler Seth Rollins.
The Man announced last year that the couple were expecting their first child. WWE gave her permission to make this public on an episode of RAW in May 2020 where she relinquished her title to Asuka.
The reigning RAW Women's Champion was on maternity leave through the Covid-19 Pandemic and revealed she had given birth to a little baby girl named Roux in December last year.
This was one of the happiest moments for the power couple of WWE. Her daughter will be one year old next month, which will surely be an emotional occasion for the proud parents.
---
#5 WWE Superstar – Lacey Evans
Lacey Evans is a gifted performer in the ring as well as on the mic. The Sassy Southern Belle has been on maternity leave since February this year when she announced her pregnancy.
Evans has kept the WWE Universe updated throughout her most recent pregnancy.
Lacey and her husband Alfonso welcomed their second child in October 2021, a healthy baby girl. She already has a daughter named Summer who was featured in Evans' rivalry with Sasha Banks and Bayley on SmackDown in late 2019.
​
#4 WWE Superstar – Asuka
Asuka is one of the most talented superstars on the current WWE women's roster. The former two-time RAW Women's champion is currently sidelined due to an arm injury. She was spotted in an arm sling in September this year.
While The Empress of Tomorrow keeps her private life under wraps, Becky Lynch disclosed in an interview with Sports Illustrated in May 2020 that Asuka is a working mother. Becky at the time had relenquished her RAW Women's Championship to Asuka when the former announced her pregnancy.
In her interview, Lynch had this to say about Asuka:
"Passing that championship onto Asuka meant a lot. She really, really deserves it. And another element that people missed, because it's not really advertised, is that she's a working mom. She's proven that you can do it all. You can be a b****s and go off and have a family, you can come in and still kick more ass, have a YouTube show, and be entertaining as all hell. The fact that she was the person to take that title from me meant a lot to me."
Since Asuka is very reserved about her personal life, not much is known about her motherhood.
---
#3 WWE Superstar – Tamina
Tamina herself is the daughter of the late WWE Hall of Famer Jimmy Snuka. She is currently one of the most dominant forces in WWE. She has been part of the promotion for more than a decade, soaring to become a former WWE Women's Tag Team Champion as well as a former 24/7 Champion.
Outside the ring, Tamina is a mother to two teenage daughters named Maleata and Milaneta, who are 19 and 17 respectively.
​
#2 WWE Superstar – Beth Phoenix
Beth Pheonix has been one of the most destructive superstars to step foot in a WWE ring. The former three-time WWE Women's Champion is currently semi-retired from in-ring action and works as a color commentator on WWE's NXT 2.0 Brand.
Outside the squared circle, The Glamazon is married to fellow WWE superstar Edge (Adam Copeland) and is the mother of two beautiful daughters, Lyric Rose Copeland and Ruby Ever Copeland.
---
#1 WWE Executive – Stephanie McMahon
Stephanie McMahon has garnered immense success both inside and outside the squared circle. Inside the ring, she has portrayed multiple roles as a wrestler and an authority figure with ease. Outside, she currently serves as the Chief Brand Officer of WWE and is a successful businesswoman.
McMahon is married to one of the biggest legends in the business, Triple H (Paul Levesque), and they have three daughters – Aurora Rose Levesque, Murphy Claire Levesque and Vaughn Evelyn Levesque.
Her eldest daughter, Aurora, is currently training to become a WWE superstar, which certainly is no surprise as the wrestling blood runs thick in this family.
​