​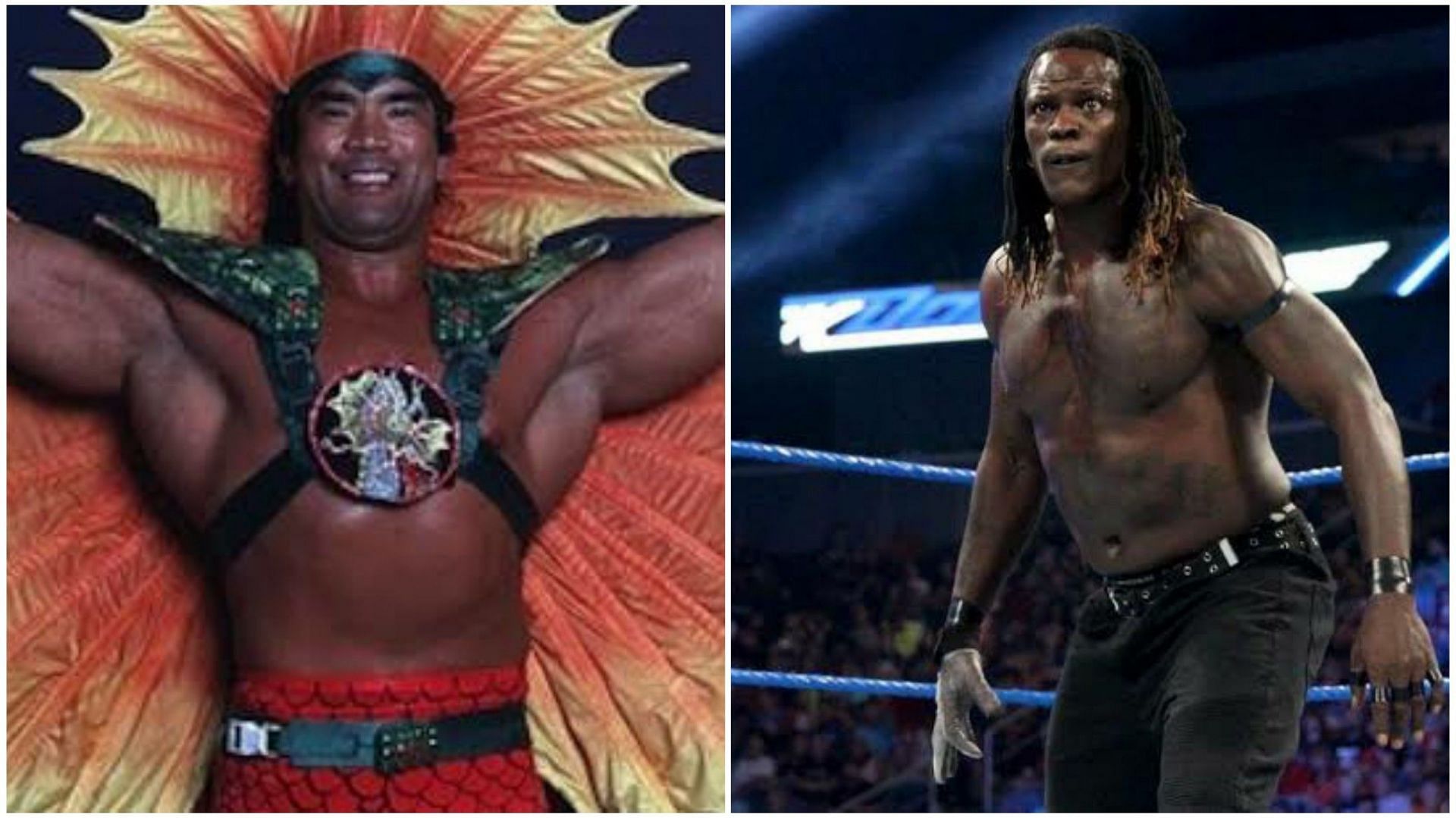 Most WWE Superstars and professional wrestlers competing in other promotions use ring names during their appearances. It is a concept similar to pseudonyms and showbiz names, which helps to distinguish the actual person being from their showbiz alter-ego.
The Vince McMahon-led promotion is especially well-known for its inclination to copyright ring names of on-screen talents, including superstars, referees, and managers, to stop them from using it when they leave the company.
Few superstars, such as John Cena and Bruno Sammartino, achieved storied WWE careers using their real names. The likes of Ronda Rousey and Kurt angle were already famous before joining the company; hence they did not need new names.
However, not all ring names are as exciting as Randy Savage and Edge. In some cases, the actual name of the performer may turn out to be better than their ring names. Here are five such cases in WWE history.
---
#5 Former WWE 24/7 Champion R-Truth (Ron Killings)
R-Truth is a beloved veteran of WWE. With the ability to create hilarious situations out of nowhere, he is a gift that keeps on giving. Be it his Mixed Match Challenge pairing with Carmella, his "my bad" moments, or the outrageous segment involving Paul Heyman and Brock Lesnar, Truth has always kept fans entertained.
R-Truth probably wouldn't be so successful as an entertainer using his real-life name. Ron Killings sounds unbelievably appropriate for a top-tier heel ready to destroy opponents and end careers.
As Ron "The Truth" Killings, he became a world champion by winning the prestigious NWA Worlds Heavyweight Championship twice. As R-Truth, he has made history in WWE as a 53-time 24/7 Champion.
​
#4 Former WWE Divas Champion Kelly Kelly (Barbara 'Barbie' Blank)
Starting her WWE career as a teenager, Kelly Kelly won the Divas Championship. However, her ring name wasn't anything special.
Her real-life name, Barbie Blank, would have been a far better fit for her character. The name is more catchy and would have been ideal to be turned into some memorable catchphrases.
Kelly left WWE in 2012 and has appeared sporadically on reunions and special shows. She last appeared in WWE's Watch Along during Survivor Series 2021.
---
#3 Former WWE Intercontinental Champion Curtis Axel / Michael McGillicutty (Joe Hennig)
Michael McGillicutty was one of the most underwhelming names to promote a WWE Superstar, and Curtis Axel was undoubtedly an upgrade. He even received a mega push for a few weeks before descending the company ladder.
However, a star with the real-life surname Hennig need not use a different ring name. The surname promptly recalls the memory of the legendary Mr. Perfect. It would be far more poetic if Joe Hennig, not Curtis Axel, had won the Intercontinental Title his father was associated with.
While he won championships under both ring names, Axel was underutilized in WWE and was released in 2020.
​
#2 Former WWE RAW Women's Champion Sasha Banks (Mercedes Kaestner-Varnado)
Sasha Banks is one of the most decorated wrestlers in WWE's women's division. When partnered with experienced opponents, Banks is capable of delivering exceptional performances.
Sasha Banks is not a terrible name by any stretch, yet it pales in the presence of the astoundingly perfect real-life name of Mercedes. Mercedes seems to be an apt name for someone who proclaims herself to be 'The Legit Boss.'
Interestingly, Banks used the ring name Mercedes KV before joining WWE. If she ever leaves the company, a return to her former ring name would be ideal.
---
#1 WWE Hall of Famer Ricky 'The Dragon' Steamboat (Richard Blood Sr.)
Speaking of quality matches, Ricky Steamboat is widely renowned as one of the greatest in-ring technicians in and beyond WWE. He was a beloved babyface, famous for his moveset and never-say-die spirit.
He wouldn't have to search for a suitable ring name if he ever wanted to turn heel and twist his gimmick. Richard Blood is an exceptional name for a villainous character.
While famous promoter Eddie Graham had the same opinion, Blood was not an appropriate name for a babyface. He suggested 'Ricky Steamboat,' a name that has been immortalized in wrestling history since then.
​