​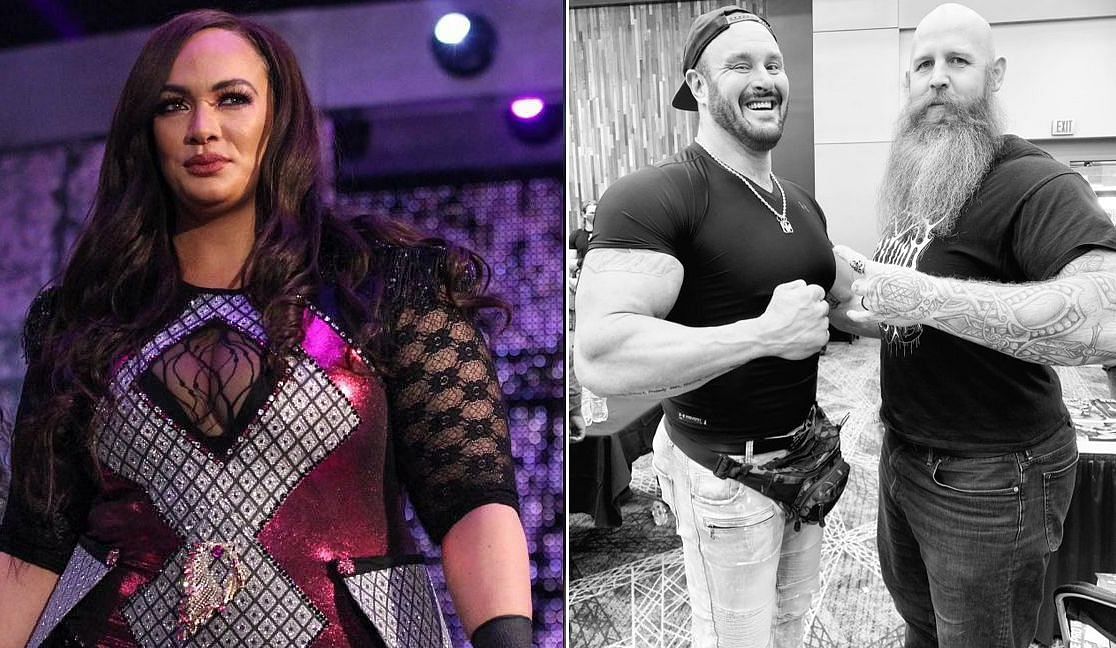 WWE has released more than 100 Superstars over the past two years and many of these stars have gone on to work for fellow promotions.
Many of these stars are still around the business but are yet to decide what the future holds for them, or are still sitting out their 90-day non-compete clauses.
Others have decided to mark their release with a complete image change before deciding what is the best route moving forward.
The following list looks at just five recently released WWE Superstars who have changed up their look since leaving the company.
---
#5. Former WWE Superstar Keith Lee
Keith Lee went through the wringer whilst he was employed by WWE but was able to make his return to TV a few short months ago. The former NXT Champion revealed in a tell-all video that he had almost died earlier this year from a freak medical condition before catching COVID.
After Lee was able to return to full health and make his in-ring return, WWE changed up his character and he became Keith "Bearcat" Lee for the first time.
Despite getting this character off to a great start, Lee was released from the company as part of the most recent talent cull at the beginning of last month.
Lee was released alongside his wife and fellow former NXT Superstar Mia Yim, but the couple are still yet to reveal what the future may hold. Lee has been active on social media since his departure and recently shared an interesting image where he revealed his real hair color.
The former Champion noted that he started getting white hair at just 16 years old and it's something that he likes and wishes it could all be white.
It remains to be seen as to whether or not this is a look that Lee retains when he makes his wrestling return. It would be a fantastic way for him to stand out and all the WWE Universe to distinguish between this and his character from his WWE days.
​
#4. Former WWE Superstar Killian Dain
Killian Dain was released from WWE alongside some interesting names back on June 25th but has since made his return to the business. Dain initially did have a struggle to gain a visa in the US following his release since he is originally from Ireland.
Like many stars following their WWE release, Dain made quite the impact on his return when he debuted an impressive new look.
Throughout his time in WWE, The Beast From Belfast became known for his long shaggy beard and hair. He decided to change this up earlier this year when he debuted a new bald look. The star has also cut his beard much shorter than it once was but has decided to keep it, whilst sporting a bald head.
Now known as Big Damo, the former WWE Superstar is wrestling on the Independent Circuit in both America and Europe.
It is worth noting that Dain still has links in WWE since his release because his wife Nikki Cross is still performing on their main roster under her new ring name of Nikki A.S.H.
​
#3. Former WWE Superstar Nia Jax
One of the most surprising WWE releases of the past year was former Women's Champion Nia Jax.
Jax was on leave from the company after noting that she needed some time away when it was revealed that she was part of the most recent round of cuts.
It has become sort of a tradition for the women of WWE to change up their look following their release, with several former stars currently sporting very different hairstyles and colors.
Jax recently shared an image that shows that she has decided to straighten out her hair, which is a completely different look compared to the last time she was seen by the WWE Universe.
The former RAW Women's Champion has changed her hair up a number of times throughout her career from braids to natural, but her most recent look appears to suit her.
Jax herself also noted in a recent Tweet that it's "highly unlikely" that she will be wrestling again, despite coming from one of the industry's most famous wrestling families.
​
#2. Former WWE Superstar Braun Strowman
Braun Strowman was Universal Champion in WWE last year but surprisingly found himself on the list of releases just months later.
Strowman was released alongside the likes of Aleister Black, Lana, Buddy Murphy, and Ruby Riott. Black and Riott have since moved on to careers in AEW, whilst many others are still waiting to decide on their next move.
The Monster Among Men has since been part of former WWE Superstar EC3's Free the Narrative event whilst remaining open to a move to any of WWE's rival promotions. Strowman has been linked to IMPACT and AEW over the past few months but is yet to sign an official deal.
Like every other star on this list, it appears that Strowman felt the need to make a statement and declare the fact that his chapter in WWE was over.
The former Champion recently shared images that show that he has decided to shave both his hair and beard. Strowman now looks like a completely different man, with many fans comparing the look in the above photo to The Rock.
​
#1. Former WWE Superstar Karrion Kross
WWE released another slew of wrestling talent at the beginning of November and this included former NXT Champion Karrion Kross.
Kross and his fiancee Scarlett Bordeaux were seen as two of the future stars of the business throughout their time in NXT, but this seemed to change when Kross made his way up to the main roster.
Scarlett is no longer part of Kross' character and the creative team were unsure of what to do with the star. Despite Kross being repacked ahead of a re-debut, he was released from the company on November 4th and it has since been revealed that the star is looking to dip his toes in the acting business.
Kross has shared several images online in recent weeks, which have shown the star growing out his hair, which could be for a new movie role. When compared to the character that he portrayed in WWE, Kross has only been out of the ring for a month but the star is already almost unrecognizable.
​