​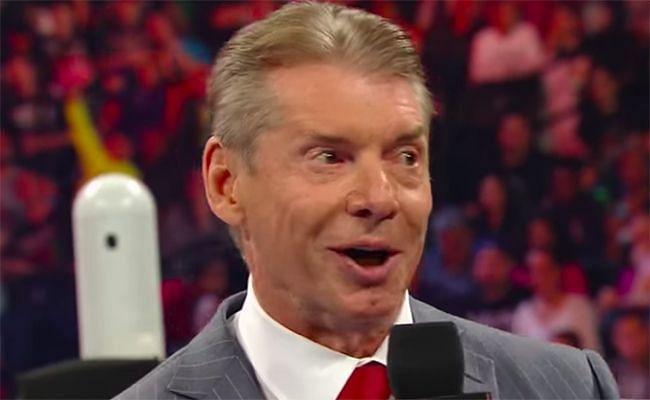 There have been numerous stars in WWE history through different generations who were once slated for a big push, only for it to be canceled. To get pushed by Vince McMahon, the WWE Chairman needs to be a fan of said superstar.
However, there have been fewer cases in WWE and wrestling history where a wrestler having their push canceled turned out to be beneficial in the long run. THereare five WWE stars from different eras who benefited from having their push canceled by Vince McMahon:
---
#5. Drew McIntyre — A prophecy fulfilled in WWE over a decade later
On the September 25, 2009, episode of SmackDown, WWE Chairman Vince McMahon personally introduced Drew McIntyre to the world as a future world champion.
It wasn't McIntyre's debut, but becoming "The Chosen One" seemed to mean that success would inevitably come during his WWE tenure even if it took far longer than the Scottish star would have expected.
The story of Drew McIntyre's first WWE run is well-known. He went from being WWE's hottest young talent to a low-card superstar and an enhancement talent. It was a huge fall from grace for McIntyre, who many considered a future world champion
However, Drew McIntyre's push getting canceled and his WWE release may have been the best thing that happened to him at the time. He quickly worked his way up the independent scene and became one of the hottest free agents, eventually enjoying a successful run at Impact Wrestling before jumping ship to WWE again.
His run in NXT was brief and he also held the NXT title for a short while before he lost it to Andrade 'Cien' Almas and took half a year away due to an injury. When he returned, it was straight to the WWE main roster, where he made a huge impact on his re-debut.
After a slow and steady 2018, things would pick up by 2019, and by the summer, WWE began to slowly push and protect Drew McIntyre. This is normally what WWE does for Royal Rumble winners to keep their momentum alive while also not making it too obvious that they're set to achieve a career milestone.
By 2020, McIntyre was the face of RAW and helped carry WWE through a large chunk of the pandemic/Thunderdome era. He looks like he will be a main event star for WWE for years to come, and he benefited from his push in the early 2010s being canceled, as it allowed him to explore his character and improve himself into the world championship superstar that he was destined to be.
​
#4. Kofi Kingston — WWE canceled his push twice in 2009
Kofi Kingston's WWE Championship victory at WrestleMania 35 was undoubtedly one of the sweetest babyface title wins of the past decade and perhaps even the company's history.
The entire story behind KofiMania was the decade-long wait for Kofi Kingston to be recognized as the world title-caliber superstar that many felt he was. The timing was perfect, and the moment was made even better because of the years of struggles and other hurdles that Kingston had to overcome.
Some forget that in 2009, Kofi Kingston was one of the hottest upcoming stars on the WWE roster. Speaking to Daily Star a month after WrestleMania 35 in 2019, Kingston revealed that he had his push canceled twice in 2009.
The first moment was when he was supposedly booked to win the Money in the Bank ladder match at WrestleMania 25. However, he didn't get his moments as CM Punk got the win instead.
The second instance, perhaps more frustrating, was his feud with Randy Orton:
​
​
"Another moment was having a feud with Randy Orton in the main event. We had this awesome battle and a memorable moment at Madison Square Garden. Everybody was on their feet, and I was like 'here we go' – and then about a month later it was done, and I was sitting on the sidelines again."
Whether 2009 would have been the perfect time to push Kofi Kingston as a top star is up for debate. Fans overlook the fact that between 2009 and 2019, Kingston built-up a Hall of Fame-worthy run in his own right. His run with The New Day was already unprecedented, and his 2009 push being canceled may have benefited him in the long run.
​
#3. Randy Orton — Push canceled shortly after making WWE history
It was 2004, and WWE was aiming for Randy Orton to become the breakout star of Evolution. He seemed to be in the perfect spot, but in wrestling, things don't always work out as planned.
Little did anyone realize that Batista would become the eventual breakout star of Evolution. But in 2004, WWE made sure that Randy Orton broke Brock Lesnar's record as he became the youngest world champion in the company's history.
It happened at SummerSlam 2004 when Randy Orton defeated Chris Benoit. His fellow-Evolution members turned on him, triggering a babyface turn for the 24-year-old Orton.
​
The only problem was that the turn felt forced, and at the time, Randy Orton wasn't living up to the unrealistic expectations set for him. It wasn't long before he dropped the World Heavyweight title to Triple H, and by 2005, he was a heel again, facing The Undertaker at WrestleMania 22.
In the long run, Vince McMahon canceling Randy Orton's push in 2004 turned out to be beneficial for Orton, Batista, and the entire WWE Universe. Randy Orton wouldn't win another world title until 2007, after which he would hit his prime. He simply wasn't ready for the position he was put in by WWE in 2004.
​
#2. Bobby Lashley – WWE's big missed opportunity in 2008?
Bobby Lashley finally became WWE Champion in 2021, enjoying a respectable tenure of nearly seven months. Like Drew McIntyre, it seemed inevitable that the The Almighty would win the big one.
However, had things worked out the way Vince McMahon wanted it to, Lashley would have been a world champion by late 2008 or WrestleMania 25 at most. In 2007, he was put in the most talked-about match on the WrestleMania 23 card — The Battle of the Billionaires: Vince McMahon vs Donald Trump.
Bobby Lashley sided with the babyface Donald Trump and walked out victoriously. Vince McMahon rarely feuds with a superstar on-screen unless he's intent on pushing them big time. There were big plans for Lashley, and big things seemed to be on the horizon for him, even though he fell short in a WWE Championship match against John Cena.
What fans didn't realize was that it would take 13 years for them to come to fruition. In the summer of 2007, Bobby Lashley had to take a hiatus due to a legitimate shoulder injury that required surgery. At the time, he was dating then-WWE Diva Kristal Marshall, who had backstage issues. This caused a falling out between Lashley and the company, who released him in early 2008.
Having his push canceled allowed Bobby Lashley to explore himself outside of WWE as well as focus on his MMA career, which was relatively successful as he holds a 15-2 record. When Lashley came back, he was finally crowned WWE Champion.
​
#1. Triple H — WWE canceled his push in 1996 due to the infamous curtain call incident
This is perhaps the push that WWE is most grateful about canceling. It was 1996, and Triple H was still working his way up the ladder. He was a part of the Kliq, a backstage group also involving Shawn Michaels, Razor Ramon (Scott Hall), Diesel (Kevin Nash), and Sean Waltman.
Following the news that Scott Hall and Kevin Nash were jumping ship to WCW, they had their farewell match at a Madison Square Garden Live Event.
The tag team match featured Hall, Nash, Triple H and Shawn Michaels. After the bout, the four men broke character in an emotional scene. Infuriated, Vince McMahon felt that somebody needed to be punished.
Michaels was the reigning WWE Champion at the time, so he was safe. With Hall and Nash gone, this left Triple H as the odd one out. WWE canceled Triple H's planned King of the Ring tournament win in 1997, awarding it to 'Stone Cold' Steve Austin instead.
As you may have guessed, this was the same King of the Ring where the famous "Austin 3:16" catchphrase was introduced, leading to his rapid rise to the top. Things worked out for Triple H as he still received a good push and won the King of the Ring tournament the following year. It took him another two years to capture the first of fourteen World Championships in WWE.
The timing of his push being canceled worked out for everyone, as it led to the rise of Steve Austin as a megastar and the slow-burn build to Triple H as a main event player.
​