​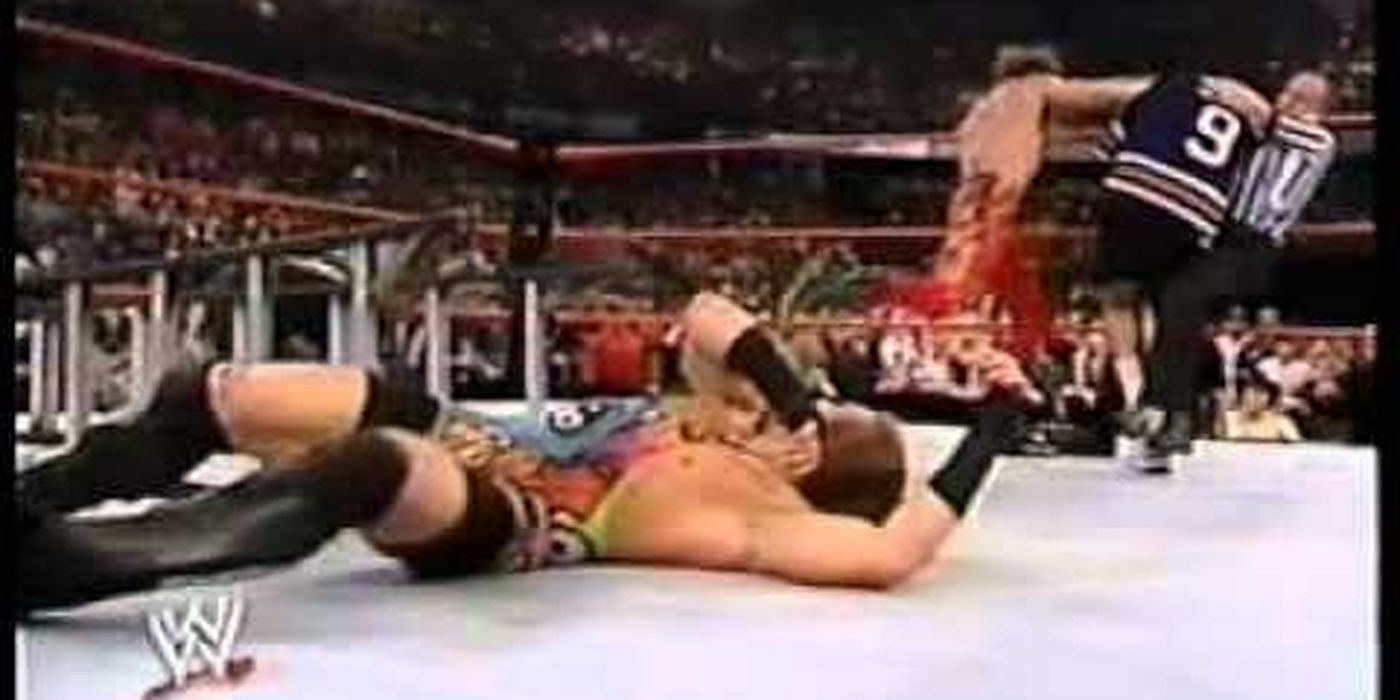 WWE is coming off the heels of Survivor Series 2021 weekend at Barclays Center in Brooklyn, New York. But fans weren't concerned about the aftermath of the event. Instead, they were talking about a shocking incident on Monday Night Raw when a 24-year old fan rushed and tackled Seth Rollins to the ground.
Referees and security assisted in removing the young man, Elisah Spencer, from Rollins and out of the building. He was turned over to the NYPD and will have his court date next month.
​
With this new incident fresh in everyone's minds, it seems like an ideal time to look back at other infamous times fans got into the action throughout wrestling history. In this article, let's look back at five WWE Hall of Famers who were attacked by fans.
---
5) WWE Hall of Famer Macho Man Randy Savage beats up a fan with Hulk Hogan at WCW Halloween Havoc 1997
Macho Man Randy Savage entered the WWE Hall of Fame in 2015, four years after his passing. He was one of the biggest stars of the 1980s and a former two-time WWE Champion. Savage had an era-defining feud and tag team with Hulk Hogan while also headlining two WrestleMania events. It should have been clear to all fans that he is not one to mess with.
At WCW Halloween Havoc 1997, Macho Man Randy Savage defeated his arch-rival Diamond Dallas Page in a Las Vegas Sudden Death Match. Macho Man then entered into the Steel Cage Match with Hollywood Hogan vs. Rowdy Roddy Piper. However, a fan somehow got inside the cage.
Randy Savage and Hollywood Hogan double-teamed the fan and pummelled him until officials and security intervened. This was seen on camera during the pay-per-view telecast. It is rare to see two WWE Hall of Famers dealing with an unruly fan, so it belongs on this list.
​
4) Fan disrupts WWE Hall of Famers Eddie Guerrero vs. Rob Van Dam Ladder Match on WWE RAW
​
One of the most infamous fan invasions in WWE took place on the May 27th, 2002 episode of Monday Night Raw. Eddie Guerrero defended the Intercontinental Championship against Rob Van Dam in a Ladder Match. This contest was thrilling as expected, but the finish was disrupted in a strange incident.
A young fan jumped in the ring and pushed over the ladder that Eddie was climbing to claim the WWE Intercontinental Championship. Guerrero was visibly upset and struck the fan as a referee pulled the latter down. This made the ending chaotic, to say the least. It gave a memorable yet bittersweet conclusion to the match.
---
3) Triple H saves WWE Hall of Famer Stone Cold Steve Austin from a fan at a house show
​
WWE Superstars are generally very comfortable during house shows. They feel looser and can have some exceptional bouts in front of the adoring fans. However, sometimes the paying audience gets involved too closely in the in-ring actions.
Stone Cold Steve Austin and Triple H had a longstanding feud that created iconic moments in both men's careers. Their match at a 1997 house show saw a fan jump in the ring and attack Austin while he was down on his back. Triple H made the save, driving the fan down to get him ejected by security.
​
2) WWE Hall of Famer Kevin Nash clocks a fan invading the NWO official debut at WCW Bash At The Beach 1996
​
In 1996, WWE was amid the Monday Night Wars with WCW. Every Monday night, Raw and Nitro went head-to-head and battled for ratings. They also fought for talent, with competitors going from roster to roster. The big acquisitions for this year were, of course, Scott Hall and Kevin Nash. Their introduction to WCW marked the start of the NWO storyline.
During Bash At The Beach 1996, Hall and Nash finally revealed their long-teased third member in a six-man tag team match against WCW's Sting, Lex Luger, and Randy Savage. Hulk Hogan shocked the world by dropping a leg drop on Macho Man to join the New World Order.
Fans in Daytona Beach threw trash into the ring and became hostile following this landmark heel turn. One fan became so disgruntled that he jumped in the ring.
However, WWE Hall of Famer Kevin Nash immediately stopped the fan with his right hand. This incident only added to this legendary atmosphere of one of the most infamous pay-per-views in history.
​
​
---
1) Fan attacks WWE Hall of Famer Bret "The Hitman" Hart at the 2019 WWE Hall of Fame in Brooklyn's Barclays Center
Bret "The Hitman" Hart entered their Hall of Fame in 2006 after not showing up in the company since the Montreal Screwjob at Survivor Series 1997. Hart was a world-renowned in-ring worker technician.
In 2019, WWE inducted Bret Hart into the Hall of Fame for a second time as part of his Hart Foundation tag team with the late Jim "The Anvil" Neidhart. The Hitman accepted the honor alongside his niece, WWE Superstar Natalya.
But this didn't stop a fan wearing a rasta hat from tackling down the five-time WWE Champion. The scene was insane, with talent and security rushing the ring to pull the fan off.
The aftermath was just as crazy, with FTR's Cash Wheeler laying a punch on the attacker as he was being taken away by security. It was a wild situation that was scary to hear about for the many long-time fans of Bret Hart. He has suffered a stroke and so much loss in his family, so no one wanted this to happen.
​