​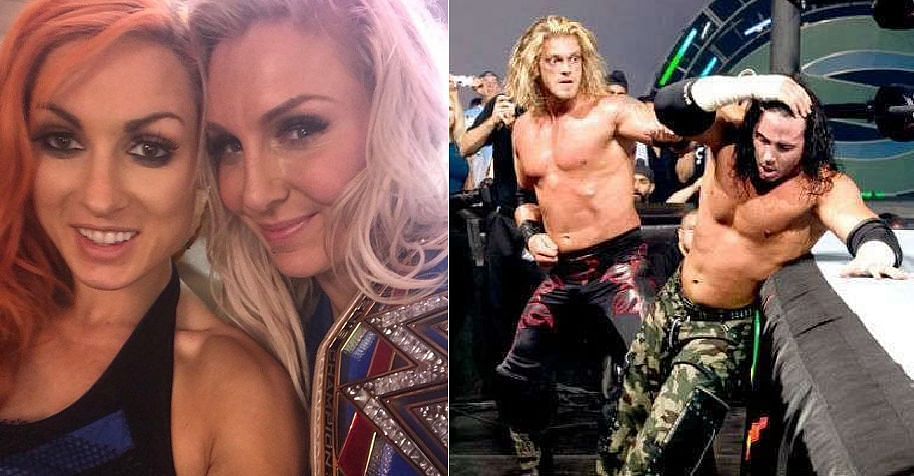 WWE Superstars are on the road for 300 days a year, many relationships and friendship groups are formed over that time.
Like any friendship in a work environment or at school, there are sometimes minor disagreements or even full-on arguments that can lead to a breakdown. Over the years there have been several WWE Superstars whose friendships have come to an abrupt end.
The following list looks at ten WWE Superstars who were once the best of friends before their relationships turned sour.
---
#5. Current WWE Superstars Becky Lynch and Charlotte Flair were once the best of friends
Becky Lynch and Charlotte Flair have been making headlines over the past few weeks after a backstage altercation on SmackDown. The two women were once the best of friends and came through the ranks in NXT together as two of the Four Horsewomen.
Lynch and Flair have since become two of the most successful female wrestlers in the history of the company. Lynch has broken down several glass ceilings during her time in the company. She became the first woman to be on the cover of the 2K video game series as well as main eventing WrestleMania in 2019.
Charlotte Flair is the most decorated female wrestler in WWE history and was also part of that first-ever Women's WrestleMania main event.
The two women were forced to switch championships after moving from their respective brands in the most recent WWE Draft. This led to one of the most awkward segments in SmackDown's history. The two women then had a confrontation backstage after the show, which almost became physical.
At Survivor Series, Lynch and Flair faced off in the most anticipated and tense encounter on the card, with Lynch ultimately coming out on top. After the match, The Man revealed that she and Flair were once close friends and were even in a car crash together, but that it is over now.
​
#4. Former WWE Superstars CM Punk and Colt Cabana
CM Punk and Colt Cabana were the best of friends before their days in WWE. The two men have wrestled each other hundreds of times in several different states, but it appears that issues with WWE came between them.
Punk chose Cabana's Art of Wrestling podcast as the place to air his issues with WWE after he was fired from the company in 2014. The former world champion was then sued by WWE doctor Chris Amann who took offense to some of the details that were revealed.
Going to court cost Punk and Cabana thousands of dollars despite the fact that they won the case. Cabana noted that his friend Punk said that he would handle the costs, but didn't.
After the trial, it was revealed that both men had filed lawsuits against each other, citing that they had a verbal agreement ahead of the trial which was broken. In recent years Cabana has blocked anyone who asks about his relationship with the former WWE Superstar.
​
#3. Former WWE Superstar Marty Jannetty and Shawn Michaels
Shawn Michaels and Marty Jannetty teamed together for more than seven years in various promotions, including WWE. From 1985-1992, The Rockers were on fire before Michaels kicked his friend through a barbershop window.
This superkick propelled Michaels into his Hall of Fame career, whilst Jannetty was later released and has had a much more understated career.
During the height of the team's fame, the two men were inseparable, but it appears that that is no longer the case.
In an interview with Chicago Mania back in 2019, Michaels made it clear that he doesn't even have a contact number for his former friend anymore.
"I no longer have a contact number for him. There are times when I see him, he is great, he seems great. Other times it's less so. It's heartbreaking to me, just as it is to everyone else. I don't know what any of us can do in that aspect."
Jannetty was part of a WWE storyline with Michaels back in 2006, but he wasn't retained by the company and has had a lot of personal struggles in recent years.
​
#2. Current WWE Superstar Alexa Bliss and Nia Jax
Alexa Bliss and Nia Jax were well-known as best friends backstage in WWE. The two women were cast members on Total Divas together for several years. Their closeness outside of the ring appeared a lot on the show before their feud began.
The Wrestling Observer reported that much of their feud on WWE TV was built on real-life tension between the two women. Jax even went as far as to like a tweet that accused Bliss of "sleeping her way to the top."
This then led to the two women unfollowing each other on all of their social media accounts before removing all of the photos of them together online. The two women later faced off at WrestleMania 34 with the RAW Women's Championship on the line.
Jax was recently released from WWE as part of the company's budget cuts, but it's hoped that the two women have been able to patch up their friendship because they were once the best of friends.
​
#1. Current WWE Superstar Edge and Matt Hardy
Edge and Matt Hardy started out in WWE as part of two iconic teams that revolutionized the Tag Team Division. The two men were close for several years before Lita came between them.
Hardy was in a relationship with the WWE Hall of Famer before his injury meant he had to take some time away from the company in 2005. WWE didn't want Lita to have to miss TV as well as she was instead aligned with Edge.
The couple's friendship turned into a relationship behind Hardy's back. Hardy was furious and ultimately released from the company when he was unable to keep his temper in check.
Hardy was then rehired and their real-life issues were made part of a storyline. This would most likely have hurt the superstar even more.
The stars have since moved on as both are men now married with children. Despite 15 years passing since the incident, the two men are yet to make up.
​