​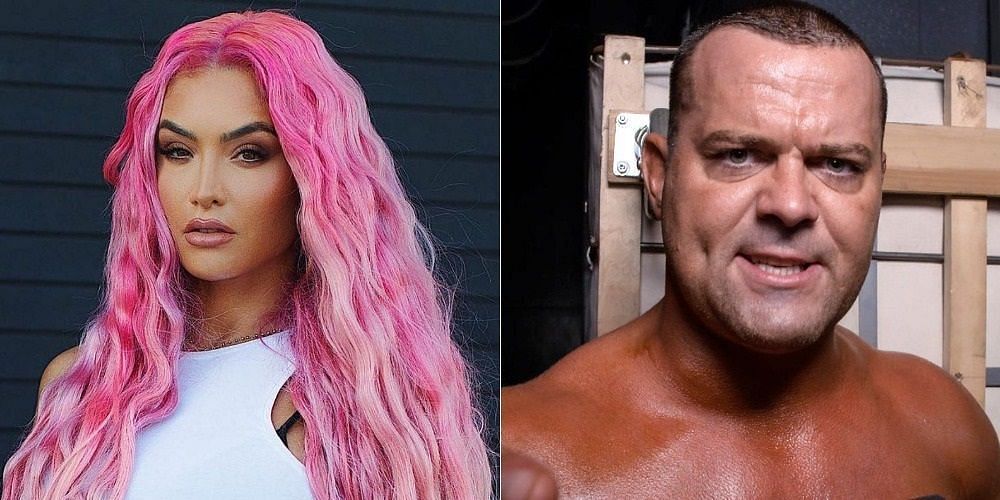 WWE's latest round of budget cuts took place last week and saw the release of eight main roster superstars. The most surprising names were John Morrison, Tegan Nox and the three members of Hit Row.
They join Keith Lee, Karrion Kross, Bray Wyatt and many other stars on a long list of talent who were let go this year. All of them are very talented in the ring and they can easily succeed in any other promotion.
The company has released numerous stars from their contracts over the years. Many of them ended up returning while others thrived elsewhere. There have been rare occasions where WWE re-hired a star only to fire them again later on.
Let's take a look at the five wrestlers who have been fired by WWE more than once.
---
Former WWE Women's Champion Mickie James
Mickie James is often regarded as one of the greatest female wrestlers of all time.
She's nothing short of a legend who has inspired many young female fans to fall in love with wrestling and pursue a career in the industry. She has had a successful career in WWE and IMPACT Wrestling, where she is the current Knockouts Champion in her fourth reign.
On April 22, 2010, Mickie James was released by WWE due to the company's desire to "move in a new direction with their women's division." She made her comeback in late 2016 at NXT TakeOver: Toronto, where she took on Asuka for the NXT Women's Title.
On April 15 earlier this year, the former WWE Women's Champion was released once again alongside several other stars including Samoa Joe, Billie Kay and Peyton Royce. The Samoan Submission Machine, however, was re-hired by the company shortly afterwards.
During an interview with Chris Van Vliet, Mickie James opened up about her release.
"I was like so grateful to be able to go back and have the opportunity to kind of wrap up my story there and kind of bow out in a good graceful kind of way because I felt like the first time I left was on such weird terms and I did some amazing stuff when I came back," said James. "I really did, but it wasn't shocking because I kinda was in this space where I felt it coming. I kind of felt it already coming but it was just disheartening. It was disappointing, I should say, moreso than anything."
It wouldn't be shocking if Mickie James returns to WWE sometime in the future to be rightfully inducted into the Hall of Fame.
​
#4 Former WWE Superstar Eva Marie
Eva Marie is a star that WWE has experimented on several times only to fail at every attempt. She was inexperienced in the ring, and fans could see right through her.
During her first tenure, she received a copious amount of boos whenever she showed up in the arena. It was clear that WWE was trying to push her, despite the fans not accepting her. She ended up leaving the company in 2017.
She re-signed with WWE last year and made her return to Monday Night RAW alongside the debuting Doudrop in June. Her second tenure wasn't very successful either. She was released by WWE, along with 17 other talent several weeks ago. However, it wouldn't be too shocking if she's got one more run in WWE left.
---
#3 Drake Maverick
Drake Maverick has had a wild run in the WWE. He was the general manager of 205 Live, defended the 24/7 Championship in his wedding, competed in NXT, and was the Author of Pain's manager for a brief moment.
He was initially released by the company in April last year, but after posting a heartfelt video of himself on social media reacting to his release, Triple H signed him to an NXT contract.
Now, Maverick has been let go once again, but it seems like he was prepared this time around.
He shared another video on social media after his release. This time, he was encouraging himself to get up back and dust himself off. Drake Maverick might be gone, but the beloved Rockstar Spudd could soon return.
​
#2 Harry Smith
Harry Smith, also known as Davey Boy Smith Jr., was part of a group in WWE alongside Tyson Kidd and Natalya known as The Hart Dynasty. He and Kidd held the WWE Tag Team Championship and the World Tag Team Titles. Smith competed on the main roster from 2009 until 2011. He was released from his contract on August 5th after months of inactivity.
He went on to wrestle with other promotions such as NJPW, MLW and AJPW. Harry Smith would eventually return to WWE only to be released this month without having a televised match.
During the 2021 WWE Hall of Fame ceremony, he represented his father, The British Bulldog, by accepting the award on his behalf.
---
#1 Former WWE Intercontinental Champion John Morrison
Johnny Drip Drip could've done a lot more in WWE during his recent tenure in the company.
He spent the majority of his time with The Miz, and after they split up, Morrison disappeared from TV. We didn't get a feud between the two stars, and the match they were supposed to have on RAW was canceled.
In 2011, the three-time Intercontinental Champion parted ways with WWE and he went on to have a successful career in Lucha Underground, IMPACT, and several other wrestling promotions.
Morrison didn't get released alone this month, as his wife Franky Money (AKA Taya Valkaryrie) was also let go by the company.
​