​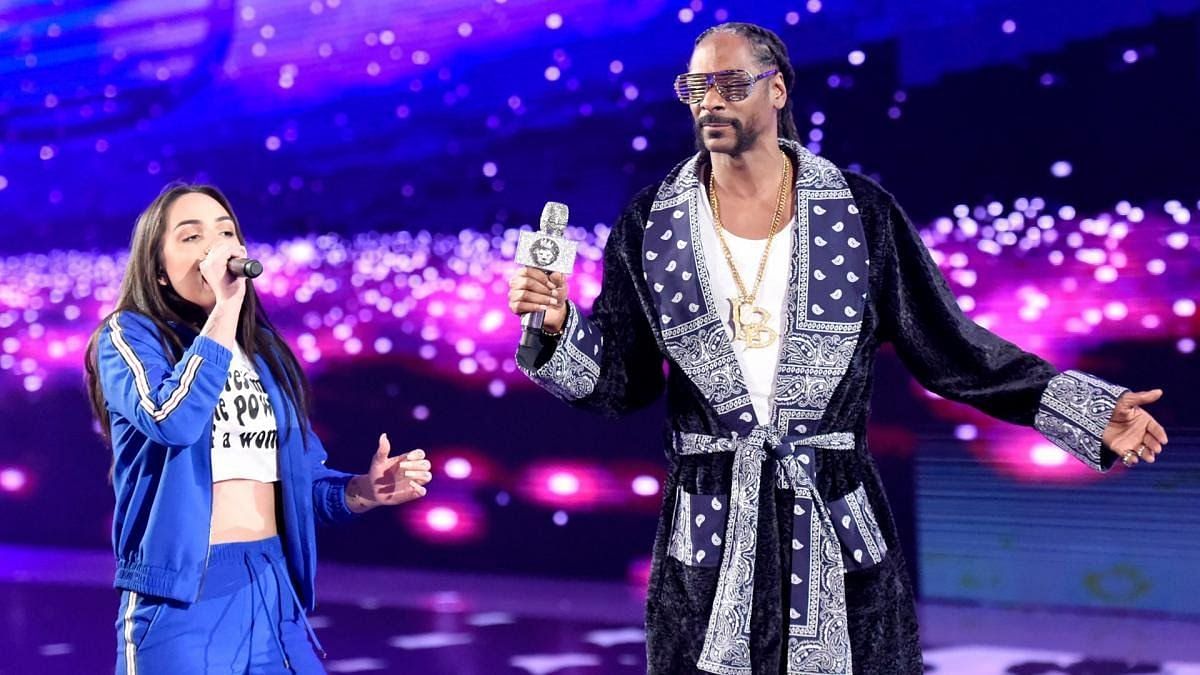 WWE Superstar's entrance music plays a big role in their characters. Fans may even gravitate to a superstar because of their entrance music. This is especially the case if the superstar's song is catchy and leaves an impact. When their theme is performed live, it can give a whole different feel.
These live performances aren't a common occurrence though. Superstars tend to have their music performed live for special events. Usually at WrestleMania, since that's the grandest stage of WWE.
In this list, we will take a look at 5 superstars who had their entrance music performed live.
---
#5 Triple H's entrance performed live by Motorhead
At WrestleMania 21,Triple H walked out to his music being played live by Motorhead. Motorhead's lead singer was the late Lemmy Kilmister. Lemmy was a close friend of Triple H and the man behind his entrance music.
Motorhead also wrote Evolution's entrance music and Triple H's King of Kings entrance music. Lemmy and Motorhead delivered this time around for The Game.
At WrestleMania 17, Lemmy forgot some of the lyrics when performing for the entrance. This made the performance relatively underwhelming. The entrance at WrestleMania 21 definitely had a different feel to it. Perhaps being a part of the main event contributed to this, but the performance was immaculate as well.
The Game was hyped during his WrestleMania 21 entrance. He even shared a moment with the band on stage. It's one of the best live performance entrances in WWE history.
Taking into account how Triple H tends to go all out for his WrestleMania entrances – usually adding in a lot of themed props and special effects – this was an exceptional one. It's interesting to note that this was the last time Triple H had Motorhead perform his entrance live.
​
#4 Randy Orton's WrestleMania 30 champion's entrance
​
Randy Orton's live champion's entrance at WrestleMania 30, was performed by Rev Theory.
Performing 'Voices' – which is Orton's entrance music – they were able to gel with the Viper. Randy's slow walk mixed with Rev Theory's energy worked well. Orton's entrance had an amazing feel to it. He was set to defend the WWE World Heavyweight title that night, in the main event against Batista and Daniel Bryan. Orton ended up losing the match and his title to Daniel Bryan.
---
#3 Shawn Michaels showstopper live entrance performance
Shawn Michaels came out to a live entrance performance of DX's music at Wrestlemania 14. Performed by Chris Warren, it set the stage for the main event. Shawn Michaels came out with the energy needed for a showstopper performance. Warren's performance and HBK's match were the perfect way to close out the show.
Michaels came out short at the end of the match against Stone Cold. Plus his special guest enforcer, Mike Tyson, turned on him and knocked him out after the match.
Michaels certainly delivered inside and outside the ring that night, with the help of Stone Cold and Chris Warren.
​
#2 Rey Mysterio's Wrestlemania 22 entrance
P.O.D. performed Rey Mysterio's entrance music at Wrestlemania 22.
In what was the biggest night of his career, Rey pulled out all the stops. Wearing an Aztec-inspired outfit, he soared from underneath the stage. Tht was followed by an embrace with P.O.D. before heading towards the ring. Rey Mysterio's that night went on to become the WWE World Heavyweight champion, defeating Randy Orton and Kurt Angle. This was a fitting moment for Rey, who had lost his good friend Eddie Guerrero a few months prior.
---
#1 Shinsuke Nakamura's debut Wrestlemania entrance
​
Shinsuke Nakamura is not new to live entrance performances. This has become a weekly occurrence since aligning with Rick Boogs. Prior to partnering with Boogs, he had a Shinsuke-type entrance at Wrestlemania 34. Accompanied by Nita Strauss and a violin band, Nakamura's Wrestlemania debut was done in style.
Unfortunately Nakamura lost his match against AJ Styles for the WWE title. He followed that loss with an attack on Styles after the match, which didn't live up to expectations.
Despite everything that happened during and after the match, Shinsuke's entrance was an incredible way to mark your first Wrestlemania appearance.
---
Which of these electrifying entrances did you like best? Let us know in the comments section below.
​