​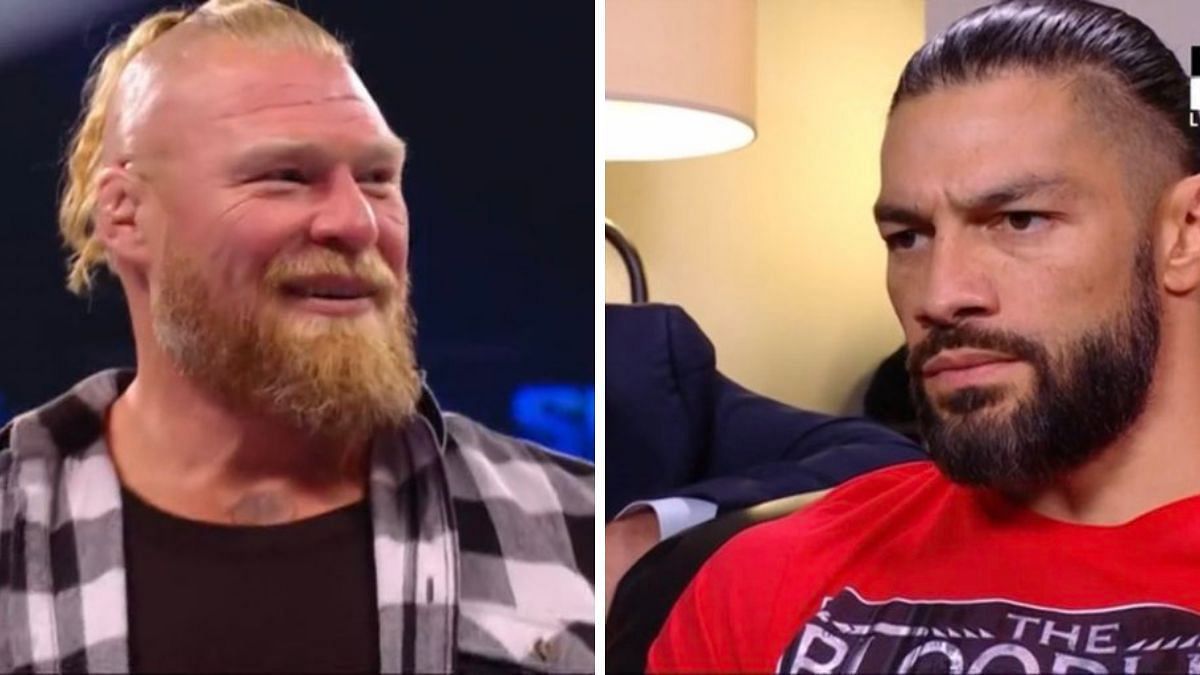 Welcome to this week's edition of things WWE subtly told us on SmackDown. The build-up to the Day 1 pay-per-view on January 1st, 2022 has officially begun and the main event of the show has been announced as well.
There weren't too many storylines featured on the blue brand this week, but that was a good thing as it allowed for some solid storytelling and progression. There's a lot that happened and a lot that will be riding in what is expected to be another epic episode next week.
But before we head to the Staples Center in Los Angeles, here's what WWE subtly told us on SmackDown in San Antonio:
---
#5. The aftermath of Brock Lesnar's return on SmackDown
Brock Lesnar made his return to SmackDown as advertised, and he wasted no time by opening the show. However, it wasn't Roman Reigns or Adam Pearce who interrupted him.
Instead, it was the official number one contender Sami Zayn. Lesnar was friendlier to him than usual, but it was only with one motive in mind. Zayn stated that he was scheduled to face Reigns for the Universal Championship at Day 1, but Brock Lesnar heavily pressurized him into making the Universal title match on SmackDown instead.
Sami Zayn said he wasn't ready, but The Beast Incarnate went so far as to go backstage with him before Sonya Deville confirmed that the Universal title defense of Roman Reigns would happen on this very episode.
Lesnar was naturally pleased because he had only one thing on his mind – revenge against Reigns. In the main event of the SmackDown, he came out as he proposed to be ringside for the match.
At this point, it was already confirmed that the winner of the Universal title main event would defend against Brock Lesnar at Day 1. While the answer was obvious, not many expected how it would play out.
Lesnar took Zayn to suplex city and gave him a beatdown before leaving. The Tribal Chief came out and had what was possibly the quickest title defense in his Universal title reign.
It's safe to say that a true injustice was committed to Sami Zayn, and not just a conspiracy. While Roman Reigns vs. Brock Lesnar is official for the Day 1 pay-per-view, and it might even spill over to WrestleMania 38, not enough has been said about Zayn.
After over four years of being a heel, WWE might finally be in the process of turning Sami Zayn face again. If so, this will be the most unexpected turn that could come out of the Reigns-Lesnar feud on the Friday night show.
​
#4. Los Lotharios to head in an interesting direction on SmackDown
Los Lotharios' move to SmackDown in the 2021 Draft has proved to be a good one and is already paying dividends. Angel and Humberto are enjoying the best run of their WWE careers so far, particularly the latter.
This week, they took on The Viking Raiders, former RAW and NXT Tag Team Champions in their own right. While it was never going to be an easy match, the direction it took was interesting.
In the middle of the match, Rick Boogs was seen playing the guitar at ringside to distract Los Lotharios, all while Intercontinental Champion Shinsuke Nakamura was rocking out, as well as Pat McAfee from his chair. We will never be sure as to how McAfee never fell down, but it was impressive from the SmackDown commentator.
The distraction provided by Boogs and Nakamura backfired as Humberto picked up the victory with a cheap pin. Another week on the blue brand, and another huge win for Los Lotharios.
What was bizarre was the fact that The Viking Raiders were first annoyed by their loss, but Rick Boogs played their theme on his guitar and they rocked out to it as well. That sums up WWE's booking of modern babyfaces.
The direction of this feud seems to be indicative of Angel getting an Intercontinental title push. Whether he wins it or not is yet to be seen, but it's highly possible given how underwhelming Shinsuke Nakamura's title reign has been.
To add to that, Los Lotharios are also targeting the SmackDown tag team titles.
​
#3. Drew McIntyre and Jeff Hardy are in the ultimate filler feud on SmackDown
Another week on SmackDown, and Drew McIntyre still isn't being utilized to his full potential. We understand the argument that McIntyre shouldn't be in the Universal title picture yet, simply because it's true.
It's a bit too early for him to be in the top title picture, and Jeff Hardy had a tease of number one contention last week before Sami Zayn took it away from him.
While Hardy could only be a filler opponent for Roman Reigns ahead of WrestleMania 38, the feud against Drew McIntyre will serve a much bigger purpose. But for McIntyre, outrage over not being in the Black Friday Battle Royal disappeared quickly.
This week on SmackDown, Happy Corbin and Madcap Moss were out making poor jokes again, and it was Drew McIntyre who came out to confront them, but Jeff Hardy did the work by hitting the twist of fate on both men before McIntyre hit the Claymore Kick on Moss.
Next week on the Friday night show, The Charismatic Enigma takes on Happy Corbin. While either man could win, this is WWE making a clear attempt to put both top babyfaces in a filler feud until things clear out for 2022.
​
#2. Will Naomi vs. Sonya Deville get the appropriate payoff next week on SmackDown?
We've been in this situation once before on SmackDown. Naomi challenged Sonya Deville to a match, but when it actually happened, it turned into a handicap bout also involving Shayna Baszler, with the babyface losing due to the odds against her.
This week, she went and confronted Deville once again, demanding a match against her and calling her a coward for hiding behind a suit. The WWE official said that if she had her ring gear, Naomi would be done for.
But while wearing the suit, she is an authority figure on RAW and SmackDown, and not a finger could be laid on her, otherwise, Naomi's entire paycheck would be threatened.
In the ultimate heel move, Sonya Deville slapped Naomi knowing well that the former SmackDown Women's Champion couldn't get one back over her at that moment.
However, it was later announced that the match between the two was official for SmackDown next week in Los Angeles.
While we could see the ultimate payoff, WWE hasn't positioned the storyline in a way that has indicated the end of it. If anything, this could simply drag on, with Deville using further antics to evade wrestling Naomi while simultaneously picking up a win over her on SmackDown.
When the two superstars have their actual payoff match, it will likely see the end of Sonya Deville's role as a WWE authority figure.
​
#1. The greatest SmackDown Tag Team title feud to be renewed
When asking the question of which the greatest SmackDown Tag Team title feud has been since 2016, there's only one answer – The Usos vs. The New Day in 2017. It was a feud for the ages and one that truly defined this era of tag team wrestling in WWE.
The Usos and The New Day's rivalry was similar to that of Sasha Banks vs. Charlotte Flair in 2016, in the sense that the titles would exchange virtually every match that they faced each other.
This week on SmackDown, Jey and Jimmy Uso came out and they were confronted by King Woods, who announced the return of Sir Kofi Kingston from his (storyline) injury. The two men went after The Usos, and they made their intentions clear later on the show – they're gunning for the SmackDown Tag Team titles.
King Woods' feud with Roman Reigns seems to have fizzled out in favor of a tag team title feud, but at Day 1, we're likely to see a renewal of the greatest SmackDown Tag Team title feud of all time between these two teams.
​