​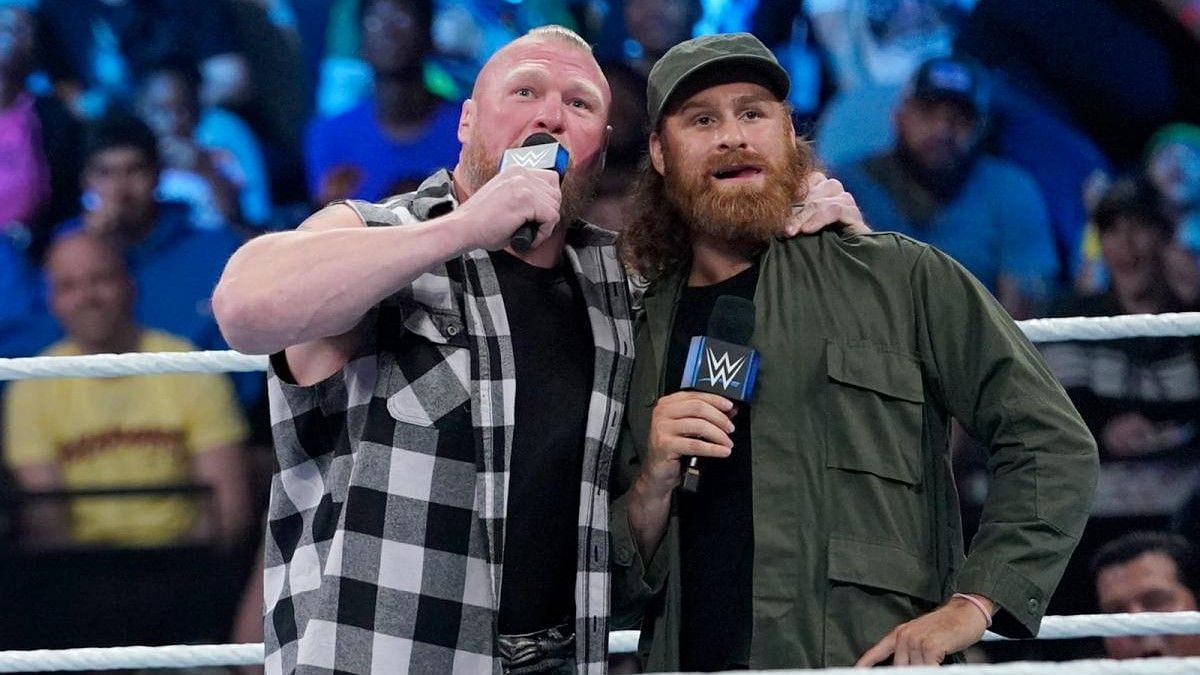 Brock Lesnar was ready to make his return to WWE SmackDown this week after his suspension was lifted. Fans waited to see how The Beast Incarnate would respond to Sami Zayn getting a shot at the Universal Championship.
While the spotlight was on Lesnar, a few other interesting segments and matches took place on SmackDown. Cesaro and Sheamus competed in a match that did not get enough time. However, The Celtic Warrior made a statement to Cesaro and defeated him with a Brogue Kick.
Meanwhile, Los Lotharios picked up a surprise victory over The Viking Raiders after distractions from Shinsuke Nakamura and Rick Boogs. Toni Storm also got some revenge over the SmackDown Women's Champion. She hit Charlotte Flair with a pie after The Queen denied her a title shot.
Drew McIntyre and Jeff Hardy attacked Happy Corbin and Madcap Moss during an episode of Happy Talk to take their rivalry forward. It will be interesting to see what the two men will do next.
Take a look at the five things WWE got right on SmackDown this week.
---
#5. Brock Lesnar coerced Sami Zayn to take his title shot on WWE SmackDown
Brock Lesnar was advertised to show up on WWE SmackDown this week. The Beast opened up the show to a thunderous ovation from the WWE Universe.
Lesnar returned from his suspension and quickly looked to get back in the Universal Championship picture. Last week's Black Friday Battle Royal winner Sami Zayn came out to interrupt The Beast Incarnate.
Lesnar asked who Zayn was and ticked off the #1 contender to the Universal Championship. The Beast laughed at Zayn and attempted to manipulate The Great Liberator.
He pushed Zayn to face Roman Reigns for the title on Friday night, hoping to take on Reigns himself at WWE Day 1. When that did not work, he physically coerced Zayn into competing for the title on SmackDown.
The segment was fantastic and brought out a new side to Lesnar. Sami Zayn has worked well against every single person in WWE, and he was phenomenal once again on the mic opposite Brock Lesnar.
WWE booked a top segment to kick off the show and warmed up the fans for something big. It was a brilliant way to kick off SmackDown after Lesnar's return.
​
#4. Sasha Banks picked up a win over Shayna Baszler on WWE SmackDown
Sasha Banks and Shayna Baszler were booked for a big match on WWE SmackDown this week. What could have been a dream match was reduced to just a television match thanks to Baszler's recent bookings.
Banks tried to take control early but The Queen of Spades pushed her down with ease. She dominated The Boss for some time and kept beating down the former SmackDown Women's Champion.
Banks slapped Baszler and mounted a comeback. The Queen of Spades locked in the Kirifuda Clutch, but Banks countered it into a roll-up. She then locked in the Banks Statement, but Baszler refused to tap out.
Moments later, Banks rolled up the former NXT Women's Champion once again and picked up the win. It was surprising that the two superstars got so little time on SmackDown. However, they put on a decent contest to take their stories further.
WWE will need to book Baszler better in the weeks to come. Meanwhile, Banks is shaping up to be the perfect challenger for Flair's SmackDown Women's title.
​
#3. The New Day reentered the title picture on WWE SmackDown
Jey Uso was ready for his match against King Woods on WWE SmackDown. The Usos seemed overconfident before the match and were ready to win it. However, Kofi Kingston's return silenced them.
Jimmy Uso got involved in the action early and Kofi Kingston had to intervene. The referee called for disqualification as a brawl broke out. New Day leveled both Jey and Jimmy Uso and stood tall to end the segment.
Roman Reigns watched on from backstage and didn't seem too happy with his cousins. He expressed his disappointment and questioned Heyman regarding several topics, including Brock Lesnar.
Later on, King Woods and Kofi also expressed their desire for a shot at the SmackDown Tag Team Championships. The match wasn't anything to talk about, but the segment that followed was great.
It's good to see New Day back in the race for the SmackDown Tag Team Championships. They can have a good match with The Usos at WWE Day 1.
Meanwhile, Reigns is continuously getting frustrated with the ones around him. Will The Tribal Chief part ways with Heyman or The Usos soon?
​
#2. Brock Lesnar broke Sami Zayn before his title defense on WWE SmackDown
Sami Zayn came out for the main event of WWE SmackDown. He spoke about the biggest match of his career and said he never wanted it to take place in Texas.
Brock Lesnar came out to watch the match up close. Zayn asked The Beast Incarnate to help him win the Universal Championship. The Great Liberator said that Lesnar hadn't had much success against Reigns and ticked him off.
The Beast Incarnate unloaded on Zayn and hit three German Suplexes to The Conspiracy Theorist. He flattened Zayn with an F5 before hitting another after the WWE Universe asked him to do it.
He propped up Zayn in the corner and left the ring to head to the back. This was vintage Lesnar. He went back to his roots just when it looked like he'd turned over a new leaf.
He kicked off the show with a bang and ended his night with an even bigger impact. He has been doing great even without Paul Heyman by his side. It is certainly a good sign for WWE and Lesnar himself.
​
#1. Roman Reigns defeated Sami Zayn to retain his Universal Championship on WWE SmackDown
Roman Reigns walked out at the end of the show for his match against Sami Zayn on WWE SmackDown. Zayn lay lifeless in the corner as Reigns entered the ring.
The Usos picked up a broken Zayn and held him for Reigns to nail him with a big Spear. He applied the Guillotine and choked the life out of Zayn to retain his Universal Championship.
It was the easiest title defense of Reigns' current reign thanks to Brock Lesnar. Maybe Zayn would have won the title had Lesnar not weakened him just before the match.
Anyway, it was a good way to end Zayn's first big title match on SmackDown. He was put down by Reigns after an attack from Lesnar. If WWE does decide to build him as a top competitor, this factor will help him get ahead.
Meanwhile, the build-up for the Universal Championship match for Day 1 also started shaping up. With The Great Liberator out of the equation, Lesnar has a clear shot at Reigns and his title. Paul Heyman will have a lot to think about in the weeks to come.
​