​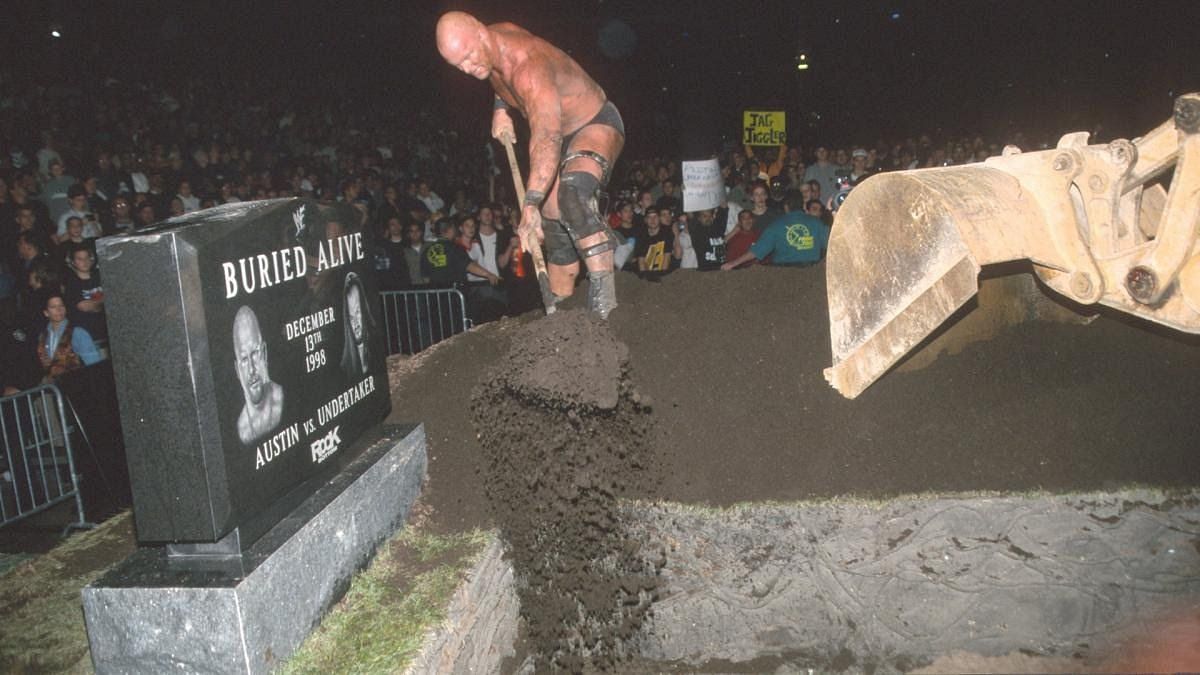 Over the years, WWE has moved away from certain things. Times have changed and due to commercial requirements and a commitment to investors, WWE's content has, too. This has meant scaling back on certain things that have made the promotion so popular in the past.
WWE pushed the needle as far as they could when it came to content. Certain things went overboard, and other things may even work today. In this piece, we're going to list 5 things we may never see in WWE again.
---
#5 Kayfabe in WWE
There was a time in WWE where superstars weren't allowed to break kayfabe.
Superstars were forced to stay in character when performing. This has changed slightly over the years. Kayfabe is still an important aspect of the company, but not to the extent it once was.
One of the most famous incidents of superstars breaking kayfabe was the Curtain Call. Triple H, Shawn Michaels, Kevin Nash and Scott Hall broke kayfabe by having a group hug after their match at a WWE house show in 1995. The friends embraced as Nash and Hall were leaving for WCW at the time.
Shawn Michaels covered how the incident was received in his A&E documentary. He stated that Triple H took most of the heat as he played such a leading role in the locker room.
In the modern age, WWE has given fans access to what occurs backstage. The WWE 24 and Chronicles documentaries are two examples of the company itself showing viewers when superstars are out of character.
There have been many times where superstars have broken kayfabe live. WWE fans now will never believe in kayfabe again.
The progression of the modern WWE has made it so that all storylines and moments are taken with a pinch of salt, with very few truly "believing" in the story.
​
#4 WWE putting superstars in gruesome matches
WWE had some gruesome matches prior to the PG era. Matches like First Blood and Inferno matches. This wouldn't be acceptable in 2021. In a First Blood Match you have to be the first to make your opponent bleed. Blood is now banned in WWE, unless accidental. We will likely never see this type of match again.
An Inferno match deals with fire. The objective is to throw your opponent into the fire that surrounds the ring.
This is extremely graphic and would probably not go down well with investors. And in the modern WWE, the ultimate goal seems to be keeping shareholders happy. As investors wouldn't be happy with the gruesomeness of this, we're unlikely to see this kind of match again.
#3 Using women in sexually explicit scenes and matches
WWE used to use females in sexually explicit ways to attract a younger demographic. This resulted in various demeaning match types including Evening Gown and Bra & Panties matches.
In an Evening Gown match, the objective of the match was to strip your opponents gown off. Similarly, Bra and Panties had the same concept, the difference being having to strip your opponent's ring attire off.
Neither of these matches would be well-received today. Women are given a starring role now. Having more respect as wrestlers and performers, and even main-eventing WrestleMania.
​
#2 WWE Superstars descending from the rafters
After the tragic death of Owen Hart at Over The Edge, it marked the last time WWE utilized the zipline. Hart was set to repel from the rafters of the Kemper Arena in Kansas City, portraying The Blue Blazer (his superhero-inspired alter ego). He was scheduled to face The Godfather for the Intercontinental title.
Unfortunately, he didn't make it to the match. Hart accidentally triggered the release clip, which saw him fall chest first onto the top turnbuckle from 78 feet in the air.
---
#1 Buried Alive and Casket Matches in WWE
​
The Undertaker was synonymous with these matches. A staple of The Deadman's career. Superstars had to incapacitate their opponents in both matches. Followed by placing them in a casket or a grave. These matches went hand in hand with Taker's career.
WWE may have these kind of matches in the future. Reason being, as they could impact Taker's legacy. The Undertaker's Rest in Piece catchphrase was made for such matches. Don't forget he's always rising from the dead. Which makes these matches more special with Taker in them, than without him.
---
What are some other things we will likely never see in WWE again? Share your thoughts in the comments section below.
​