​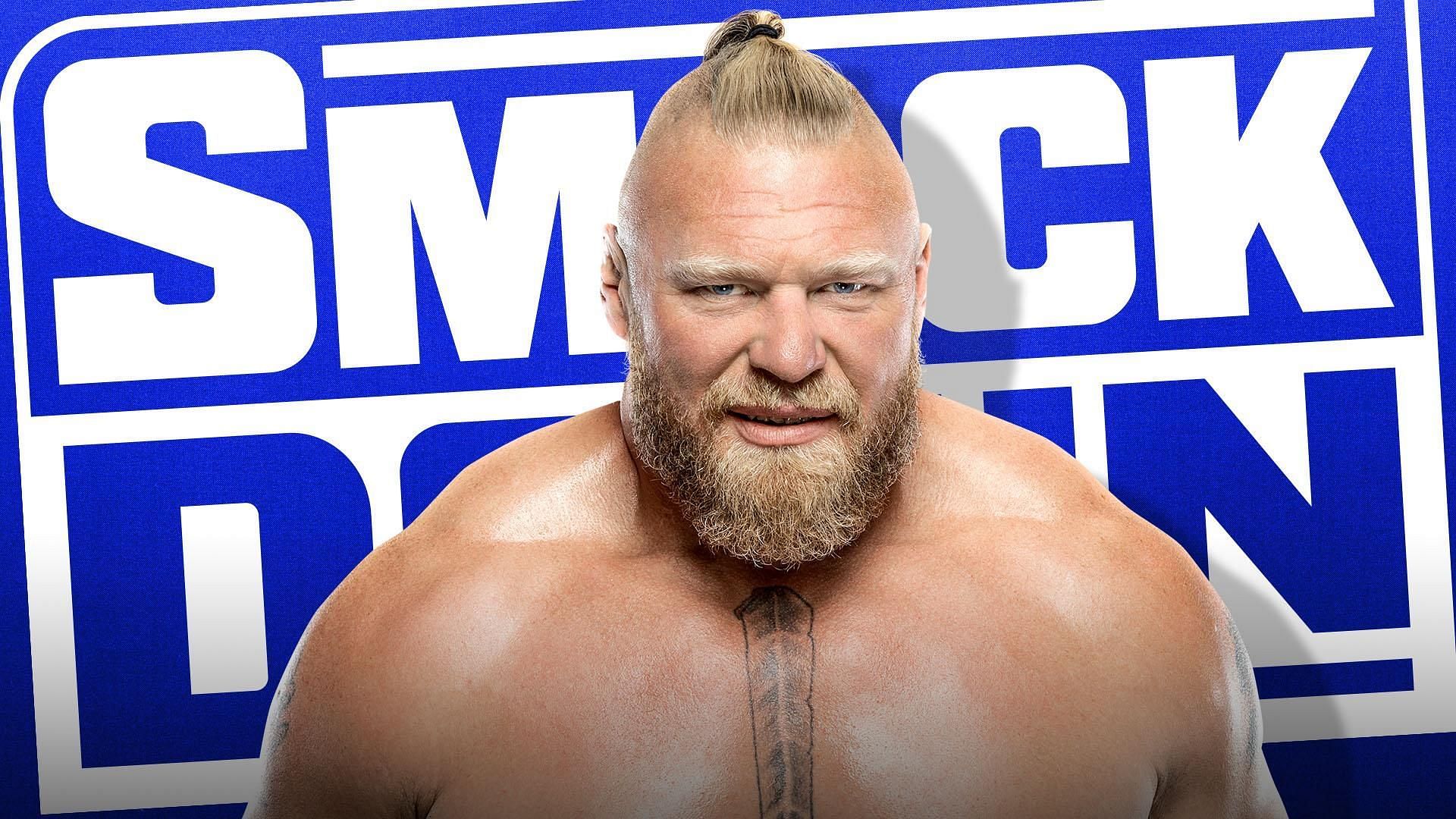 This week's SmackDown is going to be a big one. It's the first episode of December, and WWE will look towards achieving two things – potentially building up to the Day 1 pay-per-view on January 1st, 2022, as well as ending 2021 with a bang.
There's no better way to start the month than by having the return of Brock Lesnar. Apart from that, there is a big feud for the women's title, a power struggle with a certain authority figure, the underutilization of a top champion, and an interesting non-title feud.
Here are the biggest surprises that could happen on the blue brand this week:
---
#5. Brock Lesnar's return to SmackDown may not have a happy ending
This week's episode of SmackDown will be centered around the return of Brock Lesnar. Although the next week's episode of the Friday night show at Staples Center was advertised as Lesnar buying a front-row ticket, WWE decided to end his suspension early.
It came at the expense of Sami Zayn, who toppled off Jeff Hardy in the Black Friday Battle Royal to become the No.1 contender to the Universal Championship. Zayn just can't catch a break. Last week on RAW, he handed Austin Theory over to Vince McMahon and revealed that the 24-year-old was the culprit for stealing the $100 million egg.
Instead of getting a WWE title shot as promised, Theory was handed the opportunity instead, and Sami Zayn was screamed at, with McMahon saying that "nobody likes a snitch".
Zayn went on to win an opportunity at the Universal title last Friday, but the thunder was stolen from him when Kayla Braxton got word that The Beast Incarnate's suspension was up, much to the dismay of Adam Pearce.
The fallout of this will be interesting. It's expected to begin the build-up to the WrestleMania 38 main event, rumored to be a clash between Roman Reigns and Brock Lesnar.
But there might be one more superstar who has a big beef with Lesnar – Sami Zayn. A big surprise would be if he aligned with The Tribal Chief for one night only to take out Brock Lesnar on SmackDown, making his return a rotten one.
This would get a lot of heat on both men, and it would also clear the way for their Universal title clash, presumably at Day 1 or even on SmackDown later in December. Sami Zayn has a reason to have beef with Brock Lesnar, and getting The Beast Incarnate out of the way would likely serve beneficial to him as well as Roman Reigns.
​
#4. Could the Ridge Holland-Sheamus alliance come to an unexpected halt on SmackDown?
Ridge Holland's start to SmackDown wasn't a great one. While we've only seen him on backstage promos idolizing Sheamus, it all came to fruition recently.
Before Survivor Series, he helped The Celtic Warrior pin Cesaro to qualify for Team SmackDown in the final spot, and last week Holland looked to make a statement against The Swiss Superman.
Sheamus was by his side, and the potential future world champion took on the veteran Cesaro in his in-ring debut. Although it shouldn't necessarily come as a surprise, the veteran Swiss superstar picked up the win despite the odds being stacked against him.
Holland and Sheamus also failed to become the No.1 contender to the Universal title after getting tossed over the top rope in the Black Friday Battle Royal on SmackDown.
A big surprise this week would be if Ridge Holland turned on Sheamus, with The Celtic Warrior turning face in the process. If Holland aligned with Cesaro instead, it would catch fans off guard and be one of the more memorable heel turns on the blue brand in the last few years.
​
#3. Intercontinental Champion Shinsuke Nakamura to have another rough night on SmackDown?
Shinsuke Nakamura's Intercontinental Championship reign on SmackDown has been a forgettable one. While he dethroned Apollo Crews to get the title, there hasn't been much done with him since, and the title hasn't been defended on pay-per-view since WrestleMania 37 this year.
Nakamura shouldn't be blamed for this, but rather, WWE's handling of him on SmackDown. It contradicts their booking of United States Champion Damian Priest on RAW, whose current reign is seemingly being used as a stepping stone for him to become a future main event superstar.
That isn't the case for Shinsuke Nakamura, whose prime years are well behind him. However, his alliance with Rick Boogs has been a hit. Last week, Boogs took on Angel and lost following Humberto's distraction.
While the latter was sent through the table by the Intercontinental Champion, he had the last laugh with his partner Angel at the expense of Boogs and Nakamura. This week on SmackDown, we could see the feud extend by having a match between Humberto and Shinsuke Nakamura.
It would be a huge surprise if the former unexpectedly picks up the win over Nakamura, even if it is by cheating.
​
#2. Sonya Deville to finally square off with Naomi on SmackDown?
One of the slowest-burning storylines on SmackDown has been that between Sonya Deville and Naomi. Given the way it has been handled, there seems to be no actual long-term plan, and more of WWE taking it on a weekly approach.
For the uninitiated, the storyline can simply be summed up like this – Deville, for reasons unknown, has a massive grudge against Naomi, going as far as to deny opportunity after opportunity.
Sasha Banks took an issue with this last week on SmackDown, stating that if Naomi were on the blue brand's women's team at Survivor Series, they would have won.
Sonya Deville seemed to be a little calmer last week on the Friday night show, and she made a match, pairing up The Boss and Naomi against Shayna Baszler and Natalya.
It shouldn't come as a surprise that the babyfaces were victorious, all while Deville applauded both women at ringside on the commentary desk. Although it would be abrupt, one of the biggest surprises we could see on SmackDown is for Sonya Deville to finally get in the ring with Naomi.
If that isn't the payoff for this relatively stretched-out storyline, then what was the point of it all in the first place?
​
#1. Toni Storm actually ends up looking good against Charlotte Flair on SmackDown
Last week on SmackDown, Toni Storm tried to get her comeuppance against Charlotte Flair but ended up with not one, but two pie shots to the face. If anything, it sums up WWE's handling of babyfaces and their obsession with getting heat on the heels.
Storm looked to be in a good position to get one over the SmackDown Women's Champion Charlotte Flair, but the ringside decor worked against her as the latter smacked a pie on her face twice.
We're not sure when their title match will be – but it could either be this month or at Day 1 on January 1st. It would be a long time to drag out their feud, but it's not impossible since all they need to do is have a ten-minute segment for the next five episodes of the blue brand before the pay-per-view.
It would be a big surprise if WWE legitimately went out of their way to give Toni Storm a good look against The Queen by giving her a moment of comeuppance. If Storm isn't going to win the SmackDown Women's title (which seems highly unlikely), then she should at least be made to look good in the process.
​