​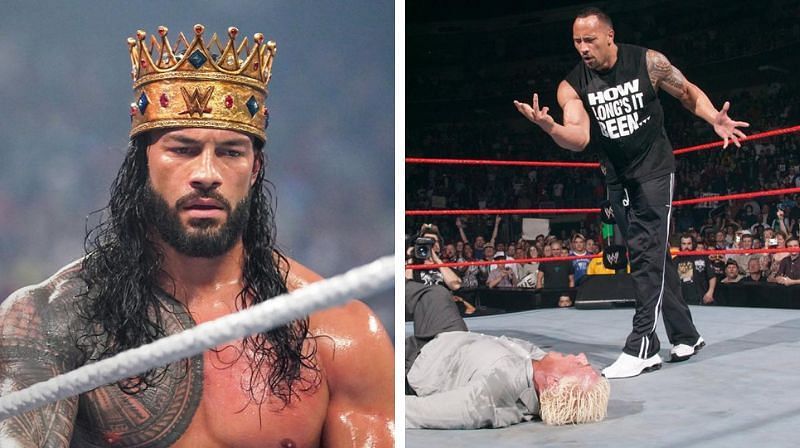 Welcome to another edition of our weekly roundup of all things Roman Reigns. On the latest episode of SmackDown, Reigns hinted that he could wind up his professional wrestling career sooner than later. This comment came on the heels of an interview where he indicated that he would try and make the transition to Hollywood.
Former WWE manager Dutch Mantell threw two names in the hat to challenge The Tribal Chief, and there's also been a report on canceled Survivor Series plans for The Rock, Reigns' rumored opponent for WrestleMania 39.
With that being said, let's dive into five news and rumors you need to know about Roman Reigns:
---
#5 Roman Reigns hints at leaving WWE
On the most recent episode of SmackDown, Roman Reigns was riling up the crowd when he hinted that he might be done with professional wrestling sooner than anyone might expect.
​
"I'm the greatest of all time. And when my days are done around here, which could be sooner than later, the whole world will acknowledge me," said Reigns.
The reigning Universal Champion has pretty much done it all in the squared circle, and he could consider winding down as a full-time performer. This tidbit is particularly interesting as he stated that he would eventually try and transition to Hollywood.
​
"We'll have to see. I think there's going to be some moves made here pretty soon. There's always speculation and contract talks, all that question of it is my business. People who can dive deep enough, I'm sure they can turn enough stones to figure out the timeframe."
Reigns could end up being a film star in the future, but he has his hands full for the time being. Sami Zayn won a battle royal to become the number one contender for the Universal Championship, and Brock Lesnar's suspension has been lifted.
​
#4 Dutch Mantell proposes two challengers for Roman Reigns
Roman Reigns isn't expected to lose the Universal title at any point in the near future. He's also arguably the most entertaining performer in WWE, but it's no secret that he's running short of opponents to work with. Dutch Mantell believes that Drew McIntyre and Jeff Hardy can step up to the plate and challenge him.
"Jeff Hardy didn't get over because of his interviews. He got over because of all the stuff he does, that he still does. And his interviews are a lot better than they used to be. So they do have two guys they can work with and that's McIntyre and Hardy. So they are not really in as bad a shape as they were six months ago. They had no bench. But their bench is better now," said Mantell.
Jeff Hardy appeared to be on the cusp on winning a battle royal to determine the number one contender for the Universal Championship but he was foiled by Sami Zayn. Drew McIntyre wasn't given an opportunity to compete in the battle royal and made his feelings known.
---
#3 Roman Reigns will appear in WWE Studios' new movie "Rumble"
Roman Reigns and Becky Lynch are set to appear in WWE Studios' latest animated film "Rumble." They will join a star-studded cast that also includes Will Arnett, Charles Barkley, Stephen A. Smith and Terry Crews.
Here is the film's official synopsis:
"In a world where monster wrestling is a global sport and monsters are superstar athletes, 'Rumble's' teenage Winnie seeks to follow in her father's footsteps by coaching a loveable underdog monster into a champion."
The film will premiere exclusively on the Paramount+ service on December 15, 2021.
​
#2 Paul Heyman reveals that Roman Reigns wants to be the greatest of all-time
During a recent interview with Sports Illustrated, Paul Heyman stated that Roman Reigns was motivated to consistently exceed expectations and become the greatest professional wrestler of all time.
"Survivor Series was a demonstrative, declarative statement by Roman Reigns. He is on a level that no one else in sports, entertainment, or sports entertainment can achieve today. Roman Reigns returned after a hiatus [in 2020] to be not only the best today, but the greatest of all-time. That is the motivating factor behind every single moment when he is in front of the public," said Heyman.
This might come as a surprise but Reigns will not go down as the greatest of all time or even come close. He might be the best wrestler in the world today, but he has stiff competition in CM Punk and Bryan Danielson.
---
#1 Canceled plans for The Rock revealed
According to Dave Meltzer of the Wrestling Observer Newsletter, fans in attendance at Survivor Series were unhappy when The Rock didn't confront Roman Reigns after the Universal Champion's win against Big E.
"Fans live were upset because they worked themselves into believing he would confront Reigns after Reigns won, and then the show ended," said Meltzer.
The People's Champion was initially penciled in to appear at Survivor Series, but those plans fell through as he was involved in the filming of "Young Rock" Season Two.
​