​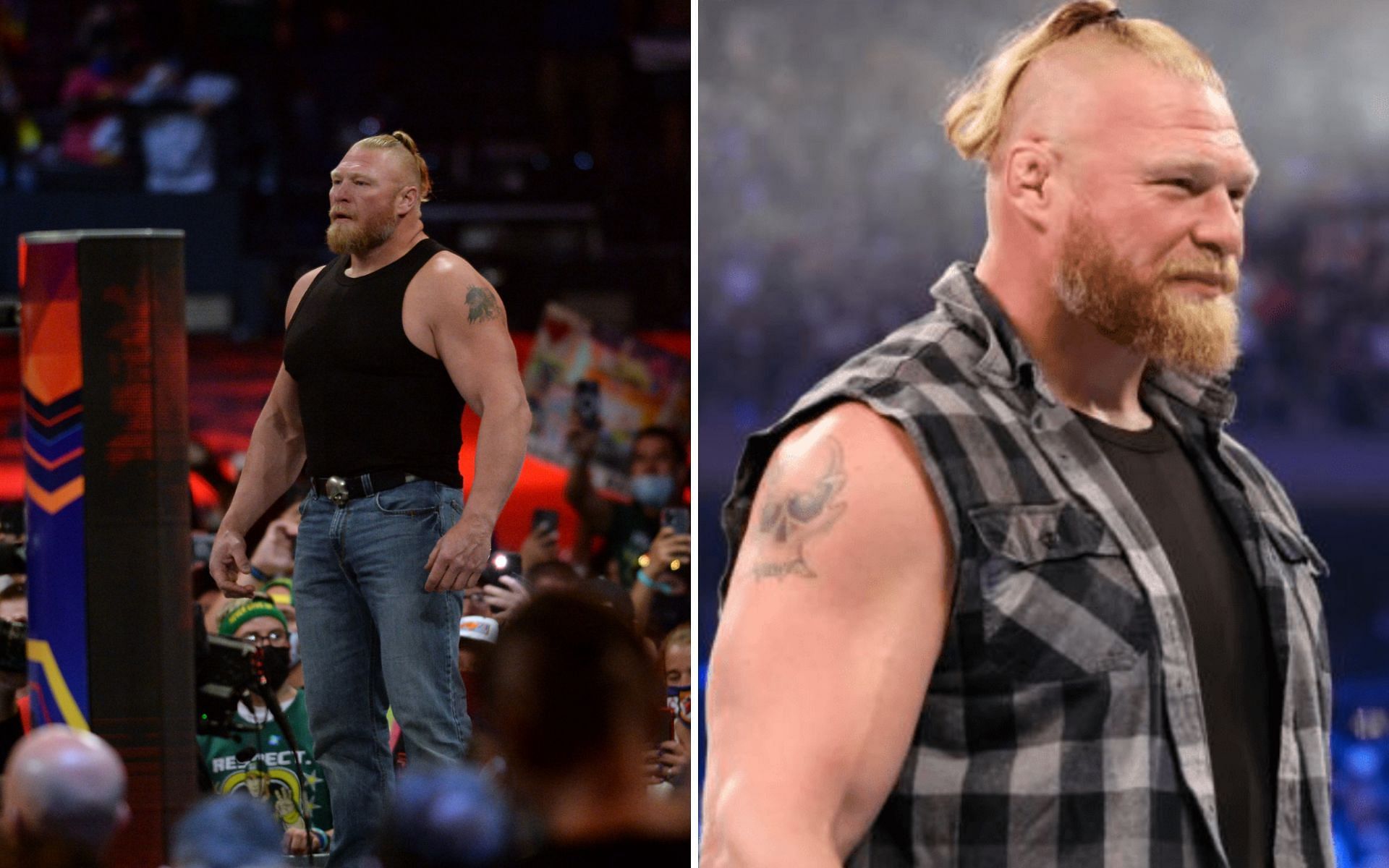 Welcome to another edition of the Brock Lesnar news and rumor round-up. The Beast Incarnate returned to television on the most recent episode of SmackDown to set up a Universal Championship match with Roman Reigns at Day 1. However, the original plan for his comeback was different.
In other news, Bayley described being in attendance for one of Lesnar's greatest matches. Bill Apter revealed why the former UFC Heavyweight Champion would've excelled in the '70s and '80s while Jim Cornette compared him to CM Punk.
Dutch Mantell also gave his prediction for the big Universal Title match at the Day 1 pay-per-view. With that in mind, let's dive into five recent news and rumors you need to know about Brock Lesnar:
---
#5 Jim Cornette reveals whether Brock Lesnar is a bigger star than CM Punk
In a recent clip on his YouTube channel, Jim Cornette was asked if Brock Lesnar was a bigger star than CM Punk. The professional wrestling legend stated that Lesnar wouldn't have the easiest time transitioning to AEW.
"It's a hypothetical fantasy question, yes, but it shows context. Who else is going to be his dance partner? And what has a past history where it has brought us up until now? When you change people, sometimes, you need to change somebody from one company to the other to fresh them up. But sometimes, it means you have to pretty much start from scratch," said Cornette.
He added that while Lesnar was perfectly suited for WWE, the same wouldn't be true for Punk:
"You wouldn't have to start anything from scratch with Brock Lesnar… he fits the WWE. He fits their style. In AEW, you wouldn't have that. But by the same token, if Punk went to WWE again, the same thing would be true. He'd have history, but you have to start building things from scratch, and I don't know if that fan base would be as excited to see [CM Punk] back as the AEW fan base is to see him there," Cornette added.
While Cornette believes Brock Lesnar and CM Punk are better suited to their current environments, the WWE fanbase still chants The Straight Edge Superstar's name at live events.
​
#4 Change of plans for Brock Lesnar
According to Dave Meltzer of the Wrestling Observer Newsletter, Brock Lesnar was originally intended to return to television by buying a ticket for the December 10 episode of SmackDown in Los Angeles. However, WWE opted to bring him back a week earlier instead.
"Lesnar returns on 12/3 in San Antonio and is also booked on 12/10 for Smackdown in Los Angeles. Originally he was still going to be suspended and would do the deal where he bought a ticket to attend the Los Angeles show, but on the 11/26 Smackdown the show was built around Braxton ending the show announcing that Lesnar's suspension was lifted while Pearce acted shocked that Reigns and company also were," stated Meltzer.
Dave Meltzer also stated that Brock Lesnar vs. Roman Reigns feels like a bigger WWE match than Bryan Danielson vs. Hangman Page and CM Punk vs. MJF in AEW.
---
#3 Bayley talks about witnessing Eddie Guerrero winning the WWE Championship from Brock Lesnar
During a recent interview with the San Francisco 49ers, Bayley stated that watching Eddie Guerrero win the WWE Championship from Brock Lesnar in person was her favorite professional wrestling memory.
"The Cow Palace probably, and that was in 2004. It was a pay-per-view called No Way Out. That was when Eddie Guerrero first won his WWE Championship. So, it was so amazing, and he jumped into the crowd and he carried the California flag. You could just see the people in the front row with their Warriors jerseys and their Niners jerseys. It was just such a feel-good moment, I couldn't believe I was there," said Bayley.
Bayley has been out of action since her ACL injury in July. Reports suggest that she could return to action in 2022.
​
#2 Bill Apter feels that Brock Lesnar would've been a great fit in the '70s and '80s
During a recent appearance on UnSKripted, Bill Apter stated that Brock Lesnar would've been incredible in the '70s and '80s as a foil for stars such as Bruno Sammartino and Pedro Morales.
"Oh, I think, you know, when I talk about opponents for Bruno (Sammartino) and Pedro (Morales) and people like that, Brock Lesnar would be it. Man, Bruno Sammartino against Brock Lesnar would've been a dream match for me because back then the WWWF was made of these monsters. My God, Brock Lesnar would've been incredible back then. I would've loved to see him back then. Brock Lesnar against Billy Graham. I think he would've been this bully that people would've tried to stop. He would've been great in any territory back then," said Apter.
Due to his charisma and physical presence, Brock Lesnar would've been a great fit in any era.
---
#1 Dutch Mantell thinks that Paul Heyman could get involved in the Universal Championship match at Day 1
During the latest episode of Smack Talk, Dutch Mantell predicted a double turn with Paul Heyman helping Brock Lesnar dethrone Roman Reigns.
"I think we get Heyman involved. If Heyman is involved, Brock may be taking that title. I think they may be doing that double switch. They could, very easily. They have nobody. I mean, they have people but nobody built to that level. They spent so much time building Roman and Brock that nobody else can match their longevity or prestige. They've got nobody to fall to. You can't blame a creative team. You have to blame the guy in charge for that," said Mantell.
Reports indicate that Lesnar and Reigns will also square off in the main event of WrestleMania 38. A double turn at Day 1 could set up one final clash between the two megastars.
​