​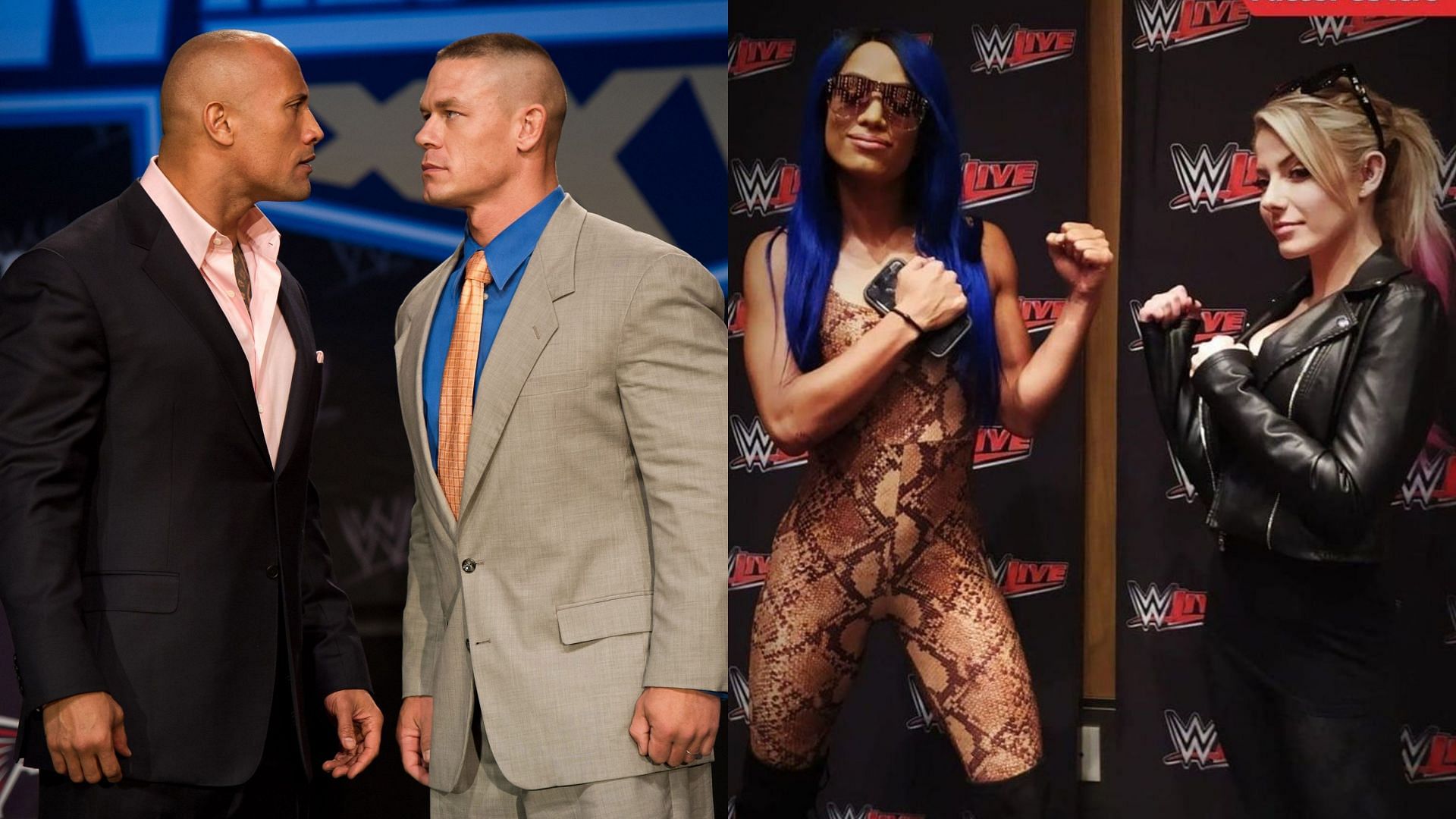 It is no secret that maintaining friendships in the pro wrestling world is no easy task. Several real-life WWE friends have turned on each other in years past. Charlotte Flair and Becky Lynch were the latest friendship to suffer this fate. Despite the RAW Women's Champion and the SmackDown Women's Champion once being best friends, their relationship is now over.
Meanwhile, both former and current WWE Superstars have turned from enemies to good friends in the past few years. Although some started their relationships on the wrong foot, and were sometimes even close to a physical battle, they buried the hatchet and became good friends.
Here are five real-life WWE enemies who became good friends.
---
#5. WWE EVP Triple H and Chris Jericho
Triple H was one of the top guys in WWE when Chris Jericho joined Vince McMahon's company from WCW in 1999. The two wrestlers disliked each other, and their relationship remained sour for years.
Earlier this year, Jericho disclosed what he and Triple H thought of each other during his early days in WWE.
​
​
​
"There were some people that just didn't want me there because I was a WCW guy, not realizing [that he ultimately wanted to work for WWE]. I talked to Triple H about this on Talk Is Jericho. We hated each other for years and we don't even really know why now, but at the time it was like, 'This guy's a piece of s***,'" he said on Steve Austin's Broken Skull Sessions.
According to the current AEW star, Triple H thought he joined WWE because WCW did not want him anymore. Despite that, Y2J and The Game shared the ring many times. Today, the animosity between the two WWE legends is behind them.
​
​
​
"When you like fast forward five to six years. You're older and wiser and think back like why did we have so many problems? Why did we not like each other? And now we are friends and I think there is lot of professional rivalry when you are young and full of vim and vigor as they say," Jericho told on the Rich Eisen Show.
Triple H is now WWE's Executive Vice President of Global Talent Strategy & Development and NXT's executive producer. Meanwhile, Jericho is currently working in WWE's newest rival, AEW.
​
#4. WWE Hall of Famer Kurt Angle and Brock Lesnar
WWE Hall of Famer Kurt Angle and Brock Lesnar's relationship started off on the wrong foot. When The Beast Incarnate joined WWE in the early 2000s, he and Angle initially got along. However, Lesnar made a mistake which turned their relationship sour.
Last February, Angle disclosed details of his heated backstage confrontation with Lesnar.
​
​
"Someone asked him how you'd do against me in an amateur wrestling match and Brock said, 'I would crush him, I'm too big for him,' And I was like, 'Okay, we have a problem. I'm gonna have to confront Brock'. Because when the boy started talking, you know, it just gets really crazy. Yeah, it really builds. So I approached Brock and said, 'So you said you could beat me in a wrestling match?' He said, 'Well, yeah'. And I said, 'Well, let's go right now.' And he said, 'No, no, I don't want to get in the ring, I have my sandals on.' I said, 'Well, we'll wrestle barefoot.' And he said, 'No, I'm not gonna do that.' And I said, 'Well, just be careful what you say,'" Angle told the story on The Kurt Angle Show.
The Olympic Gold Medalist's negative feelings towards The Beast Incarnate soon vanished as the two started traveling together. Angle and Lesnar now have a long-running friendship.
The two friends battled each other several times in WWE during 2003. They also went head-to-head in Japan at IGF Toukon Bom-Ba-Ye in 2007.
​
#3. WWE Hall of Famer Goldberg and Chris Jericho
Goldberg is another WWE Superstar with whom Chris Jericho had problems backstage. Before joining WWE, the wrestlers shared the WCW locker room but there was some animosity between them.
Last year, Jericho spoke about his relationship with the former Universal Champion during his Saturday Night Special, disclosing that WCW had pitted them against each other.
​
​
"Bill and I had a lot of animosity over the years just because, they kind of pitted us against each other in WCW and it is what it is. No problems, No issues now. Actually, Bill and I have a very good rapport. We get along great in WCW before we got pitted us against each other. Went to hockey games with each other. Nothing but love for Bill," Jericho said.
Despite their past, Jericho and Goldberg are now friends. The former Intercontinental Champion posted a photo of them together on Instagram a few years ago. In the caption, he referred to Goldberg as an old friend.
Jericho and Goldberg never had an official match in WCW. However, they faced each other several times in WWE, including their famous bout at Bad Blood in 2003.
While Jericho is currently active in AEW, Goldberg has a part-time contract with WWE. The 54-year-old's last WWE appearance came at Crown Jewel last October when he defeated Bobby Lashley in a No Holds Barred Falls Count Anywhere match.
​
#2. WWE legends The Rock and John Cena
The Rock and John Cena are two of the greatest WWE Superstars in history. However, they had some heat a few years ago.
The animosity between the two WWE legends started when Cena called The Rock out on leaving WWE to pursue an acting career in Hollywood a few years ago.
​
"He, at one point, loved wrestling and wanted to do this all of his life. Explain to me why he can't come back for a 15th Anniversary show (…) Just don't f*** me around and tell me that you love this when you are just doing this to do something else. That's the only thing that gets me really pissed off," Cena said.
The Rock was offended by Cena's comments. WWE then turned the real-life beef between the two legends into an on-screen storyline. The Brahma Bull returned to Vince McMahon's company to face Cena twice at WrestleMania 28 and 29. The two wrestlers exchanged victories.
Despite previously criticizing The Rock, Cena later followed in his footsteps. He is currently pursuing an acting career in Hollywood, too. Now that they are both actors, their feud has turned into friendship.
​
"What's great about our relationship is that he's one of my best friends. We talk all the time," The Rock said on Jimmy Kimmel Live! in 2018.
The 16-time World Champion also revealed that The Rock gave him valuable advice about working in Hollywood.
The Rock has not competed in WWE since defeating Erick Rowan at WrestleMania 32. However, his last WWE appearance came in October 2019 on SmackDown. Meanwhile, Cena returned to WWE earlier this year to face Roman Reigns for the Universal Championship at SummerSlam.
​
#1. WWE Superstars Sasha Banks and Alexa Bliss
Sasha Banks and Alexa Bliss played crucial roles in what became known as the Women's Revolution in WWE. However, the two ladies disliked each other in real life.
In 2017, the former WWE SmackDown Women's Champion confirmed rumors about having backstage heat with Bliss. She opened fire on the 30-year-old on RAW Talk.
​
"You know, she came in, so cute, so humbled—she came in so fake. With her fake little stories, her fake little "I loved wrestling growing up, I loved Matt Hardy"—you know what, you can't even tell the difference between Jeff and Matt, you idiot. Yeah, we call you on all your lies sweetheart, you're just here to be another girl, another heel—you just want to be here for a Hollywood act," she said.
Bliss responded to The Boss' comments in an interview with Cheap Heat, stating that she is ok with how Banks felt about her as long as they keep performing professionally in the ring.
Banks and Bliss shared the ring many times in WWE. A few years ago, they were engaged in a heated feud over the RAW Women's Title.
In 2018, The Boss stated in an interview with Peter Rosenberg that she dislikes some wrestlers in the WWE locker room. Rosenberg then asked her a question about wanting to continue working with Bliss.
​
"Not really. I think if they wanna have me wrestle Alexa, they can do that because I can do my job very well," she answered.
Despite their comments about each other, the relationship between Bliss and Banks seems to have taken a positive turn lately. During an interview with Stephanie Chase in November 2020, Banks chose Little Miss Bliss as the superstar she wants to team up with and form a tag team.
Bliss also welcomed the idea of teaming up with Banks. She responded to Banks' comments via Twitter, saying she would gladly join forces with her, stating that "there is always room for more on the playground."
​