​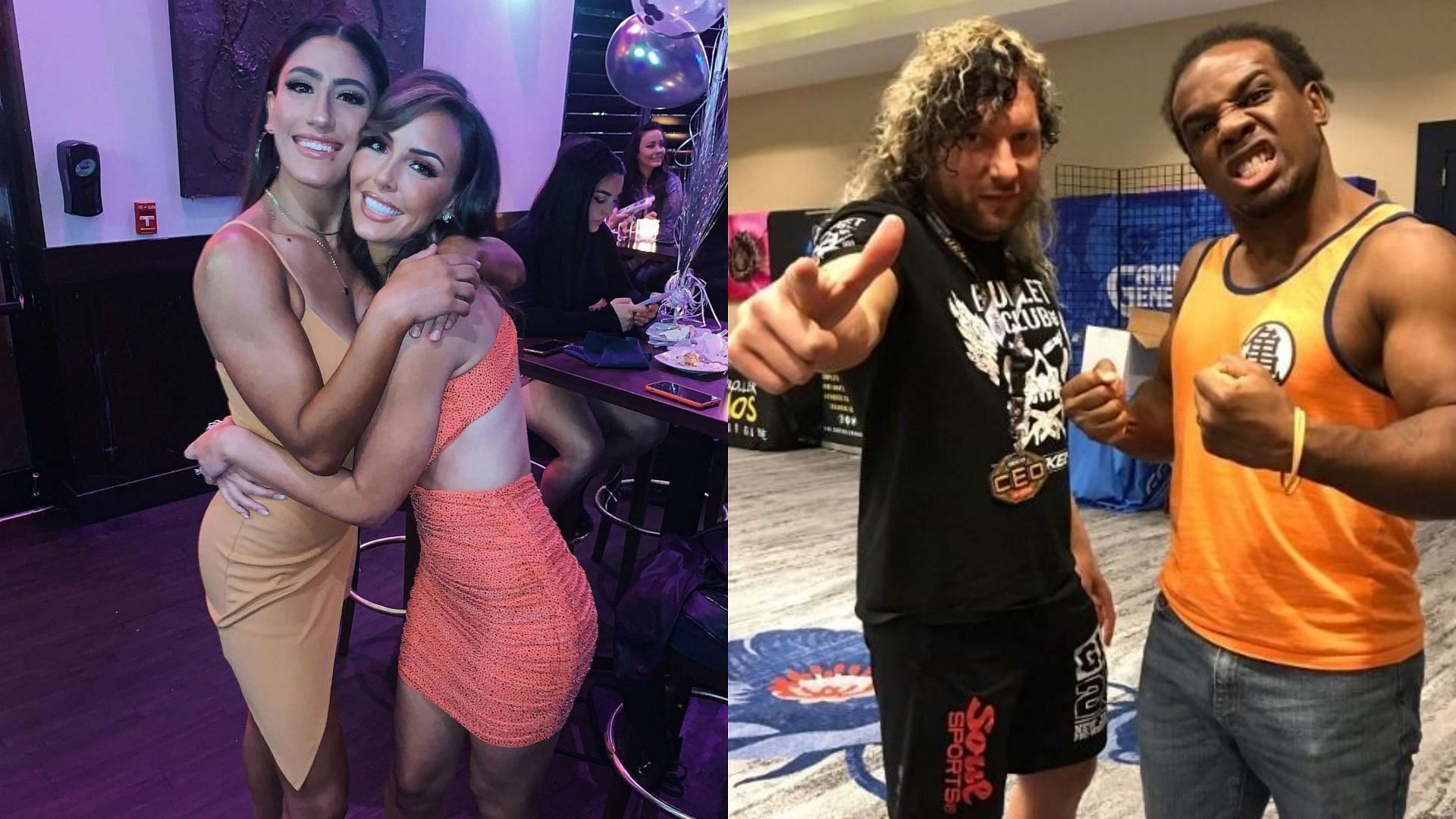 There are several wrestling promotions in the United States and all around the world. Despite the competition between these companies, many of their wrestlers are friends in real life.
There are several famous cross-promotion friendships in the pro wrestling world. WWE Superstar Liv Morgan and AEW star Ruby Soho are an example. The two ladies worked together in WWE and were part of The Riott Squad on television. Behind the cameras, they also formed a close relationship. Today, they compete in different promotions.
Likewise, several other WWE Superstars also have good friendships with wrestlers from other promotions, including AEW and IMPACT Wrestling. Some AEW and IMPACT stars are close in real life, too. While some of these friendships are well-known to wrestling fans, others aren't.
Here are five lesser-known cross-promotion wrestling friendships.
---
#5. WWE Superstar King Xavier Woods – All Elite Wrestling star Kenny Omega
WWE Superstar Xavier Woods and AEW star Kenny Omega have never shared a wrestling ring. Nonetheless, the two are good friends in real life. In an interview with comicbook.com, the current King of the Ring disclosed how he first met Omega and how they bonded through video games.
"It's something I've loved since I was a kid and always great when I find other guys in my profession who love the same games as me. So finding Kenny was fantastic. We had a lot of mutual friends and I remember it was almost like a cold call. It was like 'hey, are you…cool…with video games?.' Luckily our friendship blossomed from there. So it's great when I can meet people in this job that love the same games," Woods said.
Woods has been competing in WWE for over a decade. He is now an 11-time Tag Team Champion. The 35-year-old recently won the King of the Ring tournament after defeating Finn Balor in the final.
Omega, too, had a chance to join Vince McMahon's company a few years ago. In an interview with TalkSPORT, the former AEW World Champion revealed that he held talks with Triple H after his NJPW contract expired. Nonetheless, he decided to sign with AEW.
​
#4. IMPACT Wrestling Knockouts Tag Team Champion Cassie Lee – AEW star Valentina Rossi
Cassie Lee and her wrestling partner and real-life best friend Jessica McKay spent several years in WWE before Vince McMahon's company released them from their contracts last April. Nearly two months ago, they debuted in IMPACT Wrestling as The IInspiration, capturing the Knockouts Tag Team Championships on their first night of action.
While Lee may still have some friends in WWE, she also has others in their rival, AEW. The former WWE Women's Tag Team Champion is friends with AEW star Valentina Rossi.
Last June, Lee posted a photo with McKay, Rossi, Xtina Kay, and Harley Cameron. That same month, she tweeted to congratulate Rossi on making her AEW debut. In November, Rossi celebrated Lee's birthday by posting a photo of them hugging.
Surprisingly, Rossi has competed in AEW and WWE in the past six months. Despite wresting in a few matches in Tony Khan's company between June and October, Rossi appeared on NXT 2.0 in November. She teamed up with Gabby Stephens on the November 16 episode to face Persia Pirotta. However, her team came up short.
According to the spoilers, Rossi will return to Tony Khan's company on the December 4 episode of AEW Dark to face Jade Cargill.
​
#3. WWE Superstar R-Truth – All Elite Wrestling star Jake Hager
Before joining All Elite Wrestling in 2019, Jake Hager competed for more than a decade in WWE. During that time, he made some friends. One of Hager's friends in Vince McMahon's company is R-Truth.
Hager spoke about his friendship with the former 24/7 Champion on the WINCLY podcast in 2019. He disclosed that they became close after years of riding together.
"We were both on the same shows and got to know each other. We have similar friends and similar experiences over the last 12 years that really solidified each other in each other's lives and our kids' lives. He's Uncle Ronnie to my kids," Hager said.
The former WWE World Heavyweight Champion also revealed that R-Truth was one of the first people he told about his plans to leave the promotion Hager left WWE in March 2017.
After his departure, Hager started wrestling on the independent circuit. He also kicked off his career in MMA before signing with AEW.
Meanwhile, R-Truth is still wrestling in WWE. He has been chasing after the 24/7 Championship since 2019. He is now a 53-time 24/7 Champion.
​
#2. WWE Superstar The Miz – IMPACT Wrestling star Matt Cardona
Like Jake Hager, Matt Cardona (FKA Zack Ryder) spent nearly a decade and a half in WWE before joining IMPACT Wrestling and Game Changer Wrestling. The former Intercontinental Champion has several friends still in WWE, including The Miz.
Cardona and The Miz shared the ring multiple times in WWE between 2007 and 2019. In an interview with Metro in 2012, The Miz disclosed that he also gets along well with Cardona outside the squared circle.
"In a group of 100 people, not everyone is going to be your best friend. You have people who have tiffs with each other, then have people who are good friends. I'd say I get on best with Zack Ryder because he has such good stories," he said.
Cardona also praised his friend earlier this year after watching The Miz's WWE 24 episode, stating that the former WWE Champion has proven so many people wrong so many times.
"Just watched the #WWE24 on @mikethemiz. How can you truly be a fan of pro wrestling and not be a fan of the Miz? This guy busted his a**, ate s**t, and proved so many people wrong…so many times. He is Awwwesome!" he wrote.
After a few months of absence, The Miz recently returned to Monday Night RAW to confront Edge. Meanwhile, Cardona continues to perform regularly in IMPACT Wrestling and GCW. He also makes appearances in a few other independent promotions.
​
#1. IMPACT Wrestling star Deonna Purrazzo – AEW Women's World Champion Dr. Britt Baker D.M.D.
Deonna Purrazzo and Dr. Britt Baker D.M.D are now top stars in the wrestling industry. The two ladies are also real-life best friends.
In an interview with Fightful earlier this year, the AAA Reina de Reinas Champion disclosed that she and Baker want to form a tag team together. She even revealed that she and Baker had already pitched the idea to Scott D'Amore, IMPACT's Executive Vice President, and Tony Khan.
"I think it was a matter of time and when it would be right. That's why I started saying, 'We should just be a tag team.' Because one of us has to lose a championship if we wrestle each other, but if we wrestle with each other against two other people, maybe at IMPACT! Wrestling where there's Knockouts Tag Team Champions, we can wrestle the champions and become tag team champions together," she said.
Purrazzo also stated that she does not see herself forming a tag team with anyone but Baker or Chelsea Green, her two real-life best friends.
"I think it's Chelsea or Britt, I just feel like those are legit my two real-life best friends. They're the people I talk to all day, every single day. So I just think that that works. Those are the two people that I travelled the country with, that I shared hotel rooms with, and I shared cars with them," she added.
Purrazzo has not competed in IMPACT Wrestling since losing the Knockouts Title last October to Mickie James at Bound For Glory. Meanwhile, Baker recently retained her AEW Women's World Title after defeating Tay Conti at Full Gear.
---
Who are some other close friends who happen to work for different wrestling promotions? Share your answers in the comments section below.
​