​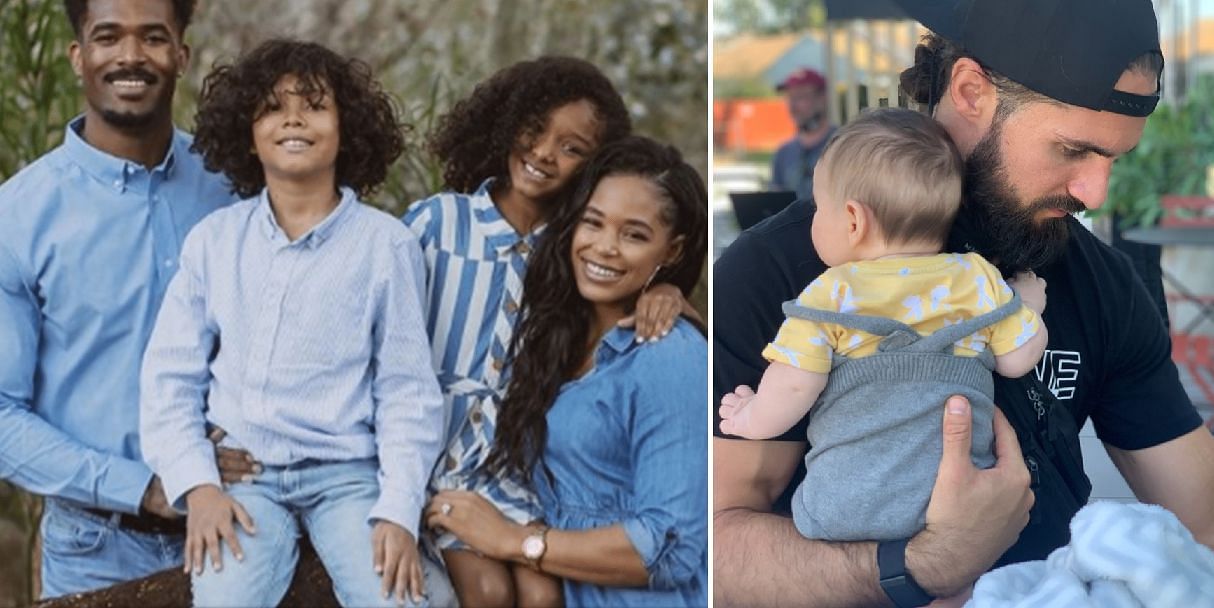 WWE has released several Superstars in recent months, including a number of couples. The likes of Karrion Kross & Scarlett, as well as Mia Yim & Keith Lee have departed the company and left WWE a distinct lack of current couples.
While it has become common knowledge that several mothers and fathers make up the company's main roster, several current WWE stars are also parents.
The following list looks at just five current WWE pairings who manage to work around their WWE careers around their family at home.
---
#5. Current WWE Superstars The Miz and Maryse
The Miz and Maryse have been seen as WWE's 'IT' couple for several years. While Maryse isn't currently an active performer, she is still working for the company in an ambassador role.
The mother of Monroe Sky and Madison Jade hasn't appeared on WWE TV in several years since 'The Miz and Mrs' reality series became a huge hit. Maryse has also been able to enjoy the luxury of maternity leave after publicly announcing that the duo were expecting their children on live TV.
Maryse is a former Divas Champion in her own right, but since her return to WWE, she has been seen as her husband's manager. Maryse's last WWE appearance came earlier this year when she was part of an episode of Miz TV in April.
The former champion was also later able to help her husband and John Morrison to come out on top in a handicap match against Damian Priest.
The Miz hasn't appeared on Monday Night RAW for several months after revealing that he was part of the latest season of Dancing With The Stars.
Miz has since been sidelined but will not be able to WWE to pick up his feud with Morrison because he was recently released.
As of this writing, it's unclear when The Miz will make his return to WWE TV. After more than 15 years with the company and as the only successful reality TV star on the roster, he's still seen as an asset to the company.
The couple's two daughters play a huge role in 'Miz and Mrs' and the couple continues to balance parenting alongside their already hectic work schedules.
​
#4. Current WWE Superstars Bianca Belair and Montez Ford
The EST of WWE and her husband Montez Ford have been dominating the Monday Night RAW for the past few years. The former NXT Superstars met during their time in developmental and went on to marry in 2018.
The couple have since been promoted to the main roster and their schedule has become much more hectic and much tougher to work around a family.
While it's common knowledge that Ford and Belair are married, the duo also have two children. Ford has a son and daughter from a previous relationship that Belair has since taken under her wing following their nuptials.
The former SmackDown Women's Champion is now the step-mother to Ford's two children and spends much of her time outside of WWE looking after the duo.
The couple regularly post updates on social media about their little family, as seen above where it's noted that Belair has taken on the motherly role. It's impressive that both stars are able to divide their time between their family and their wrestling careers.
​
#3. Current WWE Superstars Naomi and Jimmy Uso
Naomi and Jimmy Uso are currently dominating SmackDown with two completely separate WWE storylines.
Naomi is feuding with Sonya Deville. Meanwhile, Jimmy Uso is part of The Bloodline alongside Roman Reigns.
The couple have been featured on Total Divas in the past, where it was revealed that Jimmy Uso has two children from a previous relationship. Naomi became the stepmother to Uso's son and daughter when the couple married in 2014. She has since shown that she has happily taken on the motherly role.
Uso's off-spring were featured in several episodes of the show, alongside his brother Jey's two children. Jey also has a son and daughter much like his brother, and they made a few cameo appearances on the E! Network show before it was canceled earlier in the year.
WWE's hectic touring schedule has returned following the end of the COVID-19 pandemic, which means that the duo are now forced to fit their family life around their professional one again.
​
#2. Current WWE Executives Stephanie McMahon and Triple H
The power couple of WWE is still very much at the helm of the company and are still seen as one of the world's most hard-working duos.
Not only is Stephanie McMahon the Chief Brand Officer of her father's company, but the former Women's Champion is also the mother of three young girls.
Triple H is also now a devoted family man, as well as being the Godfather of NXT and the main man behind the rise of the brand in recent years.
The couple started their family back in 2006 and have since welcomed three daughters. Their children are now all teenagers and it has been revealed by Stephanie in recent interviews that her oldest daughter Aurora Rose Levesque is currently training to be a WWE Superstar.
It isn't a surprise that one of the couple's children wants to follow in her parent's footsteps, but it remains to be seen as to whether or not her younger sisters will also be bitten by the wrestling bug.
​
#1. Current WWE Superstars Seth Rollins and Becky Lynch
Seth Rollins and Becky Lynch have dominated WWE over the past few years, and The Man was able to announce that the couple were expecting their first child last year.
WWE allowed the former Women's Champion to announce an episode of Monday Night RAW, where she was then able to relinquish her Championship to Asuka.
Lynch took maternity leave throughout the COVID-19 pandemic and then announced that the couple had welcomed a baby girl called Roux back in December.
The couple's little girl will turn one-year-old next month and both her mother and father have been able to return to WWE since her birth. Lynch has noted in several interviews that the couple take their daughter on the road with them and are able to get her to sleep backstage while also being part of the show.
Lynch and Rollins were both recently drafted over to Monday Night RAW, which has allowed them to continue to bring their daughter with them to WWE live shows and look after her together backstage.
---
Who is your favorite WWE couple? Share your thoughts in the comments section below.
​