​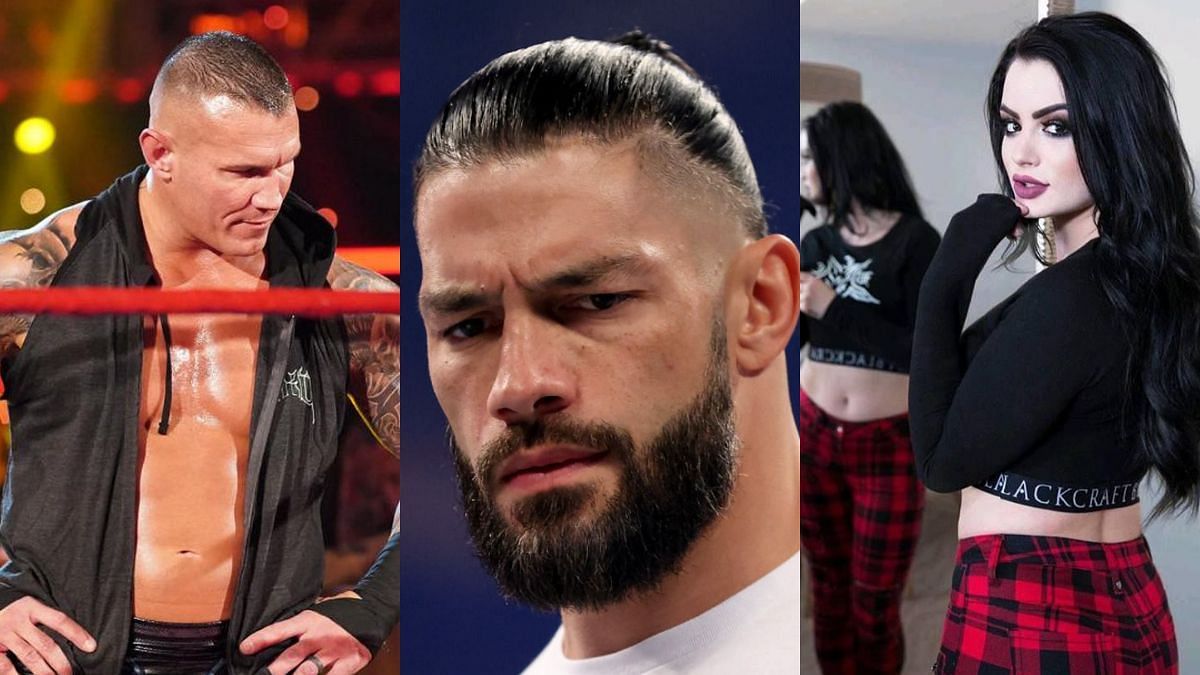 WWE and its superstars use social media generously to market their products. Over the years, many WWE Superstars have used social media for their benefit. Xavier Woods has amassed a healthy following for his YouTube channel. Meanwhile, John Cena has used Twitter to spread enlightening messages.
Also, over the years, several superstars have used Twitter to get into rivalries. Fans are aware of Riddle's use of social media to get into everyone's business. Becky Lynch has used Twitter to take shots at other WWE Superstars. Her Twitter rivalry with Ronda Rousey gave fans a lot to look forward to.
Many Twitter spats have headed in the wrong direction. In the end, most superstars have buried the hatchet after things calmed down.
With that being said, check out the five most brutal Twitter spats between current WWE stars.
---
#5. WWE Twitter Battle: Becky Lynch vs. Edge and Beth Phoenix
Becky Lynch had to tone down her Twitter game after Ronda Rousey reportedly got upset with her online jibes. In June 2019, Lynch found a new Twitter target.
It all started at SmackDown 1000 when Lynch made a remark about Edge's neck injury that forced him to retire in 2011. Edge took a dig at Becky and Seth Rollins on Twitter before The Man took a shot at Beth Phoenix's commentary.
Later on, Lynch challenged The Glamazon to lace up her boots and fight her inside the squared circle. Edge took a brutal shot at the former double champion and said she'd done nothing to boost the frail ratings of WWE.
The Man fired back, calling Edge out for previously dating Lita with a personal tweet. Edge did not hold back and continued to tweet about Seth Rollins and his previous relationships.
It was one of the most brutal Twitter spats in WWE history as all three superstars got extremely personal. It looks like Edge won the battle with smart comments.
Edge is now back in the ring and performing at the highest level. He had a lengthy feud with Rollins that saw him come out on top. It's unclear whether there is any bad blood between Lynch and The Rated-R Superstar.
​
#4. WWE Twitter Battle: Rhea Ripley vs. Mandy Rose
For WWE NXT TakeOver: WarGames 2021, many superstars decided to put their weight behind their favorite teams. On Twitter, Rhea Ripley decided to show support for her friend Raquel Gonzalez.
Ripley posted a video saying that Gonzalez and her team of top superstars will defeat Dakota Kai and her team of "muppets." Her words didn't fit well with NXT Women's Champion Mandy Rose. The Golden Goddess snapped back at Ripley and asked her who she was calling "muppets."
In the next tweet, The Nightmare stood by her words and told Rose to fight her if she had a problem. Rose accepted Ripley's challenge and said "let's go, baby."
Like Gonzalez, Mandy Rose is also Rhea Ripley's friend. It's possible the two women were joking around.
However, the Twitter spat could lay the platform for a future rivalry between the two top female WWE Superstars. It was another way for Ripley to showcase her brutality in the WWE Universe.
​
#3. WWE Twitter Battle: Paige vs. Zelina Vega
Paige was relieved from her duties as the SmackDown General Manager in December 2018. She started trending on Twitter right away, and a WWE Superstar tried to make the most out of it.
Zelina Vega took to Twitter and commented on Paige's exit. She taunted the former WWE Superstar for not even being part of her own movie. Meanwhile, Zelina Vega (under her real name Thea Trinidad) played the role of AJ Lee in the movie Fighting With My Family:
"Aww.. @RealPaigeWWE soooo sorry to hear you aren't @WWE #SDLive general manager anymore.. I mean, you couldn't even make it playing yourself in your own movie so, I didn't exactly have high hopes for you. It's okay though! I make the movie #FightingWithMyFamily great ;)"
Staying true to her heelish character, Paige took a shot at Vega. She asked who she was again before ending their spat:
Even though Paige hasn't been cleared to compete, she has stayed active in wrestling circles. She hasn't shied away from taking her critics head-on outside the ring or on Twitter.
​
#2. WWE Twitter Battle: Randy Orton vs. Tommaso Ciampa
In June 2020, two of the biggest WWE Superstars of this generation decided to battle it out on Twitter. Randy Orton watched NXT TakeOver: In Your House and decided to call out the talent involved in the event for leg slapping.
It wasn't the first time NXT Superstars had been called out for extensive leg slapping during matches. However, The Viper's words did not sit right with Tommaso Ciampa, who immediately responded.
The Blackheart, who lost to Karrion Kross at the show, said he found a way to put his daughter to sleep by making her watch Orton's matches:
"My daughter has been having trouble sleeping. Luckily I found a remedy. Randy Orton matches. Better than NyQuil. Sincerely #AnEntireLockerRoomWhoBustedTheirAsses"
Orton fired back, saying he hurt the feelings of the self-appointed locker room leader. The former WWE Champion also asked Ciampa when the next leg slap class would be held.
Ciampa is known to be well respected backstage in NXT. However, Orton did not hold back and had an interesting Twitter spat with Ciampa.
​
#1. WWE Twitter Battle: Roman Reigns vs. Baron Corbin
WWE Superstars Roman Reigns and Baron Corbin (Happy Corbin) got into a heated Twitter spat in April 2021. Then-United States Champion Sheamus sent out a tweet to issue an open challenge for his title.
Corbin quoted Sheamus' Tweet and said "I'd fight you, but we would also have to put a bottle of bourbon on it." However, the Universal Champion decided to interfere in their business.
Roman Reigns called Corbin out for drinking flavored Vodka. Corbin fired back and took shots at Reigns' claims of being The Head of the Table.
The Tribal Chief called himself Corbin's dad before ending his interaction with the WWE Superstar. However, Corbin had the last laugh as he poked fun at Reigns' special counsel Paul Heyman and asked Reigns if he paid him to write his tweets.
Reigns and Corbin have had some heated rivalries in WWE. They have even had the privilege of dumping dog food on each other. However, their Twitter spat was one of the most entertaining rivalries the two men have had in WWE.
​