​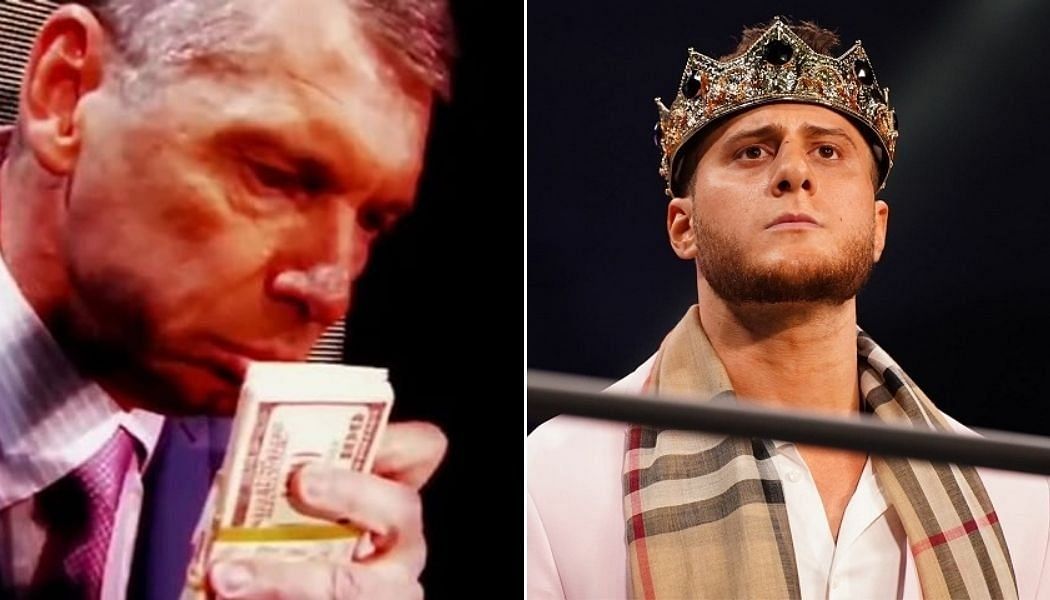 AEW has arguably the best roster in professional wrestling today. But that doesn't change that all wrestlers have contracts that eventually expire. While AEW has picked up many WWE wrestlers, nobody who has debuted on the main event of AEW has gone over.
Vince McMahon has been the head of the most successful wrestling promotion for nearly 40 years. He has been involved with the company that would become World Wrestling Entertainment for even longer than that. Because of this, McMahon should definitely be looking at AEW's roster.
​
AEW's stacked roster might just end up working against itself sometime soon. If that time ever comes, Vince McMahon might have a chance to pick up some of the greatest wrestlers at AEW. While WWE adheres to stricter rules, a handful of the AEW wrestlers would work pretty well in WWE.
Vince McMahon has publicly stated that he doesn't view AEW as competition. Regardless of that statement, he wouldn't be as successful as he is today if he weren't keeping somewhat of an eye on them. Hopefully, McMahon has recognized the skill and draw of the wrestlers on this list, and would ideally pick them up if they ever parted ways with AEW.
​
5. McMahon should hire Wardlow if his AEW contract expires
Wardlow has been running after MJF since his debut. Acting as his right-hand-man and still being one of the most dominant wrestlers in AEW. Whether or not this is another long-term booking by AEW is still to be seen. However, if Wardlow were to be released or request his release, WWE might just be the home for him.
Wardlow fits the size and wrestling style that Vince McMahon has reportedly been looking for in wrestlers recently. His moveset and in-ring ability would make him exactly the type of World Champion that McMahon wants. Wardlow is not exactly good on the mic, but could easily be paired with Paul Heyman to give him that edge.
Wardlow might surprise fans and have an unbelievable turn in his AEW career, or might just become the next Heyman Guy? If anyone on the AEW roster would look good next to Heyman, it would be Wardlow. The 33 year old wrestler is still in his prime and could have fantastic matches against Roman Reigns or even Brock Lesnar.
​
4. Brian Cage could get fed up with AEW and leave.
Brian Cage calls himself "The Machine," but at AEW he seems to be on the backshelf gathering dust. Cage is imposing and dominating in the ring, and he's the last person to have defeated Adam Page too. If any wrestler in AEW were to choose not to renew his contract, Cage would be the least surprising.
Cage's wife, Melissa Santos, has publicly spoken out about her feelings about her husband's booking. Santos considers Cage to be her favorite wrestler, and noted how he's hardly made any on-screen appearances. While Cage has not done anything notable recently, he won the Casino Ladder Match on his debut and was part of Sting's first feud and match in AEW.
Fans might have forgotten about all those things, and as such, if Cage becomes fed up, he'd be ideal for a WWE run. At 6'5" and weighing 272 lbs, Cage is the perfect size for a McMahon guy. As noted earlier in this article, McMahon has been looking to sign male wrestlers built like Cage. Fitting the bill will only mean that he has a better chance of being pushed to the top.
Hopefully Cage gets more screentime on AEW soon, but if he ever leaves AEW, Vince McMahon should do everything to sign "The Machine".
​
3. Britt Baker would be a great asset for WWE
Britt Baker is arguably one of the best female wrestlers in the modern wrestling industry. Baker is unique enough to be one of the few full-on heels in wrestling to still get resounding cheers from fans. This was seen on full display in her hometown of Pittsburgh, where droves of fans wore her merch to the show.
If Baker were to ever not renew her contract, she would be the most important female signing for McMahon to make. "D.M.D." isn't just one of the catchiest catch-phrases in AEW, but the Doctor's in ring work is remarkable. She's broken a nose, landed on thumb tacs, and been put through a table.
Britt Baker could be credited with making the AEW Women's roster what it is today. According to CM Punk, she's the actual Fourth-Pillar of AEW. Baker returned from an injury and went from being overlooked to having the spotlight on her. Vince McMahon is hopefully keeping an eye on her, because Britt Baker will go down as one of the greatest female wrestlers of our time.
​
2. If Rey Fenix ever left AEW, WWE should capitalize
Rey Fenix is without a doubt one of AEW's brightest stars. He's taken some time to warm up, but Fenix is currently one half of the AEW Tag Team champions. The title he and his real-life brother, Penta El Zero M, earned. So far, Fenix has shined and proven to be a valuable asset to AEW.
Vince McMahon might be looking at Fenix and seeing the potential for a successful run like Rey Mysterio had in 2006. Fenix does not fit the size of the current wrestlers McMahon is looking for, but McMahon wouldn't be sleeping on a wrestler of Fenix's caliber.
Rey Fenix took part in one of the best matches in AEW since its creation. The title shot he got against former champion Kenny Omega was one of the best title defenses in AEW. At the time, IMPACT wrestling and Mexican fans were the only ones who knew just how good Fenix was.
Vince McMahon seems to be steadfast in his new wrestler size decision. But Rey Fenix might be the one wrestler he'd break this idea for.
​
1. MJF has eluded to being willing to go to WWE
Of all the wrestlers at AEW, Maxwell Jacob Friedman has publicly proclaimed that he'd ditch AEW for WWE if he was offered a better contract elsewhere. This could be something that Vince McMahon has heard and is planning on capitalizing on.
MJF turning sides and going to WWE would be unprecedented. He's by no means a small time wrestler. The self proclaimed "Salt of the Earth" has gone on to declare himself one of the four pillars of AEW. This declaration could imply that MJF believes that AEW would crumble without him.
Although MJF isn't exactly the size that Vince McMahon wants – as this article has referred to – Friedman has something else. The heat he would draw to WWE, especially AEW fans, would only help him succeed. Whether or not MJF goes to WWE is still something far off, as his contract reportedly expires in 2024. Tony Khan even believes there'll be a bidding war for the young wrestler.
Jim Cornette has compared Friedman to the late Hall of Famer "Rowdy" Roddy Piper. Piper is a beloved wrestler, but was intensely hated by fans during his heel runs. If MJF could achieve something like that at WWE it would only cement his legacy.
Wherever the Salt of the Earth finds himself, hopefully he continues to pull in the loudest boos.
​