​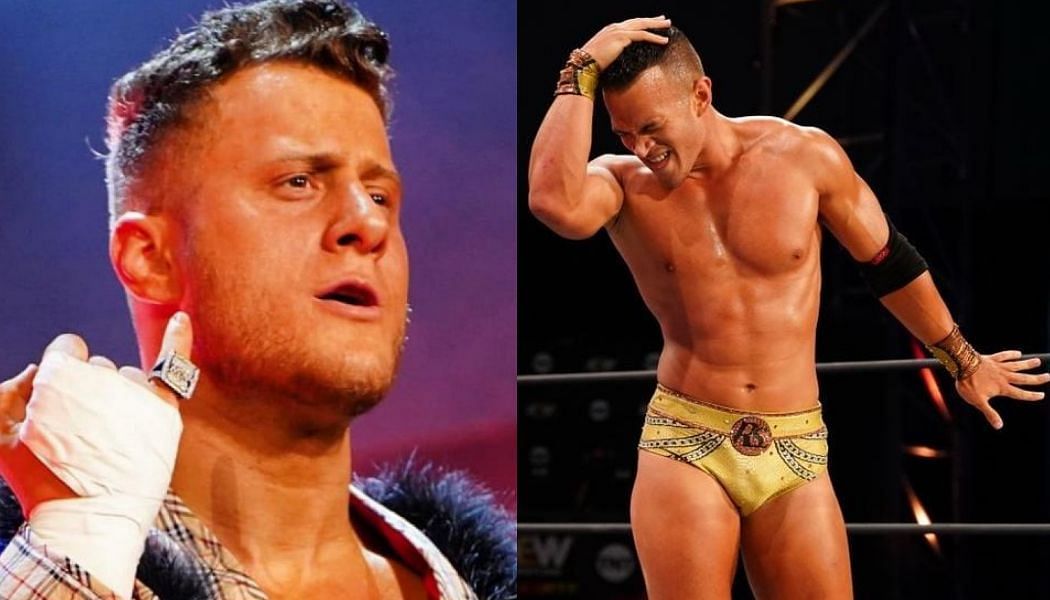 AEW's Diamond Ring Battle Royal is set for this Wednesday's episode of AEW Dynamite. So far only four participants have been announced, namely MJF, Powerhouse Hobbs, Ricky Starks, and Dante Martin. While we wait on the rest of the participants to be announced, let's run through a few wrestlers who could do well with a win this year.
For those who forgot the rules, here's a brief rundown: The winner of the match gets possession of the diamond ring for a year. The final two wrestlers compete in a singles match after the first ten are eliminated.
​
So far the AEW Diamond Ring Battle Royal has been won by MJF on both occasions. The ring he sports during his entrance, as well as the weapons he uses to win, is the prize each year.
MJF could very well pick up another win, and it would be odd to see him without it. However, MJF has been making a lot of enemies in AEW, and any one of them could cheat to win like he has.
​
5. Wardlow could win the AEW Diamond Ring Battle Royal in an upset, begining his turn away from MJF
Wardlow and MJF's relationship has slowly been strained by MJF's actions. While fans might not like Wardlow right now, as he's been a goon for MJF, he could pick up by turning on him.
Wardlow is impressive in the ring and has been held down by being MJF's bodyguard. In his few singles matches in AEW, he's either been put up against jobbers, or had some surprisingly good bouts. During the Inner Circle vs The Pinnacle feud, Wardlow faced off against Jake Hager in what proved to be a surprisingly good match. Wardlow failed to win, but showed that he was far more than just a bodyguard.
Having Wardlow turn on MJF could be done right here, or even with an unintended win. MJF could be upset about the win, creating a throwback to Evolution's crumble, but instead with Wardlow acting as AEW's Batista. While AEW should avoid as many immitations of WWE's past, this could be a refreshing angle. The Pinnacle have been very removed from each other and some inner conflict could be what they need to make a comeback.
Regardless of the reasoning behind it, Wardlow needs to get out of MJF's shadow to succeed in AEW. Whether or not Wardlow wins the battle royal, he should separate from MJF after the finale of AEW's Diamond Battle Royal.
​
4. AEW's Men of the Year could both pick up a win
​
Neither Ethan Page nor Scorpio Sky have succeeded in AEW, and the Diamond Ring could give either man bragging rights. Sky and Page recently came out of a feud against the Inner Circle, being called the Men of the Year but not having titles or any significant push is not deserving of the duo.
Scorpio Sky, alongside his old stable SCU, were the inaugural AEW Tag Team Champions. He fought alongside two veterans, Frankie Kazarian and Christopher Daniels, before turning heel during a match against Darby Allin. Sky has seemingly been free of any moral obligations but even with this edge has done little more than look cool.
Ethan Page made the jump from IMPACT Wrestling where he was a two-time tag champion. Page jumped to AEW, ending his tag team with North teammate Josh Alexander. Since debuting at AEW, Page has teamed up with Sky and most recently alongside American Top Team. Unfortunately for Page, none of these appearances have made him stand out as "Man of the Year." Picking up a win over a more established wrestler, or winning the Diamond Ring Battle Royal, could be what he needs to solidify himself in AEW.
​
3. Jay Lethal has been off screen since losing in debut match
​
Jay Lethal made his debut at AEW nearly a month ago. Since losing in his first official match, Lethal has not made an appearance. The veteran wrestler is a fan favorite, as seen with a fan in the crowd dressing up as his "Black Machismo" persona.
Lethal made an odd debut at AEW, announcing that he'd face Sammy Guevarra for the TNT championship, while their match took place the next Wednesday. As impressive as it was to see Lethal in the ring and at AEW no less, he still lost. And instead of having more screentime since, Lethal has not made a single AEW appearance, not even on Dark.
Lethal has been busy with other events outside of AEW, meaning the wrestler is far from done. However, a surprise appearance at the Diamond Ring Battle Royal is just what he needs. Lethal can show all the younger talent what he's capable of and steal a win. This could also lead to an interesting angle with MJF, who remains one of AEW's top talent. Hopefully, Lethal shows up in the battle royal and fans will see him wrestle again.
​
2. MJF could pick up a third AEW Diamond Ring Battle Royal win
​
MJF has won the AEW Diamond Ring Battle Royal twice and is the first winner. Since then MJF has encorporated the Diamond Ring into his persona, and it would be strange to see him without it. Not only that, but MJF has won many matches by using the ring as a makeshift knuckle duster.
Having MJF lose the ring could be a good way to establish and expand his character, but it could take away too much. Without the ring, his entrance would have to be adjusted, and he would have to use another weapon instead.
MJF picking up another win at the AEW Diamond Ring Battle Royal will make fans hate him even more. The boos are something that Friedman lives off of, and by keeping the bragging rights for another year will fuel him that much more.
Winning the match, most likely by cheating, will also add more gasoline to the feud between CM Punk and MJF. Making MJF doubt his accomplishments is something that Punk would definitely do. Regardless of all of this, it would simply just be too out of place to see MJF without the Diamond Ring.
​
1. Ricky Starks should win the AEW Diamond Ring battle royal
​
"Absolute" Ricky Starks is a fantastic wrestler who has not been able to show his in ring skill nor mic work. Starks might be fading in fans' memory as he's been taking a backseat since recovering from a neck injury. The injury in question could have ended Stark's career, something that has happened to one wrestler too many.
Starks last prominent appearance was while he feuded with Brian Cage. Cage and Starks fought each other for the FTW championship. A title that Taz created during his stint in ECW. Team Taz has since assisted Starks in nearly every match and could likely do the same thing this year.
Other than only having the FTW championship, Starks has not had anything major or any major angles. Winning the Diamond Ring would also compliment his persona perfectly. Starks could even incorporate it into his signature pose at the top of the stage.
If MJF is meant to finally lose the Diamond Ring, other than a surprise upset, Starks is the only other wrestler who can utilize it. Having the ring for a year will give him the same status that MJF has had for the past 2 years.
​