​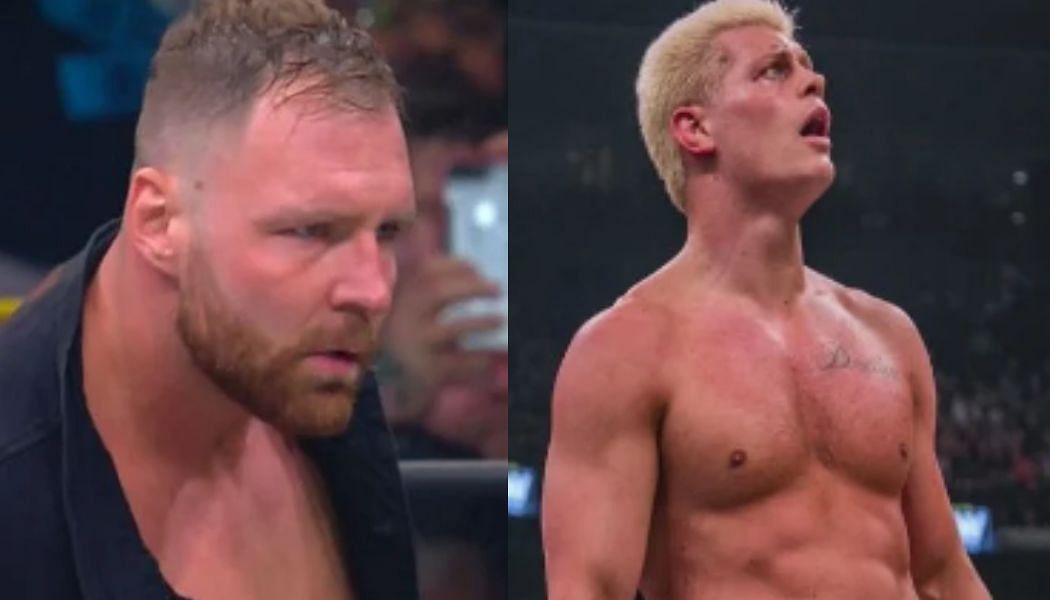 Quite a number of the current AEW roster were once WWE Superstars. Some of those who have made the jump are even WWE legends. Despite this, we haven't yet seen an AEW wrestler jump ship to WWE.
Nothing in the world of wrestling is out of the question. Fans from the Attitude Era and the early years of the Ruthless Aggression Era will remember this kind of rivalry very well. Although it may be hard to believe some wrestlers could move back to WWE, we've seen stranger things happen.
It is yet to be seen whether these wrestlers will go back to WWE, and even if they did, it may not even be in an in-ring capacity. Let's go through the list and brainstorm some possibilities.
​
5. AEW's le Champion, Chris Jericho
​
Most fans will shake their fists in anger over Chris Jericho even being on this list. His departure from WWE was one of the most shocking things in the wrestling world back in 2017. Jericho had an underwhelming run at the end, the end of his WWE career upset the veteran wrestler.
Jericho had been in various other promotions before making his in WWF. Jericho spent some time in ECW (before it was acquired by WWE) as well as WCW where he grew in prominence. Jericho also spent a few years in NJPW, where he met many of the Japanese wrestlers that he goes up against in AEW.
He spent a significant amount of time in WWE/F and it's where the bulk of his fans know him from. Jericho is a master at reinventing himself and has had tremendous flexibility in AEW. What would make him go back to WWE? One last run as Y2J before he retires? Jericho has been respectful to Vince McMahon, despite being upset about the way he parted. Perhaps McMahon could convince him as a friend, and we could see that iconic countdown one more time.
​
4. AEW's Hardest Worker, Christian Cage
​
When Christian Cage debuted at AEW, he had the wrestling world in awe. Cage returned from a nasty injury that left many to believe he'd never wrestle again. He had also just returned from a touching reunion with Edge at the 2021 Royal Rumble. Fans would have been led to believe he'd stay with WWE, but he jumped ship to the newer AEW.
Cage has had an incredible career in the industry. He was a participant in the first ever TLC match, alongside Edge, facing The Dudley Boys and the Hardy Boyz. Cage also held multiple titles in WWE. Fortunately for AEW fans, Jon Moxley convinced the Captain of Charisma to have a sit down with Tony Khan. This resulted in Cage quickly debuting at AEW.
So why would Cage go back to WWE? Cage felt that AEW was the best place for him to be currently. Not only did he want to wrestle in front of fans, he also wanted to train and advise the next generation of wrestlers. If WWE began focusing on their new talent, Cage returning to WWE wouldn't be out of the question.
​
3. The Pinnacle's Shawn Spears
​
Shawn Spears was dealt quite a bad hand while at WWE. He wrestled under the name Tye Dillinger and was significantly less muscular. Spears wrestled in WWE's developmental territories as well as ECW before being released in 2009. Spears then made a name for himself on the Independent Circuit, wrestling in Mexico.
Spears made his return to WWE in 2013, where he began to wrestle under the name Tye Dillinger. Up until 2015, Spears would perform quite frequently. He was used primarily as an enhancement talent, and despite entering the Royal Rumble twice, he didn't have a notable career in WWE.
So why would he defect back to the company? Spears requested his release after a nagging injury and didn't depart on bad terms. More so, WWE have most likely become aware of his skill and charisma as "The Chair-Man" alongside MJF and the Pinnacle. If given a better offer, Spears could very well return to WWE.
​
2. AEW EVP, Cody Rhodes
Cody Rhodes might be the current Executive Vice President of AEW, but he is also signed to a contract. Rhodes's current AEW contract is set to expire in 2024. Rhodes has recently been booed at every appearance on screen. Even deleting his Twitter account because of the negative feedback he's getting.
Cody Rhodes reinvented himself after his departure from WWE in 2016. Picking up a significant amount of muscle and developing the American Nightmare persona he uses in AEW today. Since then Rhodes has tried his hardest to shake off the mid-carder tag he carried while in WWE. Rhodes was never given any major title shots and ended up just working in the tag-team divisions or being a secondary villain.
But why would Rhodes return to WWE? If Rhodes was offered a substantially better deal, and WWE looked after their superstars better, why would a young father refuse? Rhodes has a family to think about now, and his father's legacy is still in WWE. Rhodes has done a lot to separate himself from WWE and has even taken shots at Triple H on multiple occasions. However, the world of wrestling is unpredictable, and maybe one of wrestling's "Royal Families" could move back to WWE?
​
1. Former The Shield member, Jon Moxley
​
Jon Moxley's WWE debut with The Shield in 2012 shot the young wrestler straight to stardom. Many fans today still note The Shield as their favorite stable from the time. Moxley, alongside Seth Rollins and Roman Reigns, was seen as the future of WWE. That was until April 30th 2019, when Moxley's contract expired and he opted not to renew it.
Since debuting in AEW, Moxley has renewed his love for promos and wrestling in general. He has become a more ruthless wrestler, being one of the greatest AEW World Champions so far. These are all things Moxley couldn't claim as Dean Ambrose in WWE.
As things currently stand, Moxley is unlikely to return to WWE. However, Moxley has said that a return to WWE is not off the table.
​
​
"I wouldn't rule out ever doing business with them again, we had a mutually beneficial relationship for a long time."
A Shield reunion might not be impossible. Whatever Moxley ends up deciding, fans would love him to keep the creative control he has in AEW.
​