​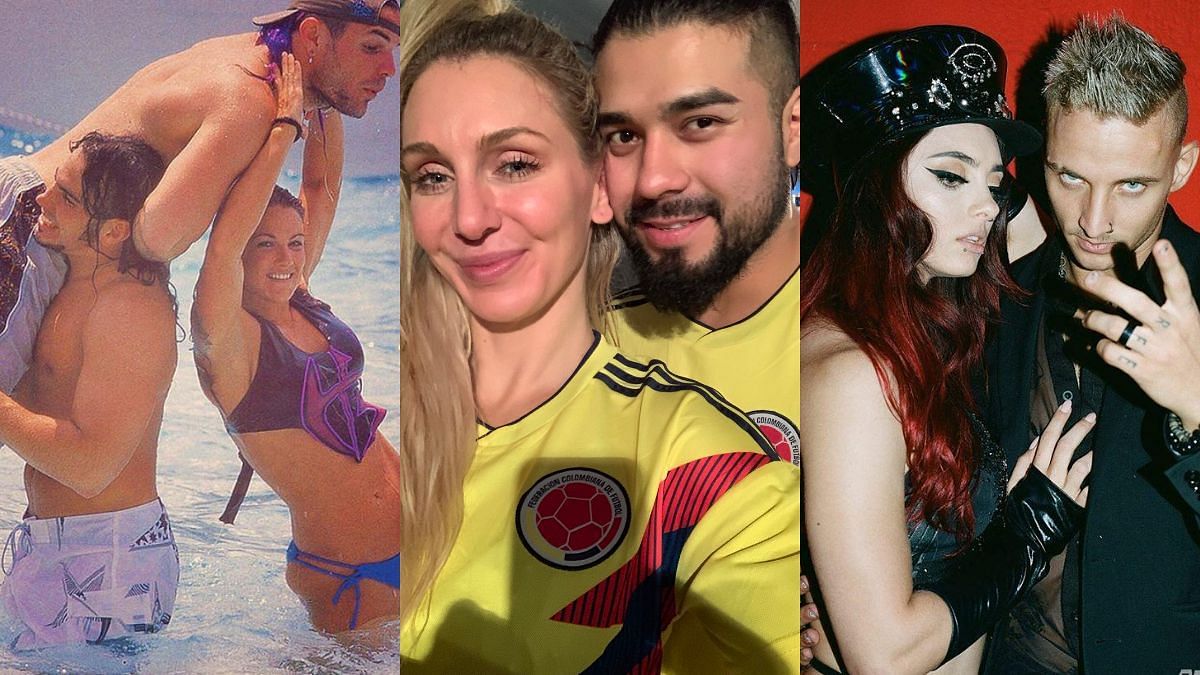 Just like the rest of the wrestling industry, AEW too has some power couples working for the company. Healthy relationships have allowed many stars to focus on their work and perform better.
Several current AEW stars are also either dating WWE Superstars or are currently in a relationship with them. Most of these performers worked for WWE at some point in their careers.
The wrestling industry has seen several big names get together over the years. With that being said, take a look at the five AEW who've dated WWE Superstars.
---
#5. AEW Women's Champion Dr. Britt Baker, D.M.D. and former WWE NXT Superstar Adam Cole
AEW has raked in some of the best wrestlers in the world since they launched in 2019. Two major stars who have signed with AEW are Dr. Britt Baker, D.M.D., and Adam Cole.
Before Cole made it to AEW, he was seen as a cornerstone in WWE NXT. Cole won the NXT Championship twice and had great reigns with the title both times.
While working for WWE, Cole was dating AEW star Baker. The two had known each other for several years and they got together in 2017. Adam Cole appeared on Oral Sessions with Renee Paquette and revealed that Baker was initially hesitant to go on a date with him. He then spoke about what the selling point was that pushed Baker into dating him.
"The selling point for her [Britt Baker] was that I went to New Japan to wrestle at Wrestle Kingdom, and she was so impressed that I went to Japan and was still messaging her all the time. So, she's, like, 'oh okay he's actually interested.' So, I finally talked her into going on a date with me where we met kinda halfway in the middle where it was two and a half hours for me and same for her. We closed the place down and it was six hours of us sitting there and talking. We had so many cups of coffee. I remember seeing her for the first time and got the heart-drop-into-your-stomach feeling, like, I was nervous and the date went really, really well. Then we just started talking everyday and hit really really close and the rest was history," Adam Cole said.
After working on different promotions for a couple of years, Cole signed with AEW. The couple can now manage to work and travel together as they are signed to the same company.
​
#4. AEW star Darby Allin and WWE NXT Superstar Gigi Dolin
Darby Allin and Gigi Dolin are two of the younger wrestlers making it big in AEW and WWE respectively. The two wrestlers worked on the same promotions early on before signing with different companies.
Allin and Dolin started dating while working for World Wrestling Network. The couple married in 2018. However, things did not work out, and they were later divorced in 2020.
Speaking on Excuse Me: The Vickie Guerrero Show Dolin talked about her marriage to Allin and despite getting divorced they remain close:
"With us, we realize we got married really young and really fast. He proposed after dating me for four months. That works for some people but for us, we realized we were not mature enough to handle that label of marriage." said Dolin
"Since we removed that label of being married, we've been getting along great. We are best friends. We hang out all the time. We never have any conflict. We both still have little issues," She added.
Allin and Dolin married at a young age and had some troubles early on. However, they have been doing well ever since their divorce. Allin has a bright future in AEW where he can become the face of the company one day.
Meanwhile, Dolin recently won the NXT Women's Tag Team Championships with Jacy Jayne.
​
#3. AEW star Matt Hardy and WWE Hall of Famer Lita
AEW star Matt Hardy was one of the biggest former WWE Superstars the company signed early on. Hardy is currently married to former IMPACT Wrestling Knockout Reby Sky.
In his early days in WWE, Matt Hardy was involved romantically with Lita. The two superstars were dating in real life when they started appearing on television together.
However, their relationship started getting messy later, as Lita moved on to a relationship WWE Hall of Famer Edge.
The AEW star hasn't spoken about their relationship, but Lita hasn't been happy with the way her relationships have been the highlight of social media.
"It's still talked about. My relationships are commented on a regular basis, on my Instagram still or social media. Meanwhile, all of the men involved, you know, anything not controversial like with [CM] Punk or Edge or Matt, I guarantee they don't get asked about it. I know they don't get asked about it because they're dudes, and, you know, it's that double standard thing. I think at this point that's the problem; what I hold onto, feeling the double standard,"
Hardy is currently working on some of the biggest storylines in AEW. Meanwhile, Lita has hung up her boots and isn't looking to return to the ring again anytime soon.
​
#2. AEW star Andrade and WWE Superstar Charlotte Flair
Andrade asked for his release from WWE last year before signing with AEW. He is currently one of the top performers for the promotion that is making waves in the industry.
During his time in WWE, Andrade started dating Charlotte Flair. Andrade was introduced to Flair by Karl Anderson. Even though his heart was in WWE, Andrade decided to leave in hopes of making it big elsewhere.
Fans have speculated on Flair's move to AEW for some time now. However, Flair believed that it was best for her to stick around in WWE while Andrade makes it big in AEW.
"I'm WWE homegrown. I think that's what people forget. I'm a product of the PC. That would be so scary to me to leave my home, which is WWE. To know that he has traveled the world and that he'll continue to travel the world and make a bigger name for himself, I'm so excited for him." Flair said.
​
Recent reports suggest that Charlotte Flair and Andrade have ended their relationship. Fans will have to wait to get any official word from either of the two wrestlers.
​
#1. AEW star CM Punk and several former WWE Superstars
AEW star CM Punk is happily married to former WWE Superstar AJ Lee. The two worked onscreen for several months and got into a relationship before tying the knot.
Before marrying Lee, Punk was known to have been in several relationships. The Best in the World dated some of the top women in the wrestling industry during his days at the top.
Punk dated former WWE Women's Champion Mickie James early in his career. The two superstars were about to debut for the company at the same time before the creative team changed its mind.
The Second City Savior also dated former WWE Superstar Kelly Kelly during his time in ECW. They had a short relationship before they both moved on. The AEW star was also involved in a romantic relationship with Maria Kanellis.
Beth Phoenix also dated Punk while the two were working together. Judging by what Punk has revealed during interviews, their relationship ended on a sour note.
Lastly, he was also romantically involved with Lita for some time. The former WWE Women's Champion and the AEW star were involved backstage for a short time before parting ways.
CM Punk has since settled in well in his role as AJ Lee's husband. He will likely keep himself busy working for AEW for a few years before hanging up his boots.
---
Who are some other wrestling power couples who have cross-promotional ties? Share your thoughts in the comments section below.
​