​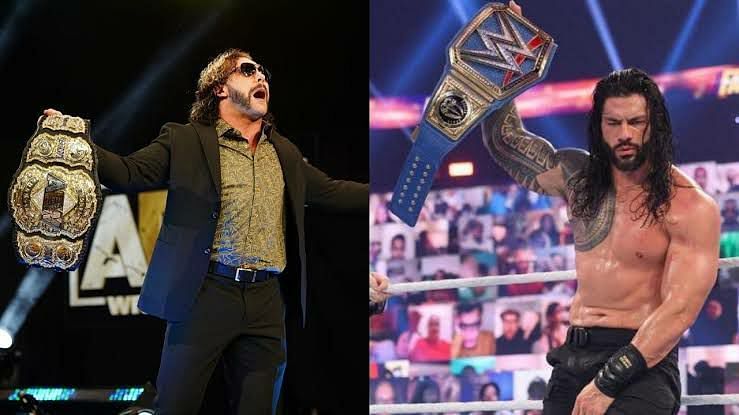 WWE's Roman Reigns has never been shy about expressing disregard for AEW. While one cannot blame him, considering he's the biggest WWE star, a few AEW wrestlers could claim they are better than the Tribal Chief.
Roman Reigns has been a star in his new role as the unbeatable monster heel. There's no question Roman Reigns is the biggest name in the business right now. His appearance on the Tonight Show with Jimmy Fallon saw an increase of over 400,000 viewers for the show. Roman is the Needle Mover for a reason.
Fans had been clamoring for Roman to turn heel for years. His run with the Universal Championship has surpassed 450 days, and there seems to be nobody good enough to beat the Head of the Table.
A pure wrestler is different from a character. Roman Reigns' character is huge, but several wrestlers in AEW and WWE can claim to be better in the ring. This isn't to say Roman isn't a good worker, he is, but certain wrestlers are objectively better.
Despite not having the presence and reach of WWE, AEW's product is impressive. Many of their roster members are some of the best wrestlers of the modern era.
Having said that, let's take a look at five AEW stars who are better professional wrestlers than Roman Reigns.
---
#5. AEW EVP Kenny Omega is better than Roman Reigns
Kenny Omega and Roman Reigns ranked first and second, respectively, in the latest PWI Top 500 list. Fans of both stars had a field day debating the decision.
The list was spot on. Kenny Omega is a superior wrestler than Roman Reigns. The Universal Champion is, and probably will always be the bigger star, but The Cleaner comes out on top in pure wrestling.
The former AEW World Champion just saw his 346-day run come to an end with a great match against Hangman Page at Full Gear. The bout joins his catalog of matches against Christian Cage, Rey Fenix, Rich Swann, Sami Callihan, and Jon Moxley as classics during his title reign.
Roman leans more towards storytelling. His bouts often end up being long and plodding and take time to get going. His outings against Brock Lesnar and Finn Balor were marred by terrible finishes.
From an in-ring standpoint, Kenny Omega is better than Roman Reigns.
​
#4. AEW star PAC is better than Roman Reigns
From an in-ring perspective, very few in AEW can touch PAC, much less Roman Reigns. The former Cruiserweight Champion is one of the best technical wrestlers in the world and a world-class high flyer.
PAC has hardly ever had a bad match in AEW. His strikes are crisp, his spots are well executed and his finisher, the Black Arrow, is a thing of absolute beauty. Roman Reigns simply does not have the arsenal that PAC possesses, and there's no doubt the former Adrian Neville is superior as an in-ring performer.
PAC against Kenny Omega, Andrade (Andrade Cien Almas in WWE), Dax Harwood, and Hangman Page were some of the best matches on AEW television. While Roman Reigns' matches are a spectacle in their own right, there's no comparison when it comes to the technical aspect.
---
#3. Roman Reigns' recent rival Bryan Danielson is arguably the best in the world
Roman Reigns defeated Bryan Danielson multiple times in 2021, including a Triple Threat Match in the main event of WrestleMania 37. The Tribal Chief retired The American Dragon from WWE SmackDown and, soon after, Danielson was in AEW.
Daniel Bryan had a bunch of amazing matches in WWE, but his AEW run has been nothing short of spectacular. Not only has he delivered, but he's ensured that his opponents come out with their reputations enhanced.
The same happened with Roman Reigns. Daniel Bryan was the superior performer when they squared off, and every match was fantastic. Many WWE stars have had their best technical matches against Daniel Bryan, like John Cena, AJ Styles, Brock Lesnar, Roman Reigns, and Bray Wyatt.
At the moment, nobody in AEW or WWE touches Bryan Danielson.
​
#2. AEW star Adam Cole is better than Roman Reigns
Adam Cole was one of the biggest names to join AEW in 2021, and the former NXT champion is a better professional wrestler than Roman Reigns.
Adam Cole ticks all the boxes required to be a top superstar. He's excellent between the ropes, has abundant charisma, and has killer promos in him. There's a reason why he always gets the loudest reactions despite being a heel.
The only point of contention is his size, and Roman Reigns trumps him significantly. The Tribal Chief has the look and aura of a total badass. But, when it comes to being a professional wrestler, The Panama City Playboy is better.
One would struggle to find a Roman Reigns match as good as Adam Coles' against Keith Lee, Johnny Gargano, and Kyle O'Reilly.
---
#1. MJF is the best heel in the business
While AEW and WWE fans hardly ever agree, one thing both sides can agree upon is the fact that MJF is on his way towards becoming the most despised heel, if he isn't already.
Roman Reigns is doing the best work of his career. There's a reason why he's the biggest star in the business. But MJF is arguably better as the overall package. The Salt of the Earth is a vicious force on the mic. Roman Reigns is escorted by Paul Heyman, who does most of the talking, so the Universal Champion is a man of a few words.
What sets the two apart is their in-ring styles. As mentioned before, Roman relies on the WWE style of wrestling, which leads to long and slow matches, most of which are similar in their layout. He either can't or is instructed not to mix it up. MJF has displayed an impressive versatility that adds to his heel character.
MJF vs. Jungle Boy at AEW Double or Nothing was an excellent technical match, while his battle against Chris Jericho was more on the lines of a slow, story-heavy match. When he faced Sammy Guevara, MJF showed he can wrestle a more intense and fast-paced style, while the AEW Full Gear match between MJF and Darby Allin was an instant classic.
Roman Reigns has not shown that versatility yet, and is not as good as MJF on the mic, making this a fairly straightforward call as to who's better.
​