​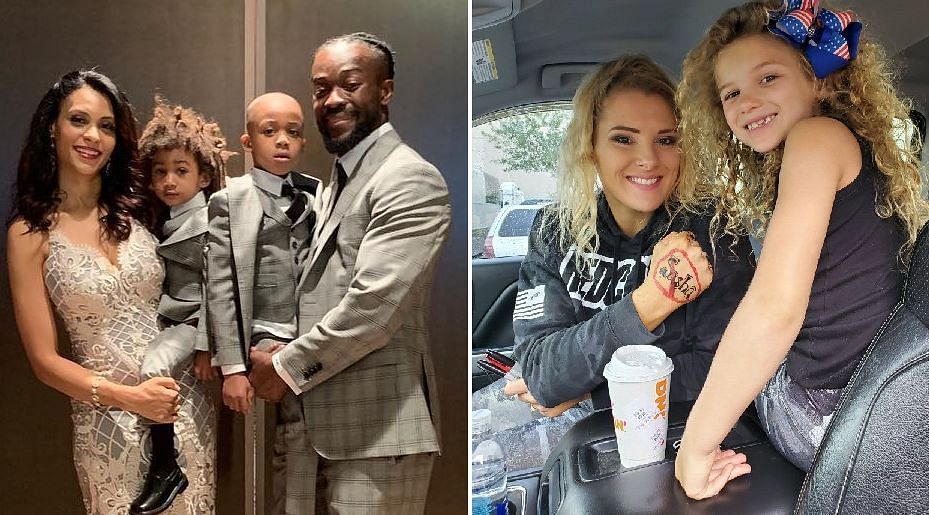 There has been quite a baby boom in WWE over the past few years with a number of current and former WWE Superstars announcing that they are welcoming a new addition.
The Bella Twins, Mike and Marie Kanellis and even Becky Lynch have all welcomed children in recent years, but some have announced their latest additions over the past few weeks.
The following list looks at just four current and former WWE Superstars who have recently welcomed a child, as well as two who are expecting.
---
#6. Recently welcomed a daughter – Former WWE Superstar Ronda Rousey
Ronda Rousey signed with WWE back in 2018 but was only part of the company for around a year. The former RAW Women's Champion left WWE following WrestleMania 35 and noted that she wanted to start a family.
Rousey reportedly signed a three-year deal with WWE in 2018, which means that her contract didn't actually expire until 2021, even though she hasn't appeared for around two years.
Earlier this year, there were rumors that WWE could be looking for Rousey to make her return to take on Becky Lynch at WrestleMania. The former UFC Champion revealed that she was expecting her first child, which put these rumors to bed.
Rousey and her husband Travis Browne welcomed their first child, a daughter, back in September. Rousey announced on her Instagram page that her daughter had arrived safely, and that she had decided to call her La'akea Makalapuaokalanipō Browne.
Since the birth of her daughter, Rousey has made it clear that she is back in the gym and is looking to get back into shape. The most recent update from the former Women's Champion was when she responded to a fan on her gaming stream platform to reveal that she was unsure if she was still contracted to WWE or not.
Reports suggested that her contract expired back in April, but since Rousey hasn't wrestled for the company since April 2019, the company could have made a deal with the star to bring her back.
​
​
#5. Recently welcomed his first daughter – Current WWE Superstar Kofi Kingston
Kofi Kingston is the most recent WWE Superstar to become a parent. The former world champion shared his happy news on Friday.
Kingston took to Instagram and Twitter to reveal that his daughter had arrived and that the couple had decided to call their newest addition Lotus Selene Sarkodie-Mensah.
The former champion also revealed that their little girl was just 6lb 2oz when she was born at home on Tuesday night.
Kingston and his wife Kori Campfield already have two children together, two sons called Orion Kingsley Sarkodie-Mensah and Khi Sarkodie-Mensah. Lotus is the couple's first daughter.
Kingston's sons have been seen on WWE TV several times, most notably as part of WrestleMania when Kingston won the World Championship, since his children were allowed to enter the ring and celebrate.
Kofi was recently written off WWE TV so that he could be at his wife's side to welcome their first daughter, as of writing it's unclear when he will make his return.
​
#4/3. Expecting a baby – WWE Superstars Johnny Gargano and Candice LeRae
Candice LeRae and Johnny Gargano are two of the biggest stars on WWE's NXT brand, but this year they shared some incredible news.
Despite Candice still being under contract with WWE as an active performer, she announced that she was expecting the couple's first child.
LeRae has since gone on maternity leave, after the couple revealed that they were expecting a baby boy. Gargano is expected to be written off TV in the near future so that he can take paternity leave since the couple has revealed that their son is due in February.
It's unclear how long LeRae will be off TV following the birth of her little boy, but there have recently been rumors regarding her current WWE contract.
The star's deal is expected to expire at the beginning of 2022, but if WWE opts to add time on for the amount of time she is sidelined then she could still be contracted to the company at the end of the year.
​
#2. Recently welcomed a daughter – WWE Superstar Mustafa Ali
Mustafa Ali is another WWE Superstar who has recently welcomed his third child. Ali hasn't been on WWE TV for a few weeks, since he has been at the side of his wife, who has recently welcomed the couple's first daughter.
The star announced that his daughter had arrived earlier this week on Instagram and Twitter and noted that the couple had called her Dua.
Dua's name comes from the prayer of the same name. Ali noted that they had prayed for her over the past few months after announcing that they were expecting her publicly earlier in the year.
Ali and his wife Uzma have been married since 2010 and already have two children, a boy, and a girl. The couple's son Rayaan was born back in 2017, whilst the couple also have a much older daughter called Amara.
Ali isn't currently part of a storyline on WWE TV, so the star could take a few months to bond with his latest arrival.
​
#1. Recently welcomed a daughter – WWE Superstar Lacey Evans
Lacey Evans announced that she was expecting her second child on a live episode of WWE Monday Night RAW earlier this year.
The Sassy Southern Belle announced as part of her storyline with Ric Flair, but it was later revealed to have been adapted from real-life events.
Evans has since been on maternity leave but has kept the WWE Universe up to date through her social media pages.
Evans revealed that she was expecting a second baby girl before she arrived back in October. Evans also announced that her daughter was called Sunny.
The former NXT Superstar and her husband already have a daughter called Summer, who was born before Evans began her career in the wrestling business.
Her daughter Summer was used as part of her storyline on SmackDown last year when Evans was feuding with Sasha Banks and Bayley.
As of this writing, there has been no update on when Evans is expected to make her WWE return, but she wasn't part of the recent WWE Draft which means that she could return on either brand.
​