​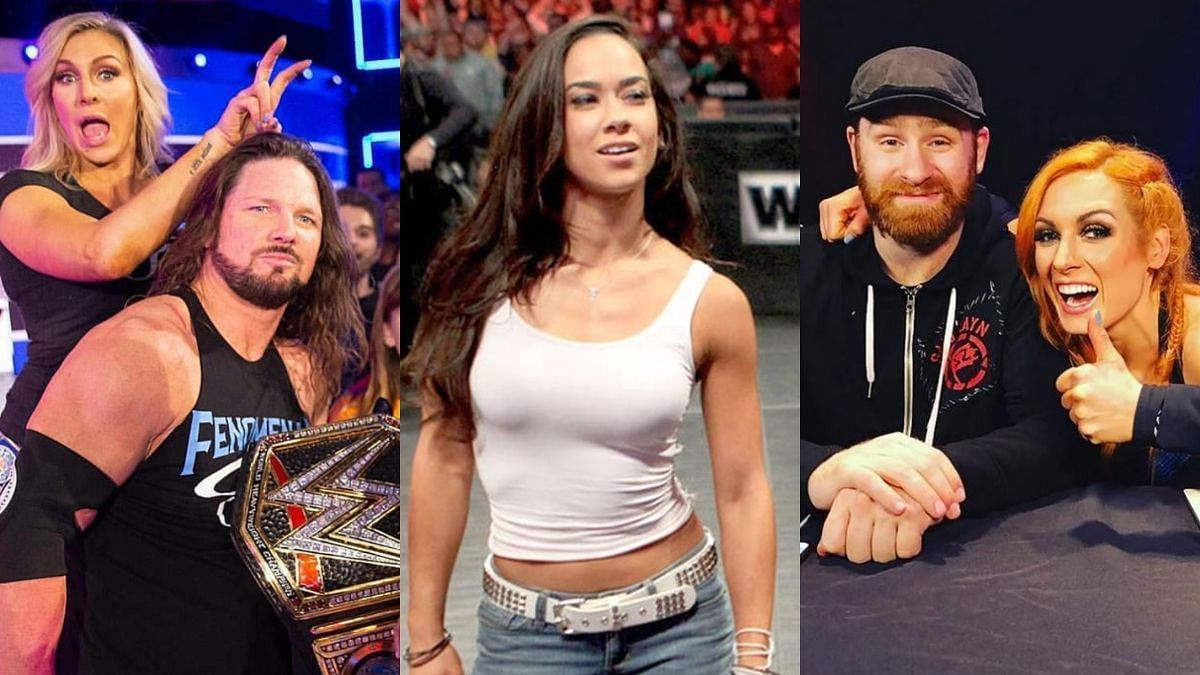 WWE Superstars spend hours training and traveling together on the road. Spending time away from family is never easy, and many WWE Superstars look towards others to provide them with some support.
Over the years, many current and former superstars have formed some great relationships and friendships. The bond many superstars share has helped them get through tough times and schedules.
Many fans are well aware of the friendship between superstars like Bayley and Sasha Banks. However, there are many lesser-known friendships that fans have only gotten to know about through interviews and social media.
With that being said, check out the 10 lesser-known friendships between some current and former WWE Superstars.
---
#10. Sami Zayn and WWE RAW Women's Champion Becky Lynch
​
Sami Zayn has been playing a great heel character in WWE for some time now. He comes across as one of the most hated characters on television. However, Zayn has made some great friends while working on the road over the years.
Many fans are already aware of Zayn and Kevin Owens' friendship. Another superstar who is very close to The Great Liberator is Becky Lynch.
The Irish Lass and Zayn worked together in WWE NXT for some time. The two praised each other on many occasions and shared a few posts over social media. That's not all, as Lynch and her fiancee Seth Rollins have even visited Sami Zayn's home.
It's great to see how three of the current top superstars in WWE get along well together backstage.
---
#9. WWE veterans Triple H and Sheamus
​
Many new WWE Superstars have regularly spoken about how Triple H has been a friend and mentor to them behind the scenes. One superstar who greatly benefited from Triple H's friendship is former WWE Champion Sheamus.
The Celtic Warrior has revealed how Triple H helped him out early in his career and the two became close friends.
​
"When I first started, Triple H was there, and he took me under his wing. We went on a tour of Australia… He said, you don't know anybody, so if you want to go to the gym and work out, I can watch your matches and give you any feedback, and I was blown away." said Sheamus
The two men have formed a special bond backstage even though they haven't spoken about it in public too much.
​
#8. WWE international stars Finn Balor and Sami Zayn
​
WWE Superstars Finn Balor and Sami Zayn are working on different storylines on RAW and SmackDown. They have shared the ring on several occasions and put on some great matches.
What some fans may not know is that the two are the best of friends backstage. Zayn and Balor worked together in WWE NXT for some time and have been friends for a while now.
Zayn's wife is also half-Irish, and he has traveled to The Prince's hometown Bray, Ireland, to meet him while visiting Dublin with his wife in 2019. The two superstars have also expressed their desire to face each other at WrestleMania someday.
---
#7. WWE producer Tyson Kidd and Lana
​
Lana played some despicable characters during her time in WWE. Behind the scenes, the superstar was loved by many WWE employees backstage. Not only did Lana find her soulmate in WWE, but she made some close friends in the company.
One lesser-known close friend of Lana is Tyson Kidd. The former wrestler is currently working as a producer in the company. Kidd helped Lana train to become a better wrestler months before her release.
The two have shared photos of themselves training together on social media. Lana is also good friends with Kidd's wife Natalya.
​
#6. WWE Superstar Shelton Benjamin and Mia Yim
​
Mia Yim was released by WWE in November 2021. Fans wanted to see Yim achieve big things in the company, but she never got enough chances to prove herself.
Before she joined WWE, Yim had been good friends with Shelton Benjamin. The two have taken some hilarious shots at each other on social media.
Yim was once asked about her friendship with Benjamin. She explained that he was there for her during one of the most trying times in her life.
"After one of my relationships, the domestic violence one, he was there throughout the entire thing. He was there if I needed a place to hide away. He would make sure that I would have a place and would come get me if anything were to happen."
Even though Yim is not with WWE anymore, she is still friends with one of the company's most well-known superstars.
---
#5. Dana Brooke and former WWE Universal Champion Braun Strowman
​
Braun Strowman was surprisingly released from WWE in June 2021. Since then, The Monster Among Men has been working on his physique and looks to be in even better shape. During his time in the company, Strowman made some close friends.
One person Strowman is close to is 24/7 Champion Dana Brooke. The two have shared photos of each other several times on social media. WWE posted a carpool karaoke video in which the two could be seen singing together on the road.
Brooke replied to several fans' comments after the video and made it clear that the two bodybuilders are very close to each other in real life.
​
#4. Dana Brooke and former WWE Champion Batista
​
Dana Brooke is still finding her way to the top of WWE. She has made several friends along her wrestling journey. One person who is good friends with Brooke is none other than Batista.
The former WWE Champion hasn't worked with Brooke in the past, but the two have gotten close together. The pair had several flirtatious exchanges on social media that made fans believe they were dating.
However, Batista cleared the air and explained that they are close friends and hadn't gone on a date yet.
"We don't have a date yet but she is a friend and I consider her a close friend, so yeah, I don't know. We'll keep in touch, keep talking about it." Batista said
The two powerhouses could look to take their relationship to the next level someday. As for now, they are just close friends.
---
#3. Future WWE Hall of Famer Batista and Titus O'Neil
​
Titus O'Neil hasn't stepped into the ring for some time even though he's still part of WWE. Meanwhile, Batista has retired from the ring and is waiting to become a future WWE Hall of Famer.
While Batista and O'Neil didn't do too much work in the ring together, they are very close friends behind the scenes. O'Neil has revealed that had been friends with The Beast long before the two men joined WWE.
"We were neighbors for years. He's one of my closest friends. Long before I got into WWE we became friends. That's the beauty of life, you never know why you get to meet certain people." O'Neil said.
Batista has backed up his friend several times and called out WWE for not giving Titus the opportunities he deserves.
​
#2. Big E and former WWE Superstar AJ Lee
​
Big E is one of the most lovable characters in WWE today. The big man recently won his first WWE Championship to the delight of his fans. One person who was extremely happy with his win was none other than AJ Lee.
AJ has been away from the wrestling ring for a long time. However, she has remained friends with Big E who was once in a faction with her and Dolph Ziggler.
The two superstars have had several Twitter spats to entertain their fans. They have also shared several pictures to show that they still stay in touch and are very close behind the scenes.
---
#1. WWE Superstars AJ Styles and Charlotte Flair
Many WWE fans will know that AJ Styles and Ric Flair worked together on IMPACT Wrestling (TNA) for some time. What some fans may not know is that Styles is good friends with Ric's daughter Charlotte Flair in real-life.
Both superstars have been extremely successful inside the ring. They have also teamed up for WWE's 2018 Mixed Match Challenge.
They have shared several photos of each other on social media and even poked fun at each other. Styles and Flair have also had some interactions on social media and given fans something to talk about.
​