​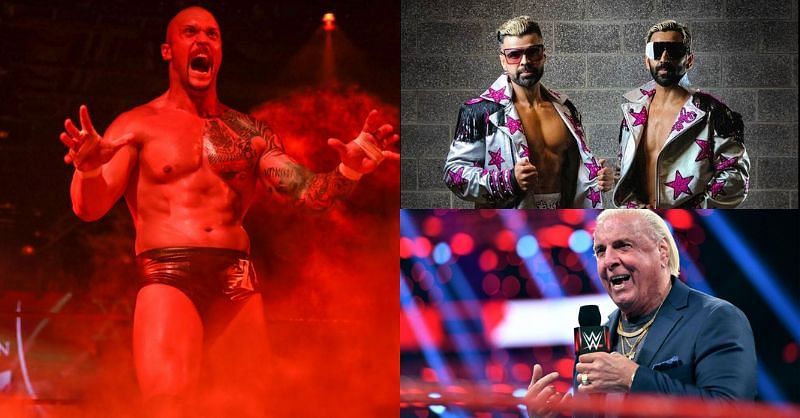 AEW has recruited many young and upcoming talent, and some major former WWE Superstars in Bryan Danielson, CM Punk, Adam Cole, and Ruby Soho. Arguably, their roster seems to be quite full now.
Moreover, there's a possibility that AEW won't renew particular wrestlers' contracts. While wrestlers like Big Swole mutually parted ways with AEW, other wrestlers' contracts are set to expire in the coming months.
Of course, some fans will point out that AEW is making the same mistake as TNA/IMPACT Wrestling by signing every available WWE Superstar. This is speculation at best. Few would argue against Punk and Danielson's signings.
Now, with several WWE Superstars released in 2021, it'd make perfect sense for AEW to add more of them to their growing roster. Here are ten former WWE Superstars AEW could sign in 2022.
---
#10. Former WWE Superstar Ember Moon
In November, Ember Moon was released from her WWE contract. Moon was one of the more interesting female wrestlers to come out of NXT, but she never significantly impacted the main roster.
Moon was praised for her in-ring skills. AEW star Thunder Rosa expressed disappointment in Moon's WWE run and hoped she could face her in the future:
"Ember Moon, I have not had the opportunity to work with her. She's one of the Dallas veterans, I mean Texas veterans. She worked for so long in NXT and I don't think they gave her the platform she deserved. Because she's so good and so underrated. So, hopefully, I get the opportunity to work with her. It would be a banger."
Perhaps, in 2022, this could be a reality if AEW signs her.
​
#9. Former WWE Superstar Keith Lee
Fans were bewildered when Keith Lee was on a list of WWE stars released. Considering Keith Lee's size and charisma, it was shocking to see a man, who stood toe-to-toe with Brock Lesnar at Royal Rumble, let go by WWE.
While Keith Lee has expressed interest in reuniting with his former tag team partner on the independent scene, it would be foolhardy to suggest that Tony Khan wouldn't have his eye on the former WWE star. Lee may not have reached the top of the mountain in WWE, but the options in AEW are plenty.
---
#8. Former WWE Superstar Franky Monet a.k.a Taya Valkyrie
A prominent star in IMPACT Wrestling, Taya followed her husband John Morrison into WWE. It seemed the perfect place for them to shine, but her time in WWE was short-lived. Taya's tenure lasted only 8 months. She did have some success in NXT as Franky Monet, getting title shots at the NXT Women's Championship.
But before WWE, Taya had massive success in places like Lucha Underground, IMPACT Wrestling, Lucha Libre AAA Worldwide. While Taya did make her return to AAA on December 4, it remains to be seen where she will end up.
Keep in mind that AAA has a relationship with AEW. It wouldn't be outrageous to think Taya could appear in AEW. Her screen presence and in-ring ability merit her a place in AEW, and perhaps that will be a reality in 2022.
​
#7. and #6. Former WWE Superstars The Singh Brothers a.k.a The Bollywood Boyz
When The Singh Brothers were released by WWE, it wasn't necessarily a surprise. The pair first came to WWE as Jinder Mahal's sidekicks, ensuring he remains champion at all costs. It's remarkable that they were barely featured as an actual team during their time with Mahal.
As a duo, the only title they secured was the WWE 24/7 Championship a total of nine times. The pair returned to 205 Live and embraced their Bollywood Boyz gimmick, but were released in June 2021.
While the pair are back on the independents, they have expressed an interest in facing FTR in the future:
"They are big Bret Hart fans and guys who grew up watching Bret. And obviously everybody knows that we love Bret as much. Their style would gel well with ours obviously with who we watch and who we study and our mindset of the business. So, outside of WWE, there's so many great tag teams both in IMPACT and on AEW right now and all around the world that we're eager and hungry to lock up with."
Would AEW sign the pair in 2022? Nothing is off the table. Moreover, with the company wanting to expand its base globally, especially in India, signing talent like Bollywood Boyz would be a step in the right direction.
---
#5. Former WWE Superstar John Morrison
The one-and-only John Morrison's return to WWE was inevitable. Morrison had built a name for himself before leaving WWE in 2011, enjoying stints in Lucha Underground, AAA, and IMPACT Wrestling.
Reuniting with The Miz was a significant first step as they became WWE SmackDown Tag Team Champion. The pair featured at WrestleMania 37 facing Bad Bunny and Damien Priest. Things were set for a feud with The Miz, but it ended as Miz appeared on Dancing with the Stars.
While it remains to be seen where John Morrison is headed, it wouldn't be surprising for him to show up in AEW. The promotion has seemingly signed a slew of EX-WWE talent, and given Morrison's style and in-ring ability, he would certainly fit in very nicely in AEW.
Could we see 'Johnny Elite' in AEW? Only time will tell.
​
#4. and #3. Former WWE Superstars Scarlett Bordeaux and Karrion Kross
Their entrances were electrifying. Their presence was undeniable, and it seemed WWE would be their playground. Karrion Kross and Scarlett Bordeaux were primed as the next big thing in WWE. Unfortunately, that was short-lived.
Kross was one of the best stars to come out of NXT. He had great in-ring ability and charisma that radiated through the screen. He became a two-time NXT Champion and was a mainstay on the brand.
When he moved to RAW, he lost to Jeff Hardy in his first match on the brand. Later, he began wearing Gladiator garb to the ring, a far cry from his NXT character. This might've changed down the line, but both Kross and Scarlett were released.
Given their WWE run and how their star has grown since IMPACT Wrestling days, AEW would want to have a look in. Scarlett, in particular, was a valet in WWE but can wrestle.
It's fair to say that both have star power, and that's something AEW would want to add to their growing roster.
---
#2. Former WWE Superstar Ric Flair
Irrespective of what some think of Ric Flair, given his recent controversies, he's still one of the greatest wrestlers of all time. Flair has been a 'free agent' for some time now, and AEW wouldn't be wrong in signing the multi-time world champion.
AEW has proven how to use wrestling legends like Sting, Arn Anderson, Dustin Rhodes, and Tully Blanchard. Moreover, Tony Khan is a student of wrestling history, and it's apt that two of the original Four Horsemen are already signed to the promotion. Bringing Ric Flair would seem like a no-brainer.
The last time Flair signed to a promotion outside WWE was TNA/IMPACT, and it was met with ridicule and not fondly remembered. That won't happen in AEW. Also, having a WOO-Off with a recently-signed Jay Lethal would be a treat for fans.
​
#1. Former WWE Superstar Bray Wyatt
WWE shocked fans when they released Bray Wyatt this past July. It's remarkable that Bray Wyatt, one of the more popular WWE Superstars besides Roman Reigns, was released due to budget cuts.
While some claim there's more to it, others are just anticipating his next move. Wyatt has recognition and is a creative force. His The Fiend character was an embrace of the unknown. Some believed Wyatt would be the next coming of The Undertaker in WWE.
That has not been the case. Most fans now believe Wyatt will eventually show up in AEW due to the creative freedom within the promotion. Of course, he'd have to don a different moniker, but Wyatt has proven he's up for anything.
Some reports say Wyatt will star in a horror film that will take up his time through the end of the year. While it's possible Wyatt could show up in AEW this month, it's improbable given the logistics involved.
With all that aside, given Wyatt's proven track record with selling merchandise, there's every possibility he could show up on AEW in 2022.
Will it be at AEW Revolution? In wrestling, anything's possible.
​